Dogs are more than welcome on dozens of Anglesey's pristine beaches. However, some restrictions are in place, particularly on some of the most famous stretches of Anglesey's stunning coastline.
So, with that in mind, let's walk you through the dog restrictions on Anglesey beaches and inform you of what you need to know when planning a visit to the seaside on this dog-friendly island.
Which Anglesey Beaches Have Dog Restrictions in Place?
With literally dozens of fantastic beaches dotted around the island, you may be pleasantly surprised to learn that there are only seven beaches with dog restrictions in place at the time of writing.
They are as follows:
Beaumaris
Benllech
Cemaes Bay
Llanddwyn, Newborough
Llanddona
Porth Dafarch
Trearddur Bay
At each beach, signs are located at the entrances with maps indicating the ban area, and it's essential to stress that, even at these restricted beaches, there are still extensive areas left for dogs and their owners to enjoy themselves.
There are further stipulations at Benllech Beach, Cemaes Bay, and Trearddur Bay (all of which have extended promenades) stating that you should keep dogs on leads in these locations (the promenades) before arriving at the dog-friendly section of the beach.
Lastly, regardless of location, these restrictions apply from May 1st to September 30th each year.
Now that you have a basic overview of dog restrictions on Anglesey beaches, let's cover the specific beach-by-beach restrictions in more detail.
Beaumaris Beach Dog Restrictions
Dogs are banned on Beamauris Beach during the restriction period on the right-hand side of Beaumaris Pier as you face the Menai Strait.
As you can see in the image below, if you take the pier as your left-hand border, the restrictions are in force as far right as the beach goes at low tide.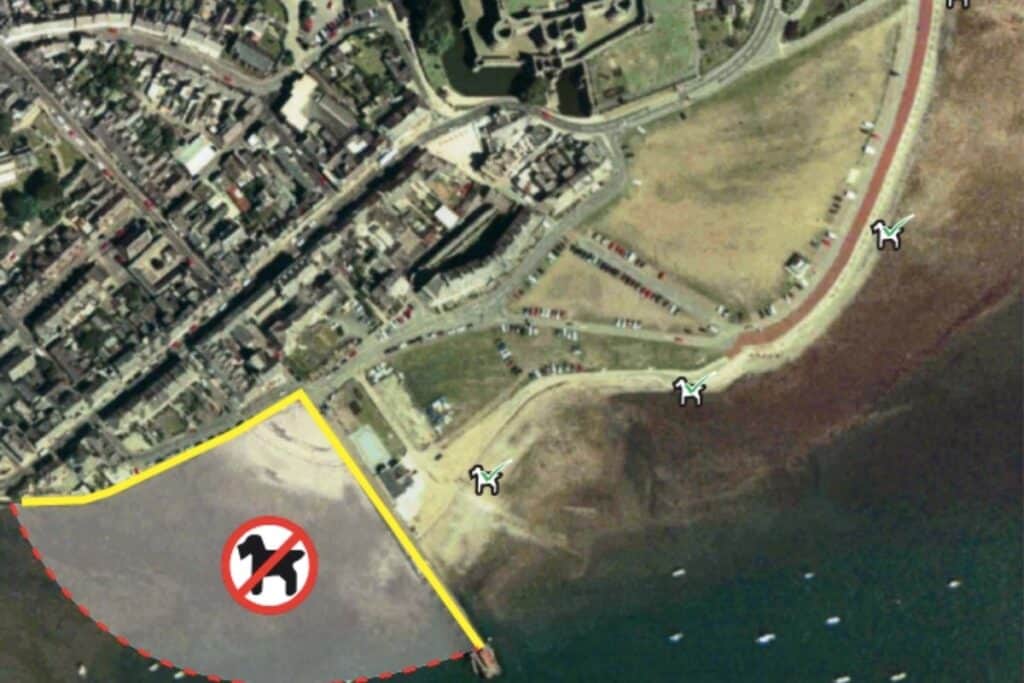 Benllech Beach Dog Restrictions
For Benllech Beach, the dog restrictions focus on the most populated area of the beach. The dog restriction zone covers the expanse of the beach directly opposite the main Benllech car park.
Those looking to enjoy the beach with their dog will have to take the promenade as far right as it goes (denoted by the green line on the image) until you reach the area of the beach assigned to dogs and their owners.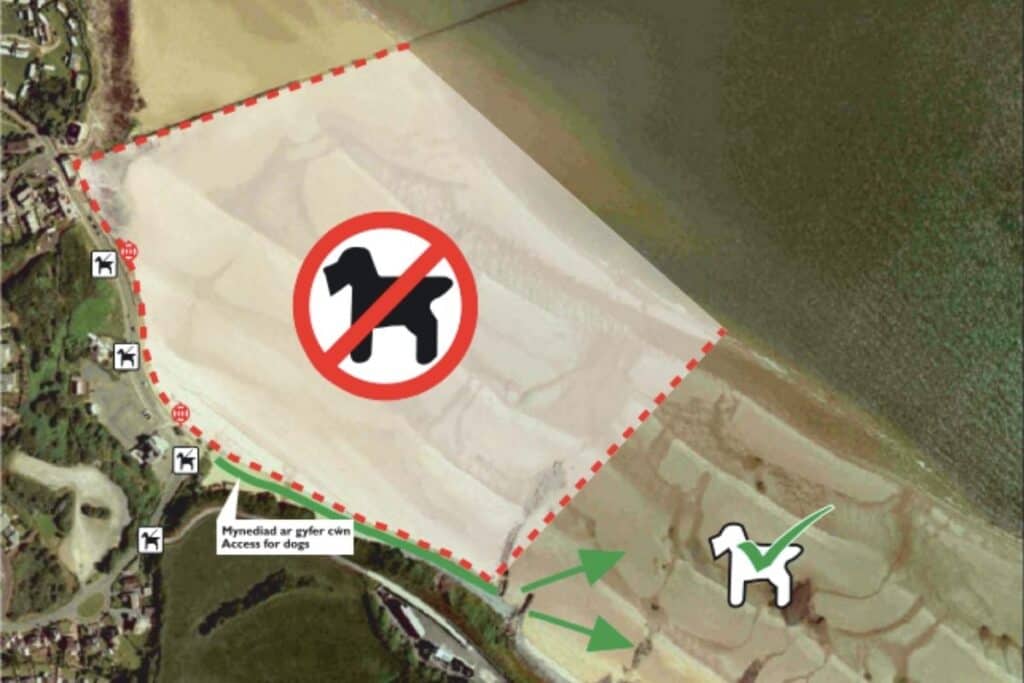 Cemaes Bay Dog Restrictions
Cemaes Bay boast two beaches, Traeth Mawr (Big Beach) and Traeth Bach (Little Beach), with dog restrictions applied to the more popular Big Beach.
While dogs are allowed on Traeth Bach year-round, those looking to enjoy Traeth Mawr during the summer months will need to walk the length of the promenade until reaching the last pedestrian exit at the adjoining small car park. Dogs and owners can then enjoy the North-Eastern corner, which backs onto the Anglesey Coastal Path.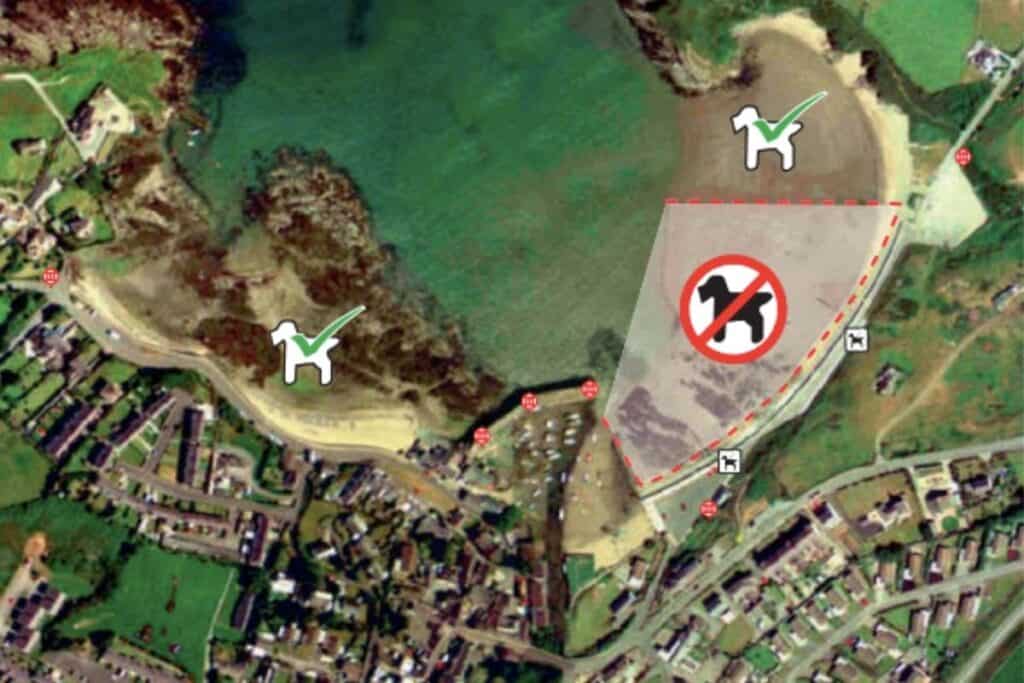 Llanddona Beach Dog Restrictions
Llanddona Beach has some of the most extensive dog restrictions by surface area. However, given the size of the beach and the fact that it borders the vast Red Wharf Bay, the dog ban is somewhat moot.
All dog owners need to do is head left out of the Llanddona Beach car park (which is actually right on the image below) and enjoy the miles of unspoilt sandy beach towards Red Wharf Bay.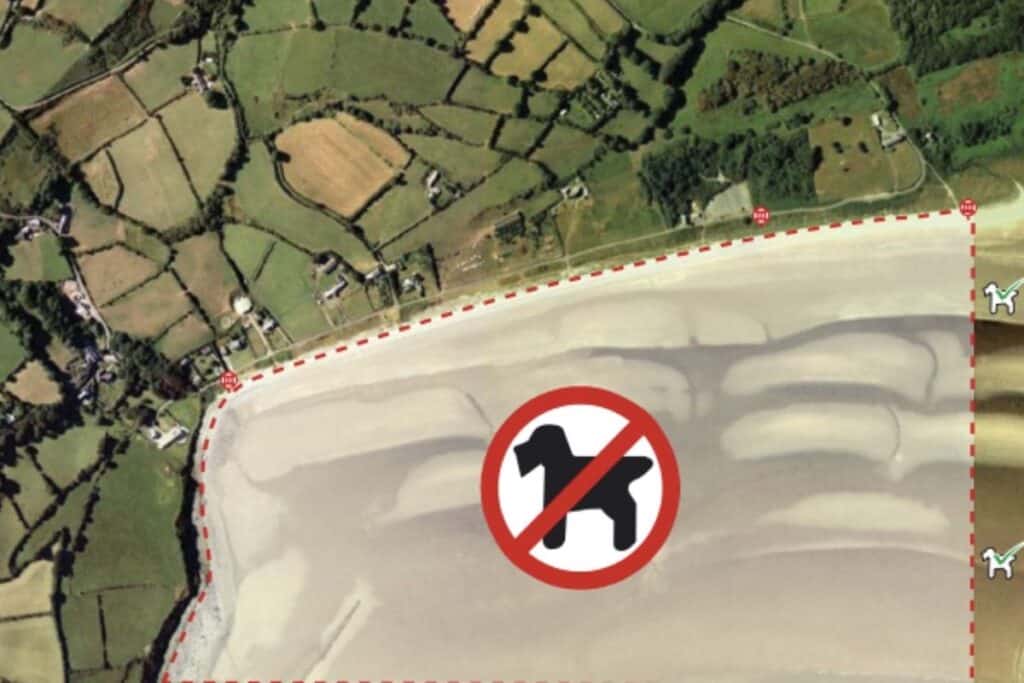 Newborough Beach Dog Restrictions (Llanddwyn)
Newborough beach is one of the most popular on the island. However, it's also a nature reserve for many species of nesting birds. For that reason, dog restrictions are in place, and dog owners are asked to keep their dogs on a lead, especially from March to July when camouflaged ringed plovers nest on the beach and during the winter when overwintering birds can be easily disturbed.
From the main car park, owners are asked to take their dogs left during the summer months, leaving the right-hand side of the beach (extending up to the Ynys Llanddwyn Island) free for birds and other wildlife. Fear not though; there are still several kilometres of sandy beach still available to enjoy.
A quick note on Ynys Llanddwyn Island, too. Dogs are only allowed on the public rights of way and must be kept on a short lead.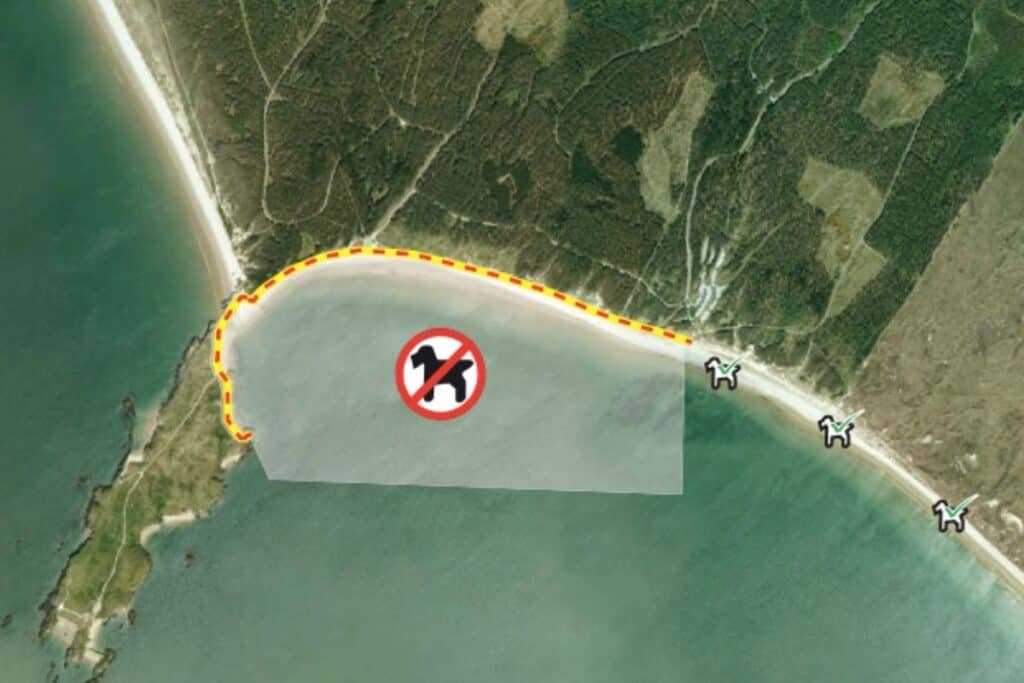 Porth Dafarch Dog Restrictions
Even though Porth Dafarch is a small beach, it remains an incredibly popular spot for beachgoers, particularly those looking to enjoy watersports such as paddleboarding.
The beach is great for dogs too, with plenty of room to splash about and run free on the sand. However, unfortunately, dogs are not allowed on the beach at all during the dog restrictions period that runs from May to September.
So if you're visiting during the summer months with your furry friend, it's best to come back in the off-season to enjoy it together.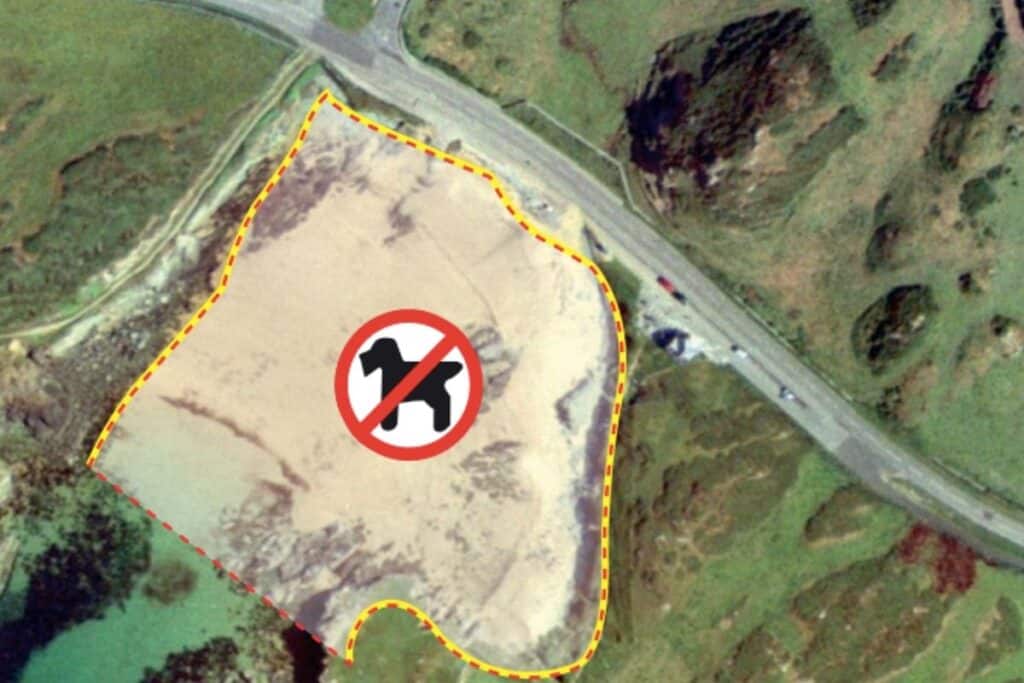 Trearddur Bay Dog Restrictions
Another popular location for beachgoers is Trearddur Bay. Dog restrictions here effectively split the beach in half, with the right-hand side of the beach allowing dogs and their owners to enjoy the sand and sea together.
From the main car park, dog owners will need to head right along the promenade with their dog on a lead until they reach the first set of steps down to the beach outside of the restriction zone denoted in the image below.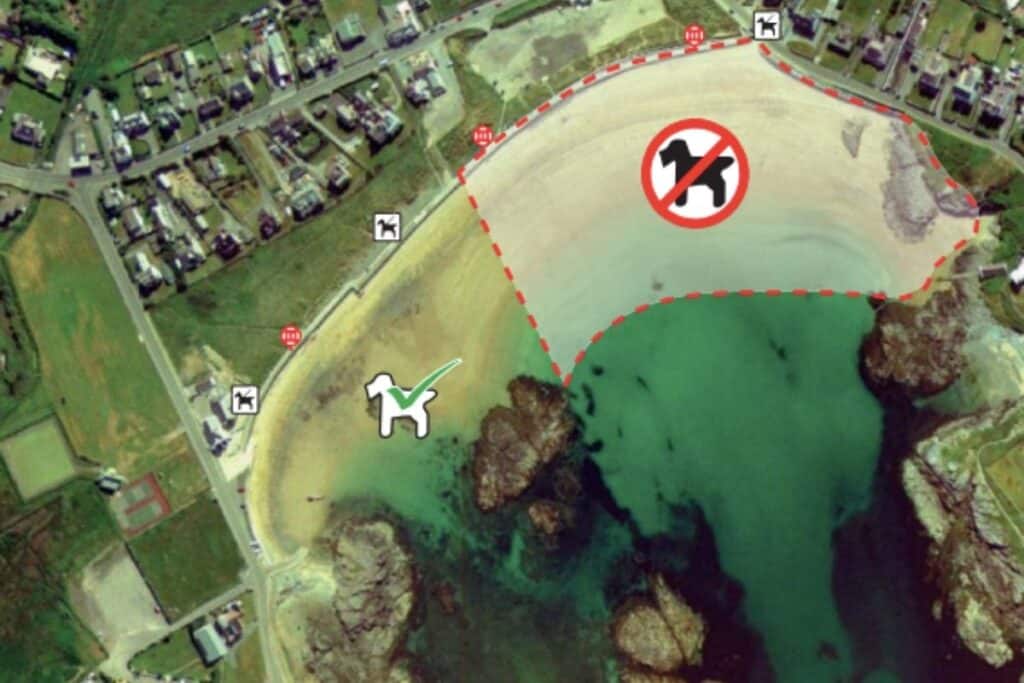 Is There Anything Else Dog Owners Visiting Anglesey Beaches Should be Aware of?
Yes, dog owners should always make sure to clean up after their dogs as soon as possible when on the beach. Not only is it a common courtesy to other beach users and a health and safety issue for young children, but The Isle of Anglesey (Dogs Fouling of Land) Order 1997 also makes it an offence for dog owners not to clean up after their dogs in designated areas, including beaches.
If you fail to clean up after your dog, you may be liable to a fixed penalty fine of £75 or prosecution in court, which could result in a fine of up to £1000.
Dog Restrictions on Anglesey Beaches: Recap
To recap, there are restrictions in place on seven of Anglesey's beaches which are in force from May 1st to September 30th each year. Dogs are allowed anywhere on all Anglesey beaches outside of this period. However, please heed the guidance surrounding sensitive wildlife conservation areas such as Newborough even when dog restrictions aren't in place.
Just a reminder that several fantastic beaches allow dogs year-round, including Silver Bay Beach, Porth Nobla, Cable Bay, and Porth Cwyfan, to name but a few.
* All images taken from Isle of Anglesey County Council. Further details on the island's dog restrictions can be found here.