Porth Nobla is one of the many beaches that make up the quartet of so-called "Rhosneigr Beaches" that include the nearby beaches of Porth Tyn Tywyn, Traeth Llydan, and Traeth Crigyll. This predominantly sandy beach is broken up by rocky outcrops and can be accessed from a number of car parks or the Anglesey Coastal Path.
But with Porth Nobla being a relatively small beach, why should you choose it over some of the more popular beaches nearby?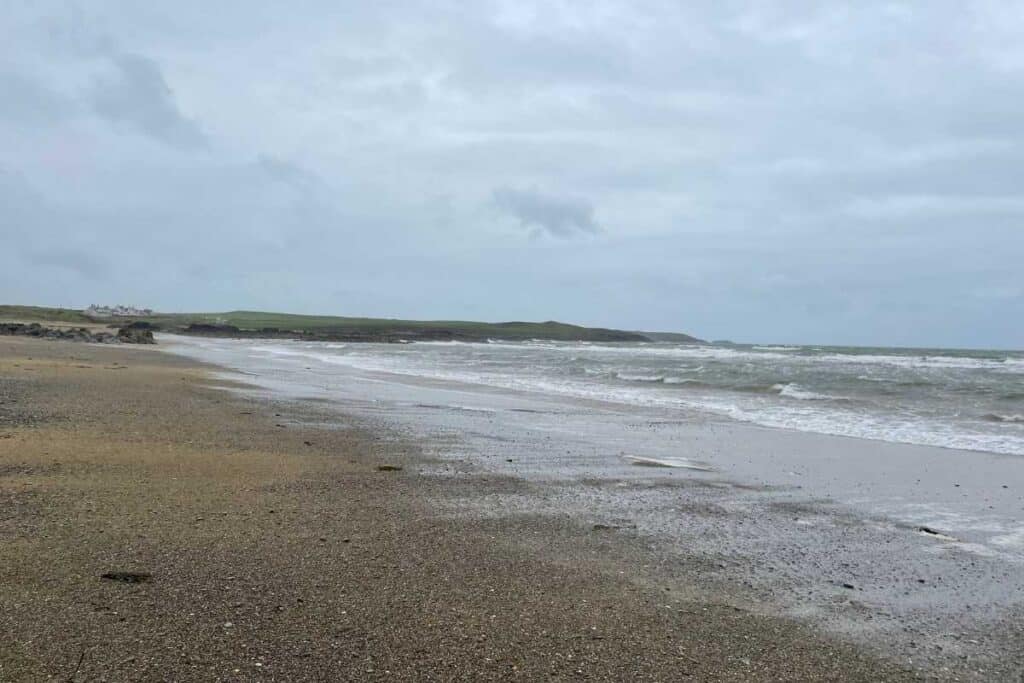 Why Visit Porth Nobla Instead of Nearby Beaches in Rhosneigr and Aberffraw?
One of the most pleasing aspects of Porth Nobla Beach is that it has something for everyone. Whether you want to simply laze on the beach on a sunny summer's day, or you want to take on the Irish Sea in the autumn and winter months (when the waves are perfect for surfing), it covers all bases.
Perhaps the most significant advantage Porth Nobla has is that it's slightly out of the way, meaning it tends to be quieter than the beaches nearby. Depending on the wind direction for the day, it's also sheltered by the headland, making it less bracing on those days when the weather isn't cooperating with your beach day plans.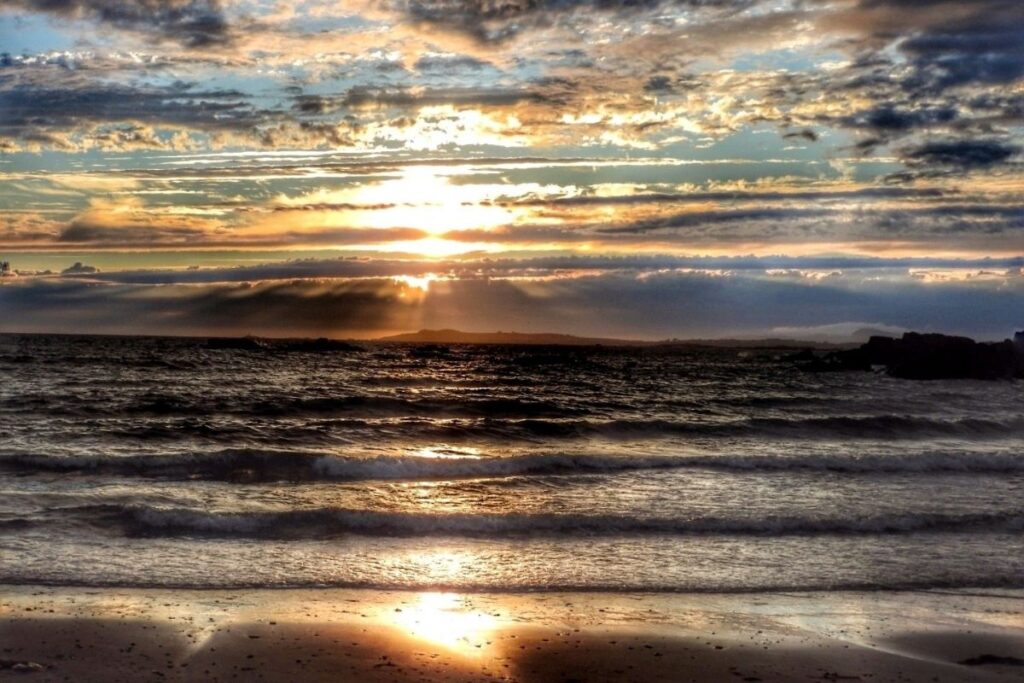 In terms of activities, there are loads on offer at Porth Nobla. Surfing and bodyboarding are popular here, as are canoeing, kayaking, and paddleboarding on days when the Irish Sea is calmer. However, this beach wouldn't typically be categorised as beginner-friendly due to its numerous rocky outcrops.
Speaking of rocks, these outcrops are excellent places to visit armed with a bucket and net. Rock pools here include shrimp, crabs, and other kinds of interesting shellfish. Porth Nobla also offers sea anglers a great spot to fish.
If none of those activities takes your fancy, you can always take a stroll along the headland to visit the ancient burial chamber, Barclodiad y Gawres, which is thousands of years old, or do a lap of the nearby Llyn Maelog found behind the sand dunes of neighbouring Porth Tyn Tywyn.
Car Parking Options for Porth Nobla Beach?
Unusually for a beach on the Island of Angelsey, there are several parking options for Porth Nobla. Your best bet is aiming for the Porth Tyn Tywyn Pay and Display Car Park just off the A4080 and taking the short walk through the sand dunes down to Porth Nobla.
The parking rates are reasonable and are as follows for cars (accurate at time of writing):
Up to 1 hour – £1.00
Up to 2 hours – £2.00
Up to 3 hours – £3.00
Up to 6 hours – £5.00
Up to 12 hours – £8.00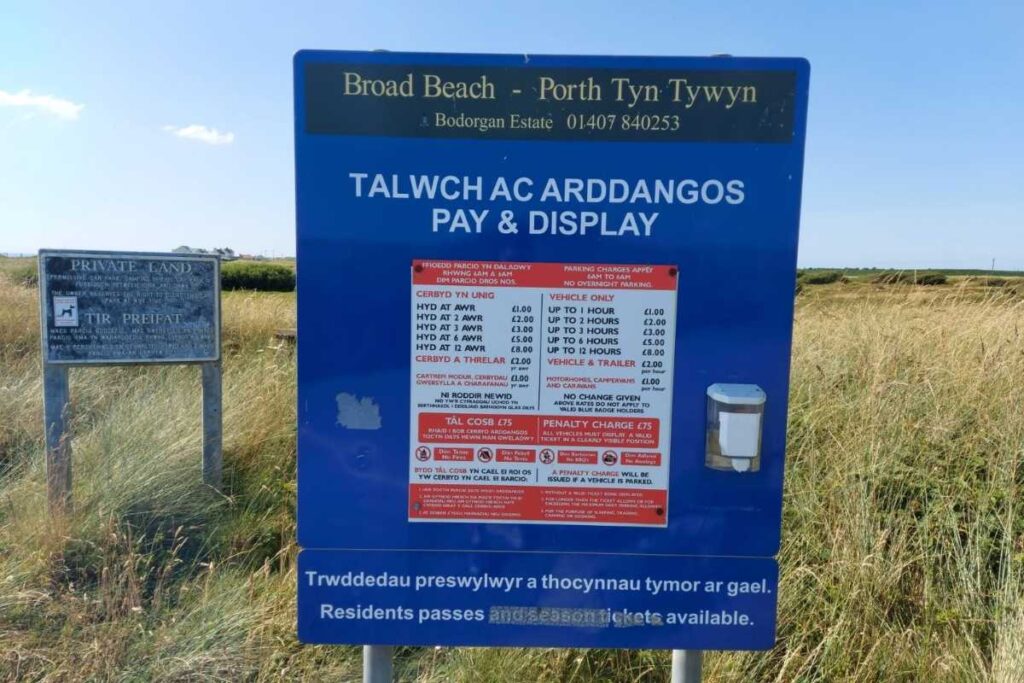 However, if you're on a tight budget, you can attempt to park in the very unofficial lay-by that's located alongside a path leading from the main road down past a solitary white house down to the beach. You will have to get here early if you want to stand any chance of securing a spot here.
Lastly, you can try to park over at Cable Bay's pay and display car park, which is charged at the same rates as the much larger Porth Tyn Tywyn car park. However, be warned that it's a decent trek back over the small hill to Porth Nobla, and it can be equally busy.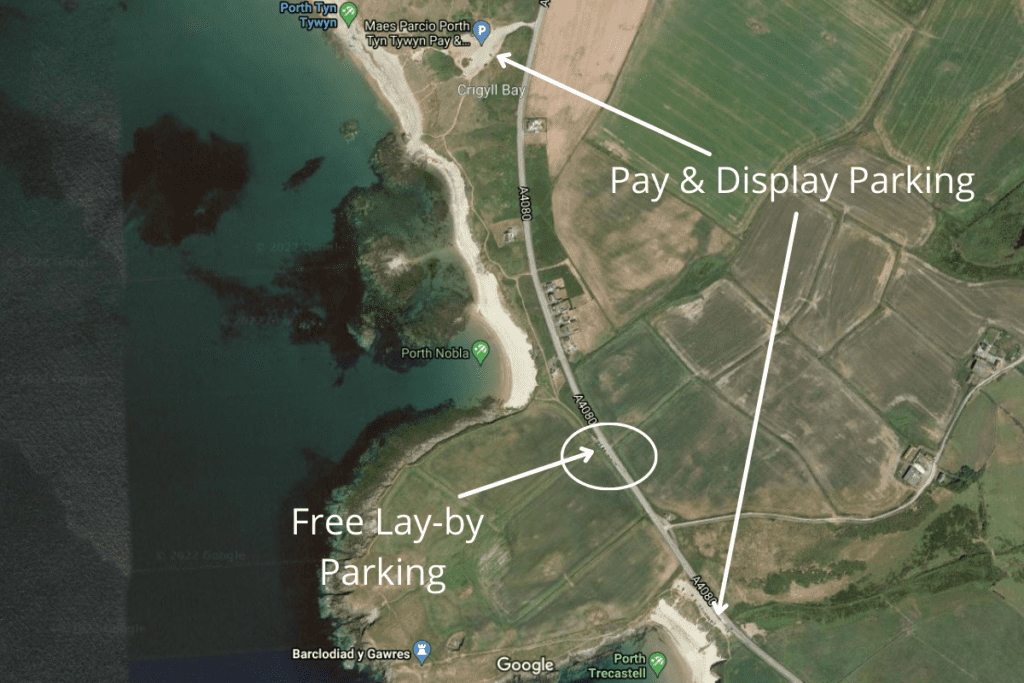 Getting to Porth Nobla (Including Directions)
Access to Porth Nobla is pretty straightforward. Just simply take the A55 Expressway from any direction and then:
Take Junction 5 (signposted for Rhosneigr).
Follow the A4080 as it winds through a few small hamlets before arriving at Llanfaelog.
Continue on the A4080, ignoring right-hand turns signposted for Rhoneigr in Llanfaelog and Bryn Du.
Follow the road until you arrive at the large Porth Tyn Tywyn car park on your right-hand side.
If you're attempting to secure a spot at the lay-by, keep following the A4080 past the large pay and display car park. As the road climbs, you can find the lay-by on the right-hand side close to the crest of the hill.
Porth Nobla Facilities
One of the reasons Porth Nobla Beach is nice and quiet is because there is less in the way of facilities. Being at the opposite end of the bay to Rhosneigr means you'll likely need to bring a picnic if you plan on staying here for the day.
That said, there are usually temporary toilets in the Porth Tyn Tywyn car park (not during autumn or winter), bins to dispose of your rubbish, and there is often an ice cream van too during the warmer months of the year. There is also a watersport equipment hire cabin here too, where you can rent paddleboards, canoes, kayaks, and surfboards which is open during school holidays.
Porth Nobla FAQs
What Activities Can You Do at Porth Nobla Beach?
Porth Nobla is a quiet beach that offers something for everyone. You can try your hand at any of these activities at the beach:
– Kayaking
– Sea fishing
– Paddleboarding
– Rock pooling
– Surfing
– Bodyboarding
– Swimming
– Walking
Where is the Nearest Place to Eat at Porth Nobla?
While there may be an ice cream van in the car park, if you find yourself looking for something more substantial, then you'll need to make your way up the bay to the large village of Rhosneigr, which offers plenty in the way of places to eat. The well-regarded Oyster Catcher restaurant is behind the sand dunes about halfway up the bay, less than a 10-minute walk from Porth Nobla.
Is Porth Nobla Dog-Friendly?
Unusually for an Anglesey beach, there are no restrictions regarding dogs at Porth Nobla, and you can bring your furry friend year-round to enjoy this sand and shingle beach. That said, it goes without saying that you should always keep your dog under close control, consider other beachgoers, and always clean up after them. Bins are provided in the nearby Porth Tyn Tywyn car park.
What's the Postcode for Porth Nobla?
The closest postcode for Porth Nobla is LL63 5TE. However, please note that you'll drive past the Porth Tyn Tywyn car park before you reach the destination on your sat nav.
What Type of Beach is Porth Nobla?
Porth Nobla is a sand and shingle beach broken up by rocky outcrops, and the beach is backed by a sand dune system that extends across the rear of many of the beaches in Rhosneigr bay.
Are There Lifeguards at Porth Nobla Beach?
No, there is no lifeguarding service at this beach. You enter the water at your own risk.