Set on the picturesque west side of Holy Island, Porth Dafarch is a haven for beach lovers. With breathtaking views stretching out to the Llŷn Peninsula and Eryri (Snowdonia), this National Trust-owned gem promises a perfect spot for a beach day.
But what truly sets Porth Dafarch apart from other beaches? Is it the rock pools that beckon children or the array of watersports on offer? Let's take a look.
Why Spend the Day at Porth Dafarch?
In many ways, Porth Dafarch is more than just a beach; it's an experience. With its crystal-clear waters framed by rugged headlands, every glance offers a postcard-worthy view, stretching out to the Llŷn Peninsula and the majestic peaks of Eryri (Snowdonia).
For the thrill-seekers, the beach's crags and sea caves beckon kayakers and snorkelers alike, revealing a world of marine wonders. Families set up camp on its sandy shores, where children's laughter echoes as they explore rock pools teeming with life. And for those with a penchant for history, the remnants of the Missouri, a 6,000-tonne American steamship, lie just off the coast and are available to scuba dive if conditions are right.
But Porth Dafarch isn't just about its natural beauty. It's a testament to sustainable tourism. Proudly wearing its Blue Flag status, the beach ensures pristine waters and a commitment to environmental excellence. And with top-notch facilities, from accessible amenities to nearby eateries, every visit is as comfortable as it is memorable.
What Activities are on Offer at Porth Dafarch?
Porth Dafarch is an adventurer's haven! If you're keen on exploring the waters, you can dive into sea kayaking or paddleboarding, navigating the coves, jutting rocks and sea caves.
Alternatively, for those of you who prefer a mix of adrenaline and exploration, coasteering might be the way to go, climbing, jumping, and swimming through all the natural challenges Porth Dafarch has to offer. Active Cymru offers coasteering trips from the beach for families and groups as large as 20+.
If you have young adventurers in tow, they'll be over the moon with the beach's rockpooling opportunities. They'll discover crabs, starfish, and more in the hundreds of rockpools dotted along the beach.
This spot is a popular dive beach for training, offering a shallow shore dive teeming with marine life. And for those intrigued by history beneath the waves, the wreck of the Missouri awaits further out, as we've already mentioned.
But what if you're more of a landlubber? Well, the 140-mile Anglesey Coastal Path meanders through Porth Dafarch, offering breathtaking views and a chance to spot wildlife like porpoises and seals from the headland.
Location and Parking for Porth Dafarch Beach
Porth Dafarch is a beautiful beach located on the west side of Anglesey's Holy Island and is well-signposted on roads from neighbouring Holyhead and Trearddur Bay, and it is easy to find your way there.
Regarding parking, there is free but limited parking available at Porth Dafarch. If you arrive early in the morning, you should be able to find a free parking spot. However, during peak times, the narrow and unorganised car park can get full quickly, and you may need to park on the roadside. Make sure you're aware of the parking restrictions and do not park in areas where parking is prohibited, as you may receive a fine.
From the roadside parking area, it's just a short walk down the hill to the beach.
Toilets and Amenities at Porth Dafarch
Having convenient amenities can make all the difference when you're spending a day at the beach.
At Porth Dafarch, visitors are well catered to, especially compared to some of Anglesey's other beaches. For starters, there are regularly cleaned public toilets, ensuring that families and individuals can enjoy their day without any inconveniences. The outdoor showers are also a welcome feature, making it easy to rinse off the saltwater and sand before carrying on your adventures.
For those with a sweet tooth or looking for a refreshing treat, there's often an ice cream van parked up at the rear of the beach, offering the usual range of ice creams, cold beverages, and snacks.
Better still, Porth Dafarch is a very accessible beach. The ramped slipway ensures everyone can easily access the beach, including those with mobility challenges.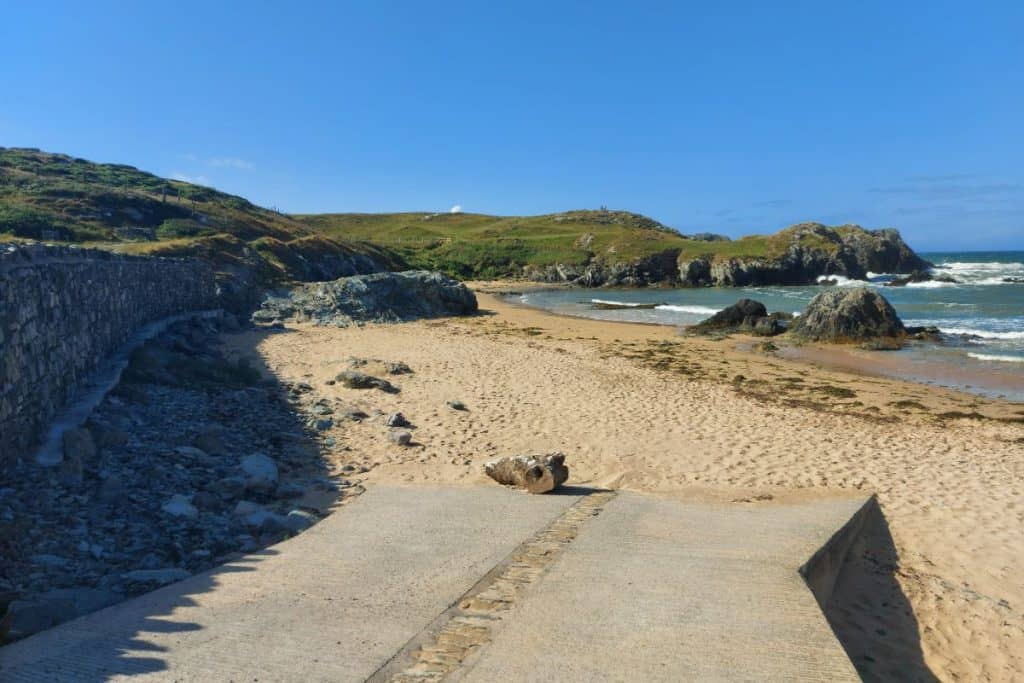 Frequently Asked Questions
What Are Some Good Places to Eat Near Porth Dafarch?
If you're looking for a bite to eat near Porth Dafarch, there are several options to choose from. The Seacroft is a popular pub in Trearddur Bay, just a short drive away. They offer a variety of dishes, including seafood, burgers, and traditional pub fare. If you're in the mood for something more upscale, you might want to try the Ocean's Edge restaurant overlooking the beach. Another option further afield is The White Eagle in Rhoscolyn, which offers a menu that features locally sourced ingredients.
What Are the Tide Times for Porth Dafarch?
The tide times for Porth Dafarch can vary depending on the time of year and the phase of the moon. It's essential to check the tide times before you visit the beach, as the tide can come in quickly and make most of the beach inaccessible. You can check the tide times online here.
Is Porth Dafarch a Sheltered Beach?
Yes, for the most part, Porth Dafarch offers excellent shelter against the wind due to its position between two high-sided outcrops of headland and a natural "dip" in the valley. That said, it's not immune, especially from a strong westerly breeze. If you're looking for a more sheltered beach to some of Anglesey's more sprawling alternatives, then Porth Dafarch is a good bet.
Are Dogs Allowed on Porth Dafarch Beach?
Unfortunately, no, Porth Dafarch is perhaps the most heavily dog-restricted beach in Anglesey. Dogs are prohibited from being on the beach from the 1st of May to the 30th of September. Outside of this period, dogs can have free roam of the beach. So, if you're planning on bringing your four-legged friend, it may be best to come in the Easter or October half-term holidays.
How Far is Rhosneigr from Porth Dafarch Beach?
Porth Dafarch beach is about 15 miles west of Rhosneigr, or about 20 minutes by car. So, if you're looking for a change of scenery from this popular seaside village, a day out to Porth Dafarch is definitely worth considering.
What is the Postcode for Porth Dafarch?
The nearest postcode for Porth Dafarch is LL65 2LS. Just be aware that this postcode covers a decent area, so you'll need to pay attention to signage or check whichever sat nav you're using for those final hundreds of metres. You can't miss it as long as you're on the Lon Isallt road.
What Type of Beach is Porth Dafarch?
Porth Dafarch Beach is predominately sandy, with rocky outcrops dotted across the shore.
Is There a Lifeguarding Service at Porth Dafarch?
While there is usually a beach warden about during the busy summer months, there is no official lifeguarding service at Porth Dafarch, and you enter the water at your own risk.
Does Porth Dafarch Get Busy?
Yes, this beach can get very busy during summer, but due to limited parking, it's never quite as "full" as some of the more popular beaches in Anglesey. If you get there early enough, you can often initially share the beach with just a few other groups, even during school holidays. Outside these times, the beach is rarely busy, and you can often have the whole place to yourself.