There are quite a few hidden and remote beaches in Anglesey, but White Beach (or Traeth Gywn, if you prefer) is perhaps the best of them. Rarely busy, even in the height of summer, this white rocky beach (hence the name) offers a peaceful retreat for those looking to get away from the more crowded shores of popular beaches such as Benllech and Penmon.
That said, there's a reason it's so quiet – it takes a bit of getting to. With road access and parking not great, and a tricky descent on uneven stone steps, actually making it down to White Beach requires a fair bit of effort.
But, for many, that makes it all the more appealing.
So what are the particular highlights of a visit to White Beach?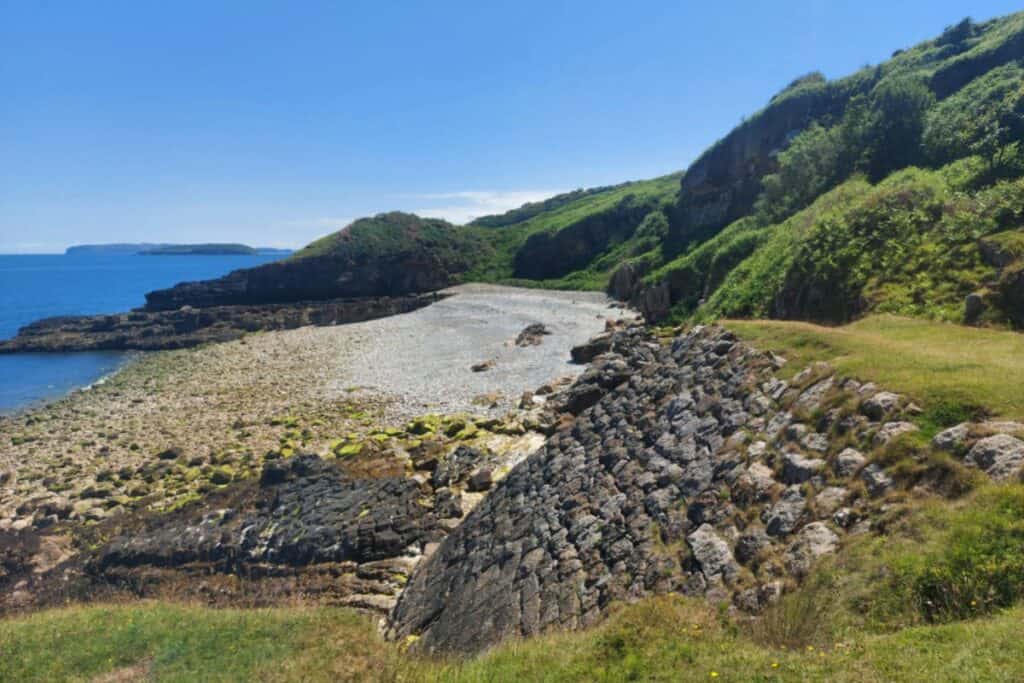 Why Visit White Beach?
There are several reasons you might want to consider making the somewhat tricky journey. Number one has to be the peace and quiet you'll be afforded upon reaching the beach.
While you might not be alone during the summer holiday season or on hot sunny weekend days, pretty much any other time you come here, you'll have the place to yourself or be among only a handful of people enjoying this remote spot.
You can sit there, listening to the waves crashing against the rocky shore, with a good book and maybe even a cold beverage (on a hot day). If you're looking for a spot to "get away from it all," you'd be hard-pressed to find a better place than here.
Another advantage of the cove in which the beach finds itself is that sea swimming here is particularly enjoyable. With little to no swell (not always, though, check conditions before departing), you can swim in the crystal clear waters without worrying about anything too rough or strong pulling you around.
The tranquillity of this spot also attracts sea anglers, who while away their time here in pursuit of mackerel, pollock, bass, wrasse, and other fish varieties. It's an excellent spot to launch your paddle board, kayak, or canoe and paddle your way along the nearby coast in search of dolphins and other wildlife.
Speaking of which, due to its quiet nature, you're more likely to spot porpoises, dolphins, and other wildlife at White Beach than at other spots along the northern Anglesey coastline.
However, it's not all fun and games here. Access is tricky, to say the least, as we shall now explain.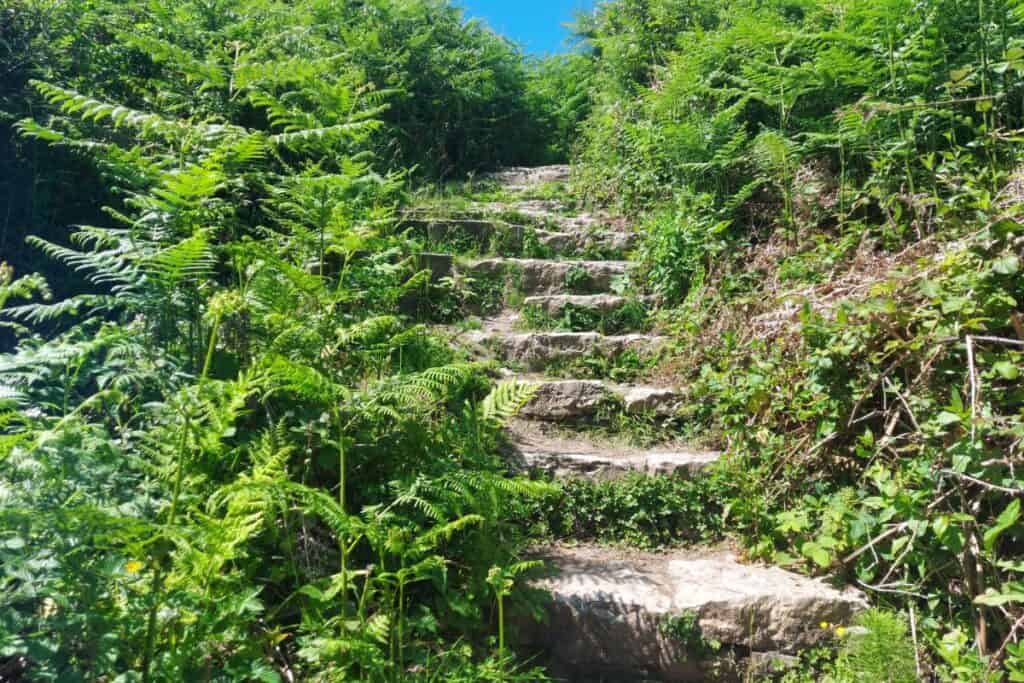 Getting to White Beach
The biggest drawback of this hidden gem is undoubtedly its access. The only way to get to the beach is by travelling down a long, narrow single-track lane that only boasts one or two passing places in almost a mile between the main road and the car park. If you were to meet someone coming the other way, it would be a very long and twisty reverse back for one of you.
Once you arrive at the car park, there are only three or four "proper" car parking spaces, and enough for a further three or four cars parked sensibly in the remaining verges and spaces – though again, it's a bit of a squeeze.
One option, of course, is to find suitable parking in the nearby hamlets of Mariandyrys or Glan-yr-afon and walk down to the cove from there. As mentioned, that would roughly be a mile of walking each way, which isn't bad if you're travelling light, but not so great if you're packed to the gills with kids and all their gear in tow.
If you do fancy the trip, here are some loose directions:
From Beaumaris, take the B5109 to Llangoed.
Once you reach Llangoed, make your way through the village before turning left opposite the car park for Aberlleiniog Castle (before the bridge over the river).
Follow this small, winding road until you reach the small village of Glan-yr-afon.
Make your way slowly through the village before the road starts to incline.
Once you pass the national speed limit sign, look for a turn on the right-hand side by a grassy triangle.
Descend this road for roughly 200 yards before taking a left turn (look out for lots of wheelie bins and a no-through-road sign).
This is the narrow road that will take you down to the beach car park. Follow its twists and turns until you reach the end of the road.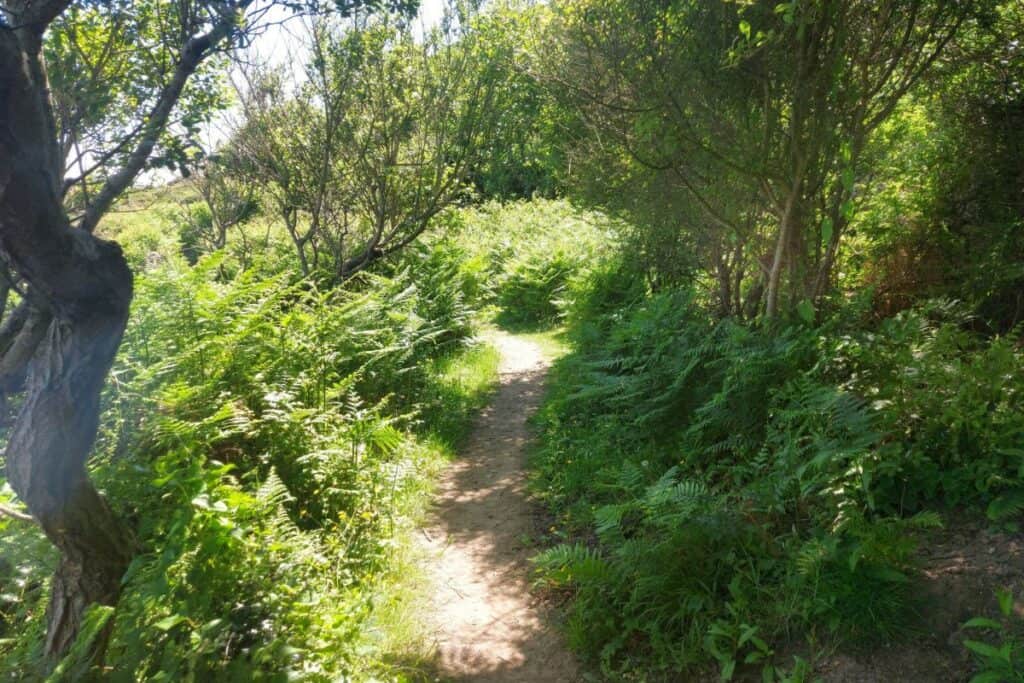 White Beach Anglesey FAQs
Where is White Beach Located?
White Beach is found on the northeastern tip of Anglesey, not far from Llanddona and Penmon Point. The nearest villages are Mariandyrys and Glan-yr-afon.
Is White Beach Dog-Friendly?
Yes, you can bring your dog to White Beach; there are no restrictions in place at this beach.
Are There Any Facilities at White Beach?
No, this is a back-to-basics beach. There aren't any toilets (the closest public ones are located at Llanddona Beach) or establishments selling food or drinks. You'll need to have everything you need with you when you visit this secluded little beauty spot.
Is There Parking at White Beach?
Yes, but as mentioned, it's minimal. Probably a maximum of eight cars at any one time, depending on how sensibly people have parked and the size of vehicle they are driving.
The road to the car park is unsuitable for motorhomes, with the maximum-width vehicle realistically being a Ford Transit/VW transporter-type van.
Is White Beach Accessible?
White Beach is not suitable for those with mobility issues or wheelchair or pushchair users. There are steep steps down from the car park, and the path down the beach is also steep in places.
What is the Best Time to Visit White Beach?
Due to the parking situation, it's best to arrive either early in the morning or late in the day. Otherwise, you run the risk of making the arduous journey without even having somewhere to turn around at the bottom.
Is There a Lifeguarding Service at White Beach?
No, you enter the water at your own risk.
What's the Postcode for White Beach?
The nearest postcode is LL58 8TB, but that only takes you to the road to the beach. You'll need to continue to the bottom to reach the car park.
What Type of Beach is White Beach?
This beach is mostly shelving pebbles (similar to those seen at Penmon Beach further up the coast). However, there are plenty of rocks too. Generally speaking, it's not too harsh underfoot if you're wearing flip-flops or similar footwear.
How Busy is White Beach?
Due to its accessibility challenges, White Beach is often extremely quiet. Any time you visit outside of school holidays and weekends, you may well have the place to yourself.