Located between Red Wharf Bay and the fishing village of Moelfre is Benllech Beach, widely considered one of Anglesey's best beaches. Not only has this beach won numerous awards, but it also consistently ranks among the top few beaches in North Wales in polls and surveys.
So, what makes this expansive golden sandy beach well worth a visit?
Why Spend the Day at Benllech Beach?
From the far-reaching views to the hundreds of rock pools to explore, Benllech Beach has something to offer everyone. A long-time holder of a Blue Flag Award (the gold standard of beach certifications), this Anglesey beach has also earned a prestigious Marine Conversation Society recommendation for its excellent water quality – making it a perfect location for a spot of sea swimming.
Water quality aside, Benllech has so much more to offer beachgoers, from rock pools full of crabs and starfish to golden sands that stretch out as far as the eye can see at low tide. Benllech Beach runs into St. David's Beach, which in turn links with Red Wharf Bay, giving you miles of beach to find the perfect spot to set up camp for the day.
It's also why it's so popular with dog owners. According to a recent report conducted by Sykes Cottages, Benllech was voted third-best beach in the UK for dogs – even though there are dog restrictions in place throughout the high season (more on this later).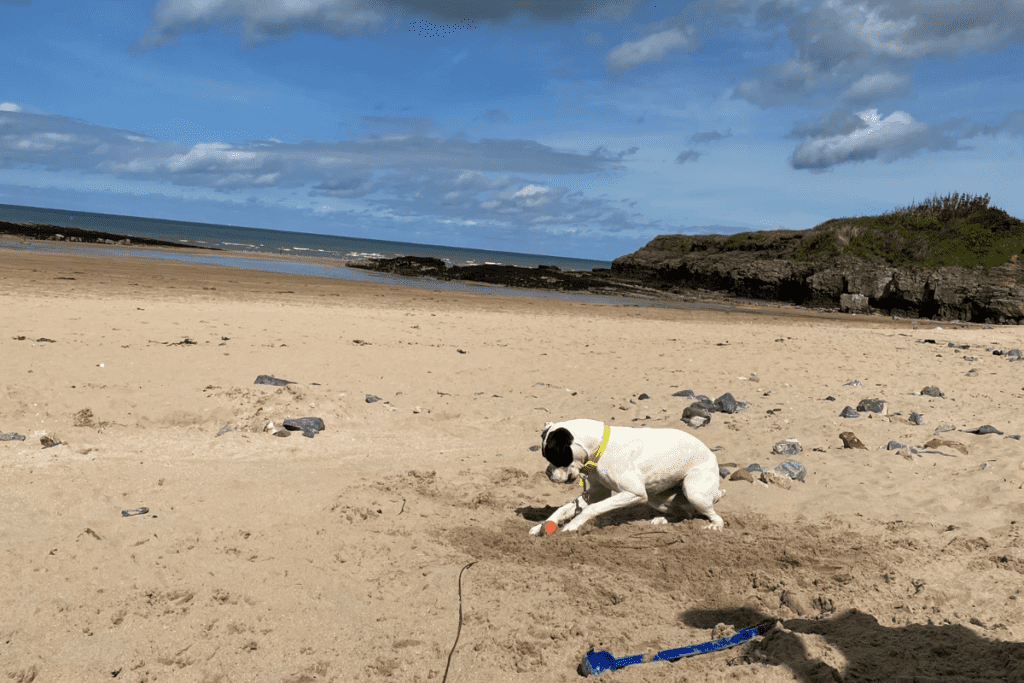 What Activities Are on Offer at Benllech Beach?
There are numerous activities to fill your day at Benllech Beach. The beach boasts golden sands that are perfect for building sandcastles with a spade and bucket or attempting other sand sculptures. As mentioned, there are also several stretches of rocky outcrops that hide a wealth of wildlife. Just one trip to the rock pools of Benllech could see you discover crab, shrimp, starfish, and a whole host of other interesting marine life.
Of course, on the water, you can try your hand at surfing, bodyboarding, windsurfing, or why not blow up your dingy and go for a paddle? Given the water quality, this is also one of the best locations on Anglesey to go sea swimming. You have the added safety net of a lifeguarding service to give you peace of mind before venturing out.
Other activities include sea fishing (there are a few stretches that are very popular with local anglers) and walking along the vast expanse of sand all the way across to Red Wharf Bay – perfect if you have a pooch or two that need the exercise. The Anglesey Coastal Path also runs along the rear of the beach if you want to gain some elevation and take in breathtaking views of the beach and headland as you make your way over to St. David's.
Is Benllech Beach Dog-Friendly?
In short, yes. Even though there are dog restrictions in place from 1st May to 1st September, the beach is simply so vast that just a few minutes of walking and you are in the section of Benllech Beach that welcomes dogs year-round.
That's why, despite the restrictions, Benllech remains one of the most popular beaches for pet owners in the UK. Setting up camp here (away from the restricted section within the main beach area) gives you the added bonus of being in a slightly quieter section, where you'll have more space for you and your companions (including family members) to roam and play.
Benllech Beach Dog Restrictions
Below is a map from the Isle of Anglesey County Council detailing where you can and cannot take your dog during the restrictions that run from 1st May to 1st September.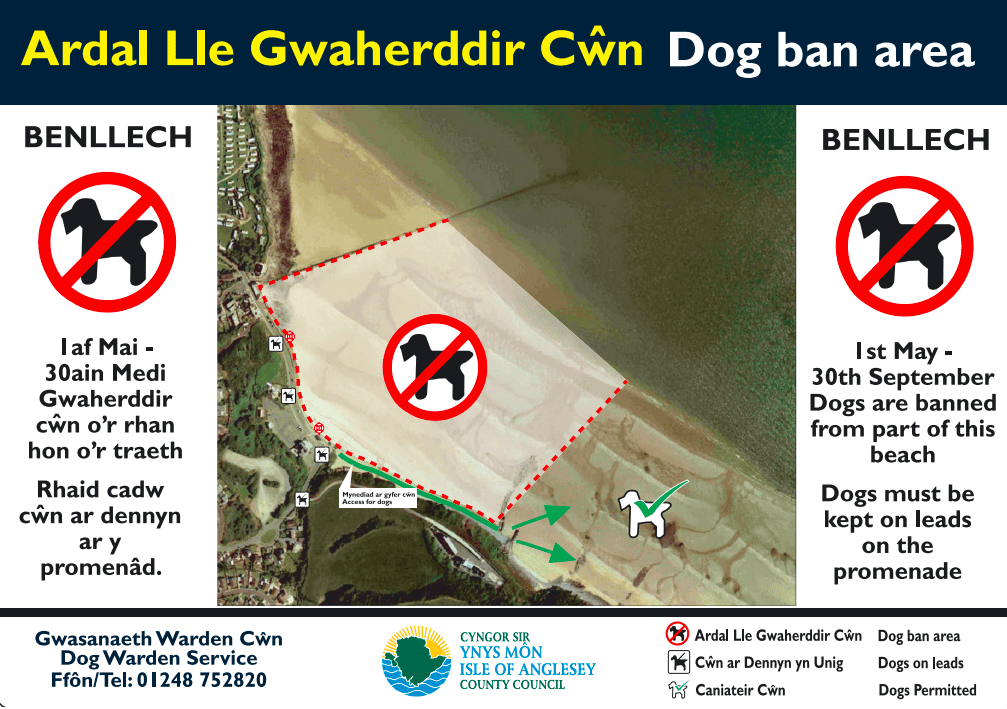 Where is Benllech Beach?
Benllech Beach is located on the North-Eastern coast of Anglesey and is no more than a 45-minute drive from anywhere on the island. To find Benllech Beach, simply follow the directions below:
From the A55 Expressway (either direction), take junction 8 signposted A5025 (Menai Bridge).
Head north and take the second exit at the roundabout (straight on) past the Four Keys Inn and Sopna Menai Tandoori restaurant.
Continue for several miles along the A5025 until you reach Benllech.
Just after the hair salon and ice cream parlour, turn right onto Bay View Road.
Follow the road as it takes a sharp right, navigating the speed bumps as you go.
Pass the Upper Wendon Pay & Display Car Park (pull in here if you wish to park here and walk down to the beach) on your left.
Reach the bottom of the hill and see the beach right in front of you and the main car park (Lower Wendon) on your left.
You'll find that the bottom car park, Lower Wendon, is very busy during high season, so you might want to hedge your bets and park in the Upper Wendon overflow car park, which is only a two-minute stroll downhill to the beach.
How Much is the Car Park at Benllech Beach?
Parking for Benllech Beach is reasonably priced, particularly if you intend to spend the whole day down at the beach.
At the time of writing, parking is charged as follows:
Up to 4 hours (vehicle only) – £3.50
Up to 12 hours (vehicle only) – £4.50
Up to 6 hours (vehicle and trailer) – £6.00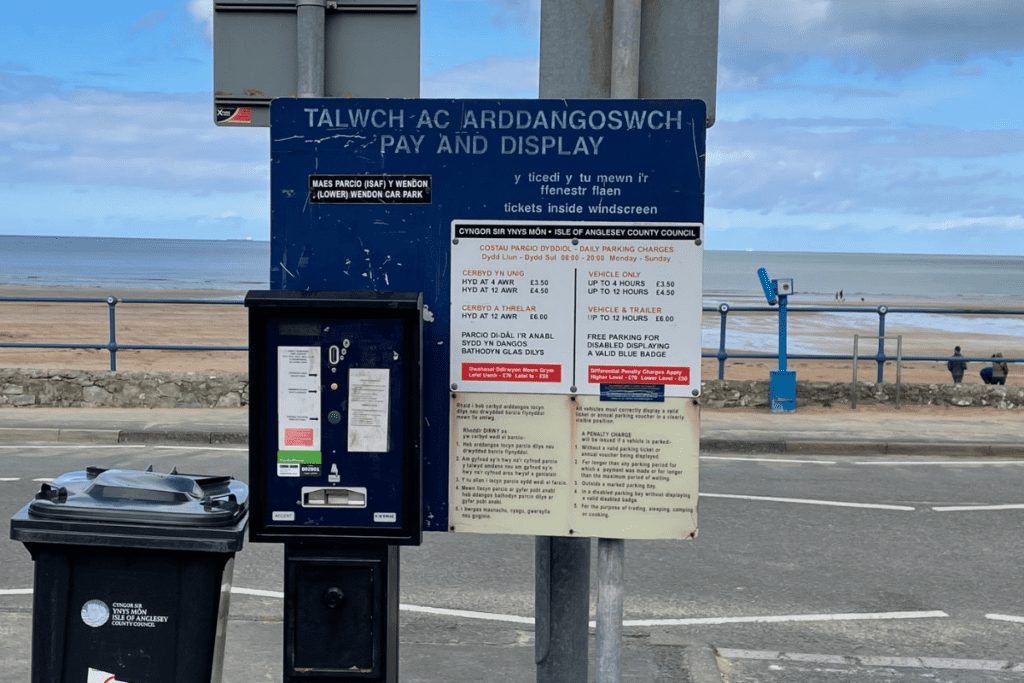 What Facilities Are Available at Benllech Beach?
There are plenty of facilities available at Benllech, another reason for its continued popularity. Eateries include Beach Front Drinks & Snacks, The Wendover Cafe & Seaside Shop, and The Bay Cafe is located slightly further along Bay View Road. If you're looking to earn your lunch, you can always head right across to the other end of Benllech Beach and book a table at The Tavern on the Bay at the exclusive St. David's resort.
There are also public toilets, a first aid point, and plenty of general shops and chippies (including our recommendation, The Golden Fry) just up the road.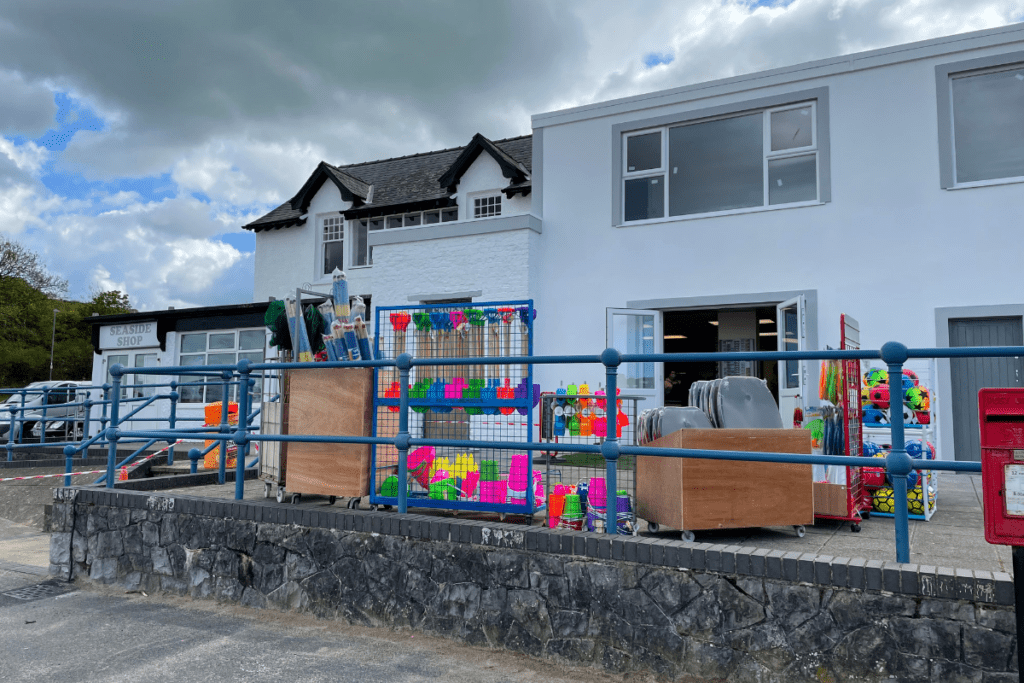 Benllech Beach FAQs
What's the Postcode for Benllech Beach?
The nearest postcode for Benllech Beach is LL74 8QE. If you input this into your sat nav or maps app, this should bring you to either one of the car parks.
Is Benllech Beach Accessible?
Yes, Benllech Beach boasts excellent disabled facilities and is pushchair friendly. There is a ramp down to the beach, but beware that the sand at the rear of the beach is soft, making pushing over to the firmer sand a little tricky.
Does Benllech Have a Lifeguarding Service?
Yes, there is a lifeguarding service in operation during the high season at this beach.
What Type of Beach is Benllech?
Benllech beach is a sandy beach with rocky outcrops complete with rock pools.
Where Can I Find the Tide Times for Benllech Beach?