With more than 150 miles of coastline and a plethora of fishing towns and villages, Anglesey unsurprisingly boasts some of the country's best fish and chip shops. Whether your preference is battered cod or haddock, there are so many chippies to choose from on this island that it can be difficult to know where to start.
So rather than having you commit hours to research portion sizes and food and customer service ratings, we've put in the hard work for you and brought you a list of what we believe to be the top 10 fish and chip shops in Anglesey.
So without further ado, let's get stuck in!
SeaWave – Menai Bridge
SeaWave has long been a favourite of those making a pitstop on their way off the island after a day of fun on the beach. Forming part of a culinary renaissance underway in Menai Bridge (check out our Menai Bridge restaurant recommendations here), the fish and chips here are reasonably priced, and the portions are pretty generous. Plus, wait times are usually minimal compared to other chip shops located in more touristy locations.
Address: 12 Bridge St, Menai Bridge LL59 5DW
Phone number: 01248 716398
Website: https://www.facebook.com/Seawave-Fish-and-Chip-shop-Menai-Bridge-102020321511752/
Golden Fry (Finney's) – Benllech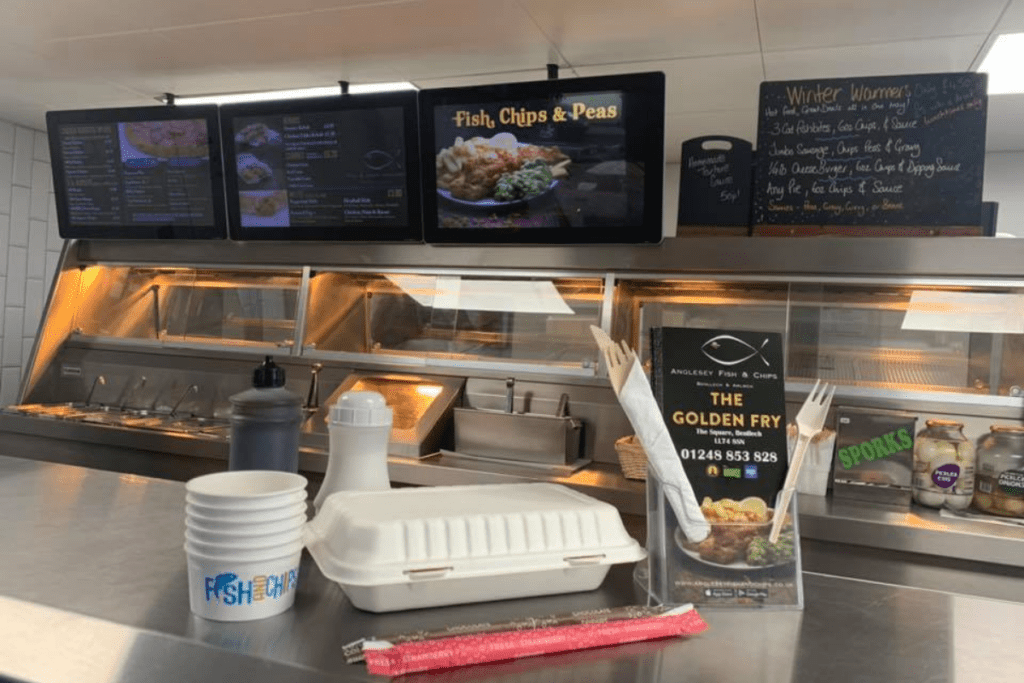 The first of the two Finney's-owned fish and chip shops to make our list is the Golden Fry, which is hands down one of the best on the island and easily the best in Benllech. In fact, this chip shop is so good that it made Fry Magazine's Top 50 Best Fish & Chip Takeaways in the UK. The batter is extra crispy at this fish bar, and the service is well-organised, meaning the queues (yes, there will be a line) tend to move quickly.
Address: The Square, Benllech, Tyn-y-Gongl LL74 8SN
Phone number: 01248 853828
Website: https://www.angleseyfishandchips.co.uk/
Y Wygyr Fish and Chips – Cemaes Bay
This award-winning chipped is located in the heart of Cemaes. They offer a wide selection of lovely food that extends well beyond fish, including locally-reared Welsh beef burgers and homemade pies made using local ingredients. Our top tip is to grab your order and head down to the main beach and Cemaes Bay to scoff them as the sun goes down. If you're in Cemaes Bay and you don't happen to fancy fish and chips, take a look at our other Cemaes Bay food recommendations.
Address: 9 High St, Cemaes, Cemaes Bay LL67 0HH
Phone number: 01407 710554
Website: https://cemaes.wales/organisation/y-wygyr-fish-and-chips/
Chippy Chippy – Holyhead
The only other Anglesey fish and chip shop to make it into Fry Magazine's Top 50 Best Fish & Chip Takeaways in the UK, this Holyhead establishment has long been a favourite of tourists and passing lorry drivers making their way to and from Ireland. The curry sauce is a special highlight here, and you can now order on their app to eliminate the need to wait in line.
Address: Stanley St, Holyhead LL65 1DD
Phone number: 07426 726786
Website: https://www.chippychippy.co.uk/order
Scarlett's Fish and Chip Shop – Rhosneigr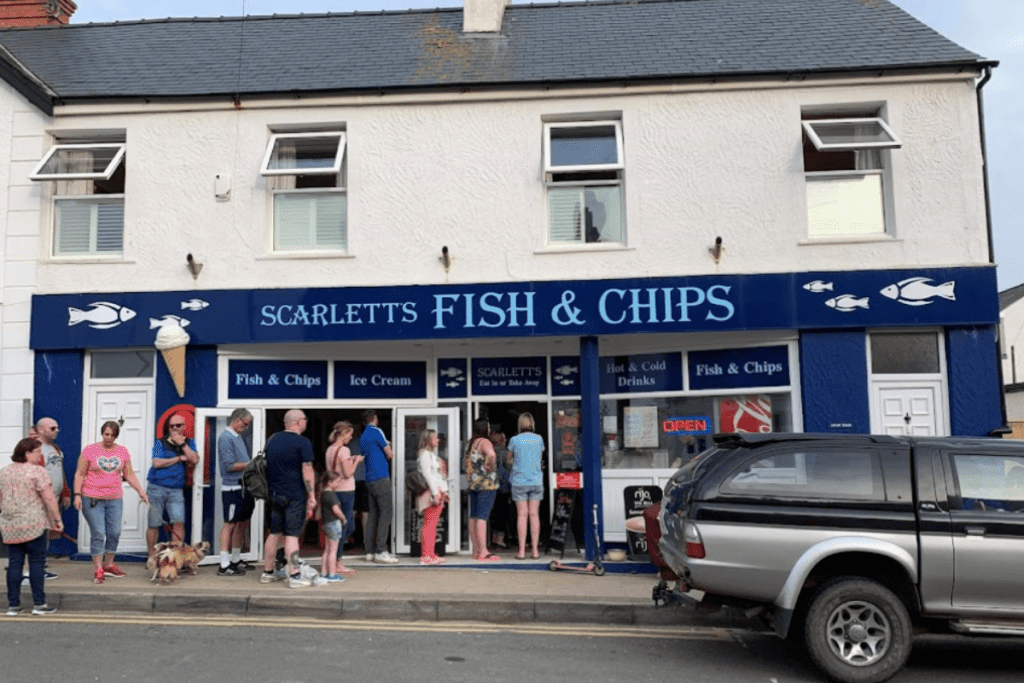 Another strong contender for the island's best fish and chips is Scarlett's, which has been shortlisted by the National Federation of Fish Fryers' as one of the top seven fish and chip shops in Wales. They have appeared in their Guide to Quality Fish and Chip Shops for several years now, and the queues out of the door will tell you the rest!
Address: Arfon House, High St, Rhosneigr LL64 5UQ
Phone number: (No phone orders, in-person only)
Website: https://www.facebook.com/scarlettsfishandchips/
Aran Fish and Chips – Llangefni
One of the few inland fish and chip shops, Aran fish and chips are famous for their huge portions and thin batter, making them incredibly popular with the locals. If you're staying in Anglesey, you might have to invest in a decent drive away from the tourist hotspots. But, for many, the time investment is more than worthwhile, with prices also cheaper than many seafront chip shops.
Address: 1 Bridge St, Llangefni LL77 7PN
Phone number: 01248 750200
Website: https://www.facebook.com/profile.php?id=249477922163419
Port Chippy (Finney's) – Amlwch
The second Finney's fish bar on our list is situated in the port village of Amlwch. While it may not boast the same accolades as its sister site down the road in Benllech, the fish and chips are every bit as good, and they're perfect for a fish supper after visiting the Copper Kingdom Centre or the nearby Parys Moutain.
Address: 1 Quay St, Amlwch Port, Amlwch LL68 9HD
Phone number: 01407 830597
Website: https://www.angleseyfishandchips.co.uk/
The Codmother – Newborough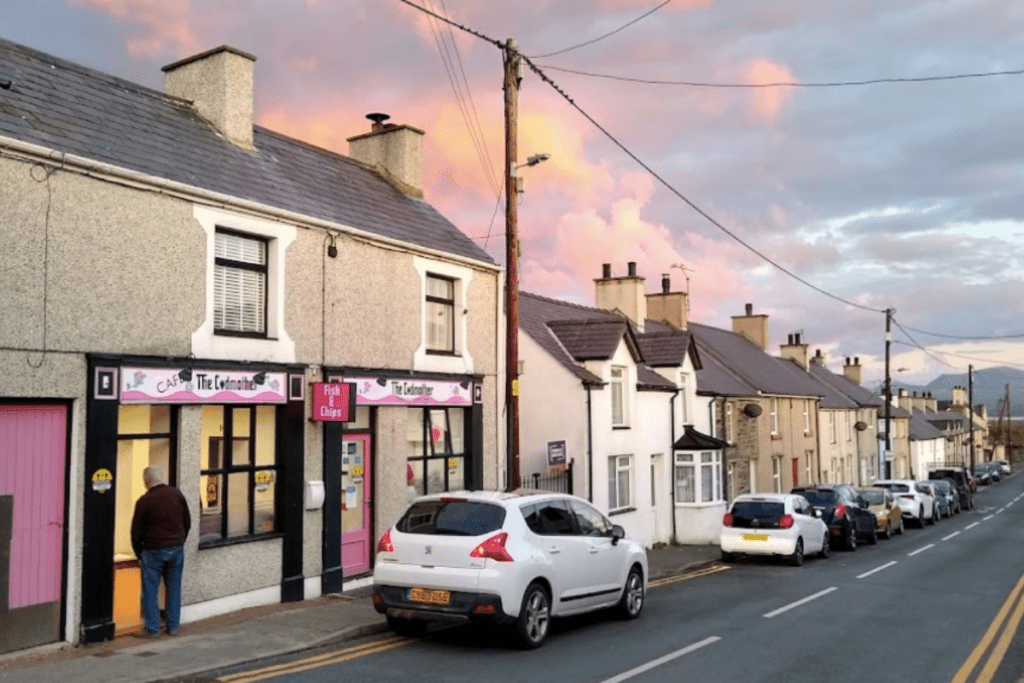 So much more than a play on words, this chippy is one of the few on the island sustained by the local trade just as much as the annual influx of visitors to Newborough Beach. The fish from this tiny shop is fresh and exclusively sourced from sustainably managed fishing areas, with all ingredients coming from North Wales suppliers. The only challenge you'll have is getting your order in, with the shop only open four hours a day.
Address: Niwbwrch, Llanfairpwllgwyngyll LL61 6RU
Phone number: 01248 440537
Website: https://www.thecodmother.co.uk/
Gaerwen Fish & Chips – Gaerwen
Another chippy that's popular with the locals is located in the village of Gaerwen, close to the also highly-regarded Gaerwen Arms pub. This establishment prides itself on producing non-greasy batter on their fish and generous portion sizes, which has helped it become a firm favourite with locals and passers-by alike.
Address: Maes Llwyn, Gaerwen LL60 6DA
Phone number: 01248 421217
Website: https://www.facebook.com/Gaerwen-chip-shop-101371978179124/
Enochs Fish and Chips – Valley
Last but by certainly no means least is another North Wales institution, Enochs. with a location on Anglesey and another in Llandudno Junction, Enochs is the Dylan's of the fish and chips world. They pride themselves on ethical fish, sustainable packaging, heart-healthy oil, light crispy batter, and twice-fried chips. Their continued popularity and string of awards suggested they are on to something.
Address: London Road Anglesey LL65 3DP
Phone number: 01407 741069
Website: https://enochs.co.uk/
That concludes the list of the best fish and chip shops in Anglesey. Of course, there are plenty of other worthy contenders, and we will continue to monitor and update this list when we feel another outfit is worthy of a mention.
In the meantime, why not check out some of our more recent food and drink posts below?