Nestled along the picturesque coastline of Holy Island, Anglesey, Trearddur Bay is a popular destination that entices visitors with its award-winning beach and other nearby attractions, including South Stack RSPB reserve and Holy Mountain.
But whether you've spent a day relaxing on the beach or hiked along the Anglesey Coastal Path, finding places to eat in Trearddur Bay will be high on your list of priorities.
From good pub grub to fine dining, the good news is that there's a wide range of eateries to choose from in Trearddur Bay despite its small size.
So, if you're after a bite to eat in this incredible coastal village, take a look at our guide to the best places to eat in Trearddur Bay.
Trearddur Bay Restaurants
Let's make a start with Trearddur Bay's multiple restaurants.
The Bay Restaurant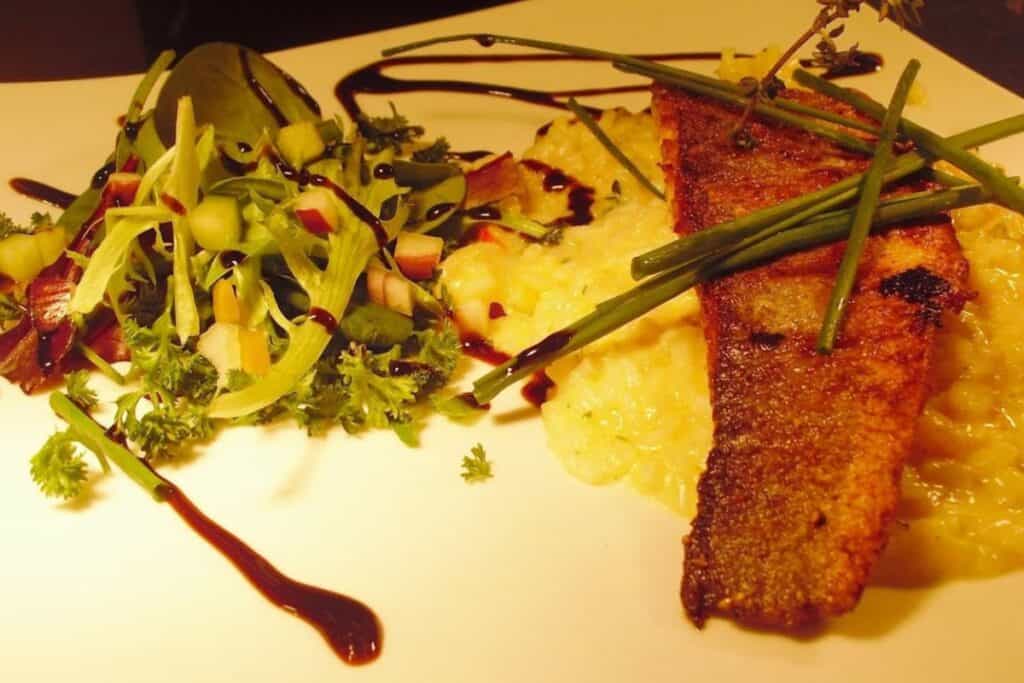 The Bay Restaurant is a fine dining restaurant located in the Trearddur Bay Hotel in Anglesey. It offers a seasonal menu of Welsh and international dishes, all of which are made with fresh, local ingredients. The restaurant has a view of the bay and is a popular spot for both locals and tourists.
It's open for lunch and dinner, with the menu changing with the seasons. That said, you can expect Welsh lamb and locally-caught seafood throughout the year. The particular highlight is the Trearddur mixed fish grill, made up of that day's seafood sourced from the local market.
Add in the extensive wine list and reasonable prices (£15-£30 per main), and you've got yourself a top contender for the best restaurant in the area. Booking a table in the summer months is essential to avoid disappointment.
Address: Lon Isallt, Trearddur Bay, Holyhead LL65 2UN
Phone Number: 01407 860301
Website: https://www.trearddurbayhotel.co.uk/eat
Ocean's Edge Restaurant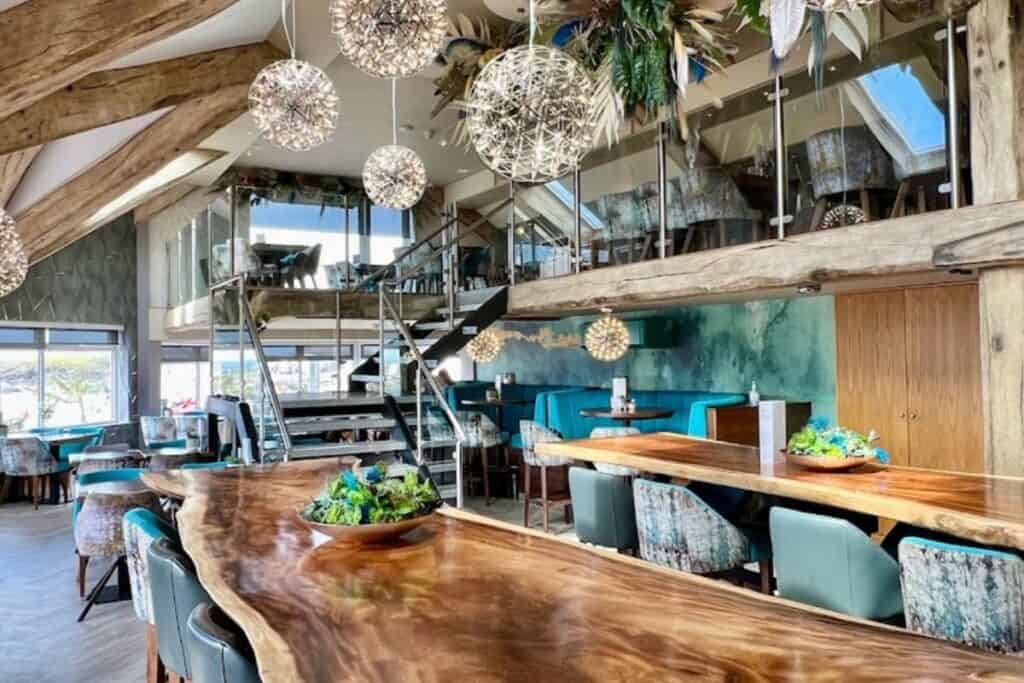 Ocean's Edge is a contemporary, family-friendly restaurant and bar overlooking Anglesey's beautiful Trearddur Bay Beach.
Recently extended under new ownership, it serves modern British and international cuisine, focusing on seafood and local produce. There's also an extensive selection of wood-fired pizzas available.
Prices are around £15-£25 for a main, and there is a well-stocked children's menu. There are also posh sandwiches and light bites on offer and a fantastic 2-4-1 menu that runs at specific times of the year, Tuesday to Friday (check in advance of booking).
The real difference-maker is the patio overlooking the bay, where you can sip cocktails or enjoy an al fresco meal in the warmer months of spring and summer. The glass balustrades provide protection from the breeze while affording you uninterrupted views of the beach and sea.
Once again, booking ahead is highly recommended, especially for weekend lunches and dinners.
Address: Lon Isallt, Trearddur Bay, Holyhead LL65 2UP
Phone Number: 01407 861785
Website: https://www.oceansedgerestaurant.co.uk/
Driftwood Restaurant & Bar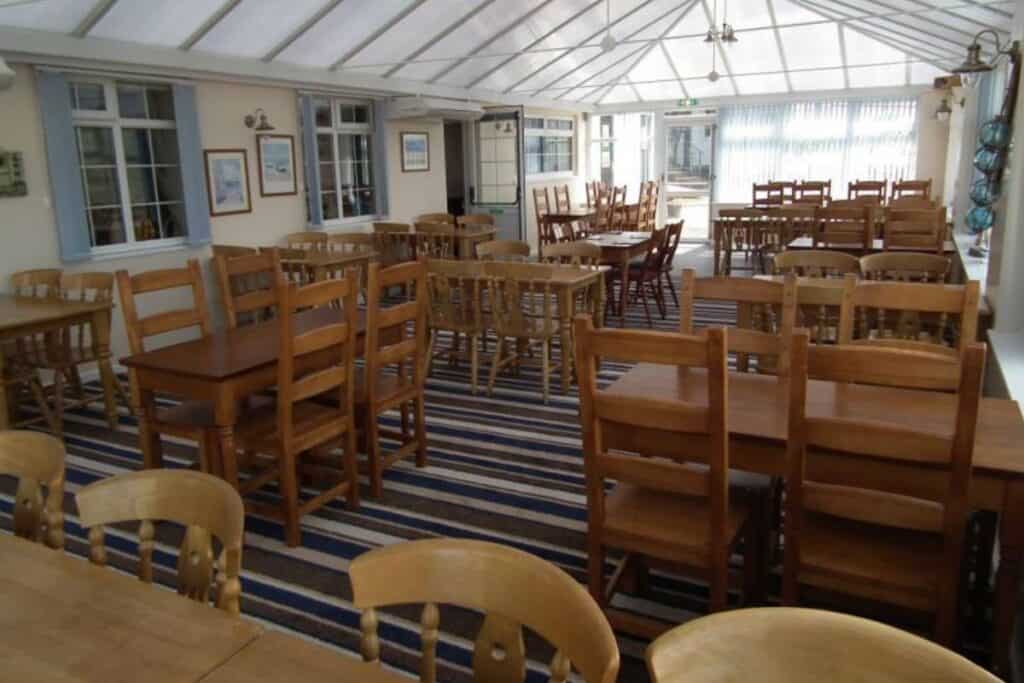 The Driftwood Restaurant & Bar is a traditional eatery that forms part of a family-run motel located at the rear of the village. It serves homemade food and cask ales, and its Sunday carvery roasts are very popular among locals.
The restaurant sources locally whenever possible (including Welsh lamb and steak) and has recently incorporated a delicious Welsh rose wine into its new wine list. Most mains are under £15 and once again there's plenty on offer for children.
This is the place to come if you want to dine or catch up with friends over a meal with the sport on in the background, as this establishment offers both BT Sport and Sky Sports.
Lastly, if you're after the popular Sunday carvery here, then booking is once again a good idea.
Address: Lon St Ffraid, Trearddur Bay, Holyhead LL65 2YT
Phone Number: 01407 860332
Website: https://www.thebeachmotel.co.uk/
The Imperial Palace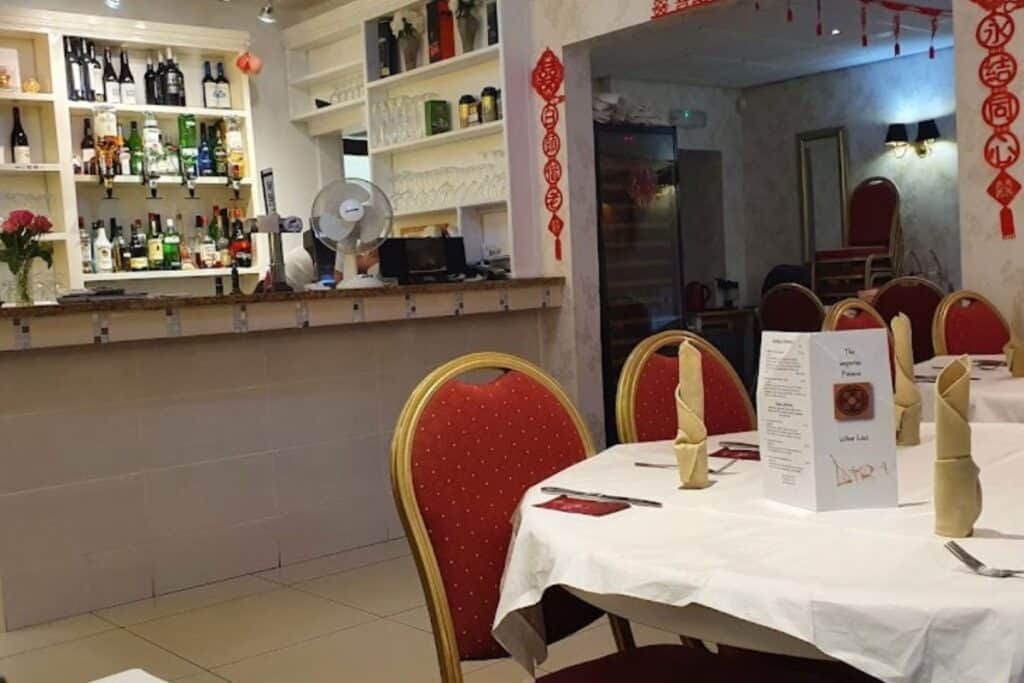 Sometimes you just fancy something a bit different, and that's precisely what The Imperial Palace offers. Here, you can expect to consume any or all of your favourite Chinese dishes on either a dine-in or take-out basis.
It's been in operation for over two decades and has won several Certificates of Excellence from TripAdvisor, so you know you're in for proper tasty food.
This establishment is a small, family-run venture offering large portions and decent value for money, with most dishes landing in the £6-£8 range. So if you love a chow mein, spring roll, or sweet and sour chicken, then look no further.
That said, this place is a victim of its own success, meaning there's often a long wait for takeaway orders in the holidays. So as soon as you start to crave delicious Chinese, get on the phone right away and order ahead!
Address: Lon St Ffraid, Trearddur Bay, Holyhead LL65 2YT
Phone Number: 01407 861799
Website: https://www.facebook.com/TheImperialPalaceTB/
Trearddur Bay Pubs
Despite being a small village, there are a couple of pubs in Trearddur Bay, so let's cover them now.
Inn at the Bay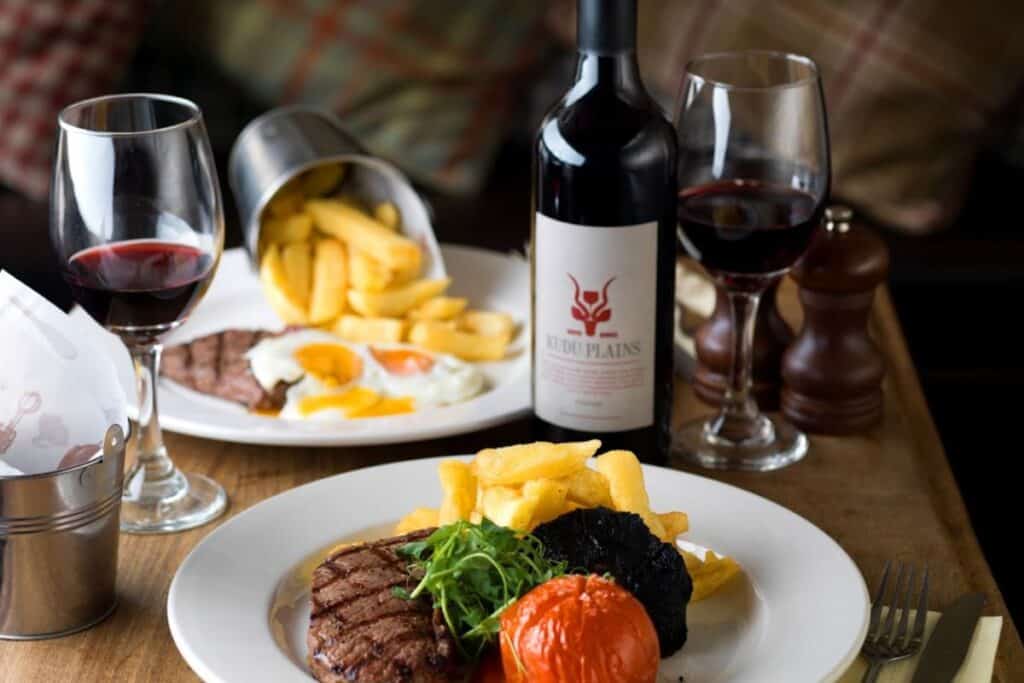 The Inn at the Bay is actually another part of the Trearddur Bay Hotel, located at the other end of the main building from The Bay Restaurant, so don't get confused!
For reference, the Inn at the Bay is situated at the rear of the building (furthest away from the sea, where the conservatory is) and boasts a lovely beer garden on the other side of the road. On sunny days, it really is worth sitting outside in the sea breeze enjoying a pint or two.
Regarding the food, this is where you'll come to eat "proper" pub grub, including posh burgers, locally-caught fish and chips, and their legendary three cheese and onion pie. The prices for mains are around £15, and the quality is top-notch.
Another recommendation is the Great British Sunday roast sharing platter for two, which provides a proverbial mountain of food for under £40 (could easily serve more than the recommended two people).
It's also one of the best places (if not THE best) to grab a pint in the village, with an extensive selection of beers, lagers, bitters, and other speciality ales available from J.W. Lees and their Boilerhouse microbrewery.
Address: Lon Isallt, Trearddur Bay, Holyhead LL65 2UN
Phone Number: 01407 860301
Website: https://www.trearddurbayhotel.co.uk/drink
The Seacroft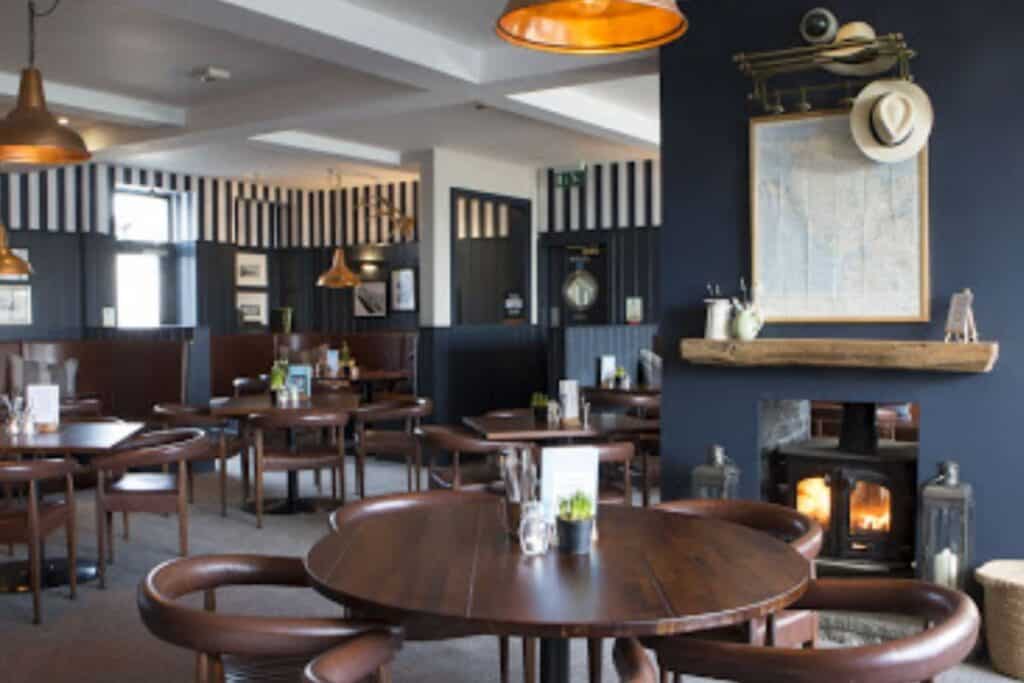 This Robinson's pub was extensively renovated in 2013 and boasts a long history dating back to the 19th century, when it was a popular stop for fishermen and sailors. Today, it's a pub-cum-hotel, set back just away from the bay (towards Porth Diana Beach), with an excellent outdoor decking area for al fresco dining and a decent-sized car park.
Much like the Inn at the Bay, this establishment sells fresh, seasonal pub food, with all the usual suspects available, including pizzas, burgers, fish and chips, and a dedicated Sunday roast menu. There's also a well-stocked children's menu.
Again, the main course prices are around the £15 mark. However, various offers exist, including the Thursday Night Burger Club, 2-4-1 pizzas, and Chippy Tuesday.
The pub also offers a selection of wines, beers, and spirits from Robinsons, which may not be as varied as other eateries in the area but is certainly adequate.
Address: Ravenspoint Rd, Trearddur Bay, Holyhead LL65 2YU
Phone Number: 01407 860348
Website: https://theseacroft.pub/
Trearddur Bay Cafes
Last but by no means least, there are also a couple of cafes in Trearddur Bay. It's only fitting that we start with perhaps Trearddur Bay's most famous eatery, the Sea Shanty Cafe.
Sea Shanty Cafe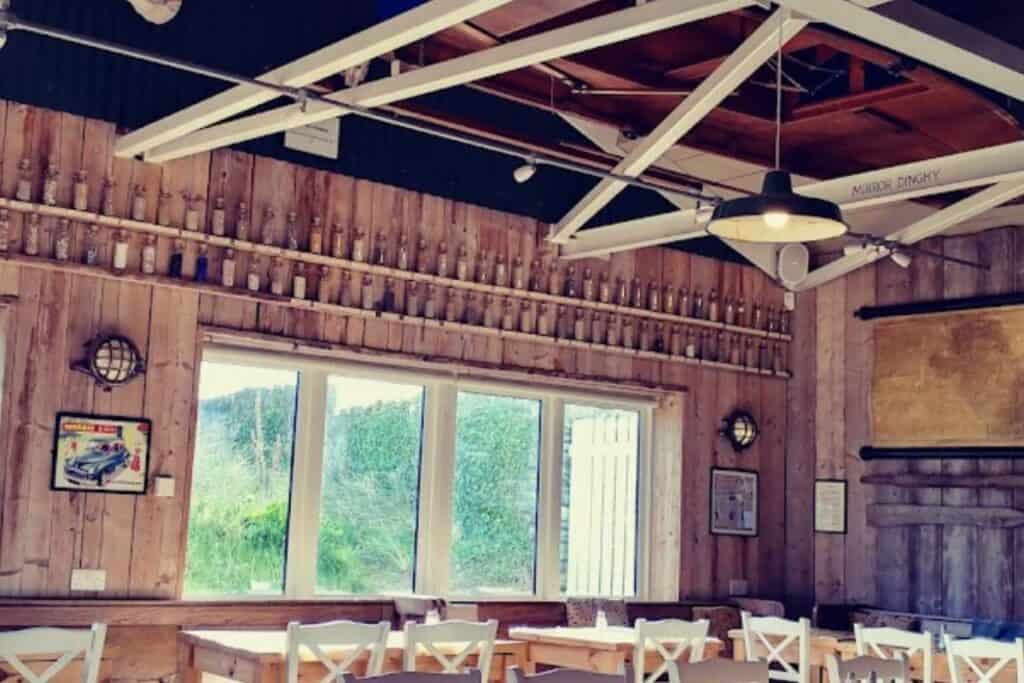 Probably the most well-known eatery in Trearddur Bay, the Sea Shanty cafe sits just behind the shoreline, adjacent to the main car park for the beach.
The original Sea Shanty cafe operated for over 60 years before closing in 2002. But in 2016, the Sea Shanty Cafe was back bigger and better than ever. This nautical-themed cafe-cum-restaurant undoubtedly has one of the most exciting décors of all the eateries on Anglesey, with all kinds of boating and fishing paraphernalia adorning the walls.
There's a roaring fire and coffee and cakes to welcome you in the winter, an ice-cream parlour operating in the warmer months, and outdoor seating available to enjoy those precious sunny days.
The menu is seasonal and varied, with more than 20 small plate and light-bite options and a further 20-odd options for mains. Prices align with many of the other eateries featured here, with mains coming in and around the £15 mark.
If you only have the chance to visit one place, this might top the list. But, given its popularity, booking a table is essential to avoid disappointment. Yes, even in winter!
Address: Lon St Ffraid, Trearddur Bay, Holyhead LL65 2YT
Phone Number: 01407 728200
Website: https://seashantycafe.co.uk/
Lola's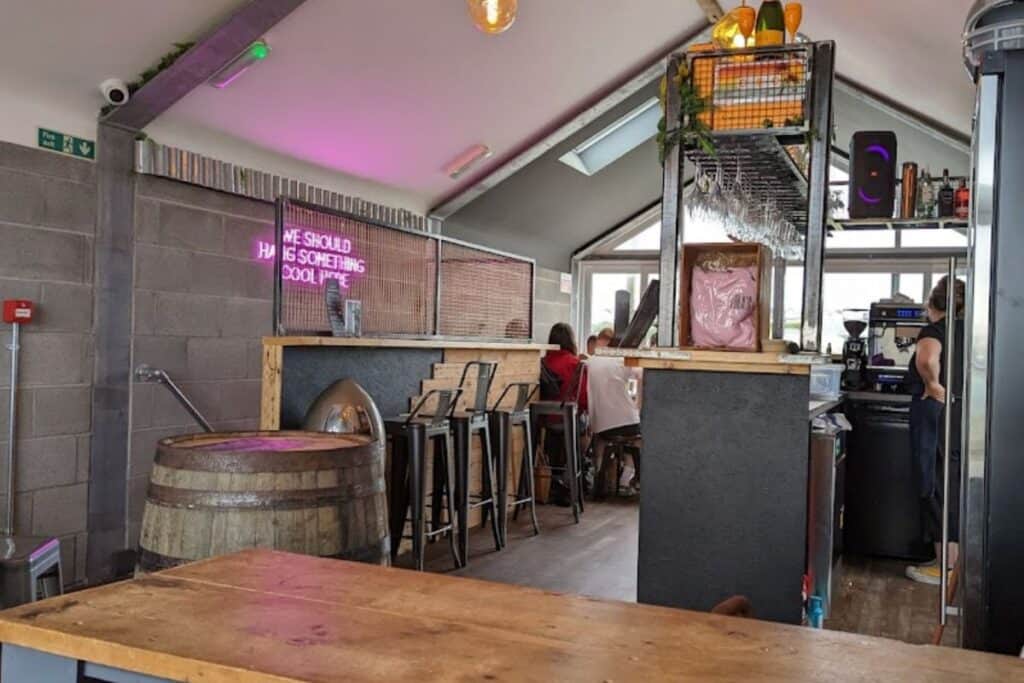 Lola's is somewhat of the new kid on the block, having only opened a few years ago. However, it's certainly not wasted any time becoming a favourite pit stop for those looking for a coffee or brunch overlooking the bay.
It's situated in the Old Boathouse, with the upper floor offering excellent views over the bay.
This establishment is the place to go in Trearddur Bay if you're after a bit of coffee and cake, a brunch feast, or a lunchtime top-up of your energy reserves. From bacon rolls to paninis and freshly-filled sandwiches, there's plenty to choose from. There's even doggie ice cream on offer for your four-legged friend.
Perhaps the real draw is the hot drinks, with various coffees, teas, and hot chocolates available. So, if you're into flat whites or fancy a hot chocolate with marshmallows, this is the place to come. An added bonus is the fully-licensed bar, allowing you to consume a bit of fizz or a cocktail on warm summer days.
Address: Lon Isallt, Trearddur Bay, Holyhead LL65 2UP
Phone Number: No phone number
Website: No website
Places to Eat in Trearddur Bay FAQs
Which Trearddur Bay Eateries Are Dog-Friendly?
All of the establishments mentioned above are also dog friendly, except for The Bay Restaurant, The Imperial Palace, and The Ocean's Edge Restaurant. However, the latter restaurant does allow dogs on the exterior terrace.
The rest of those restaurants, cafes, and pubs are all dog-friendly, with differing policies on where you and your pooch can and cannot go. It's always best to check their specific dog policies when calling to book your table.
Do Any Establishments in Trearddur Bay Offer Vegan Options?
Once again, almost all of these eateries have both vegetarian and vegan options available. That said, some establishments only offer one or two vegan dishes, so you may find the choice lacking.
Are Places to Eat in Trearddur Bay Accessible?
All the eateries mentioned above offer accessible facilities for those with mobility issues or disabilities, though some are more challenging than others. Some ramps, such as at The Seacroft, are not immediately obvious (around the back), and Lola's entrance has a single step, making it challenging for solo wheelchair users.
Therefore, it's worth calling ahead (if you can) to your chosen destination to enquire about access.
Final Thoughts
So there you have it, a )hopefully) thorough round-up of the best places to eat in Trearddur Bay. This list is not exhaustive; there are plenty of popular eateries just outside Trearddur Bay, including Bert's Family Pub and The White Eagle just down the road in Rhoscolyn.
However, we will continue to update this list as and when new places open in this popular tourist hotspot.
*Photo credits: Scouser1965, William Cooper, Shaun Fenwick, Shannon Lufcy