Anglesey is one of the most dog-friendly holiday destinations in the UK. Whether its' the dog-friendly beaches or the hundred-plus miles of walkies along the Angelsey Coastal Path, this island is incredibly welcoming to your four-legged friends.
When it comes to dog friendly pubs in Anglesey, you really are spoilt for choice. There are dozens of them dotted around the island, offering you and your pup a chance to enjoy a well-deserved pint or a deliciously hearty meal together. And, as is the case with many of these pubs, your dog can often enjoy a treat or two too!
So, without further ado, here are our top picks (all 21 of them!) for dog friendly pubs in Anglesey.
Y Goron (The Crown) – Aberffraw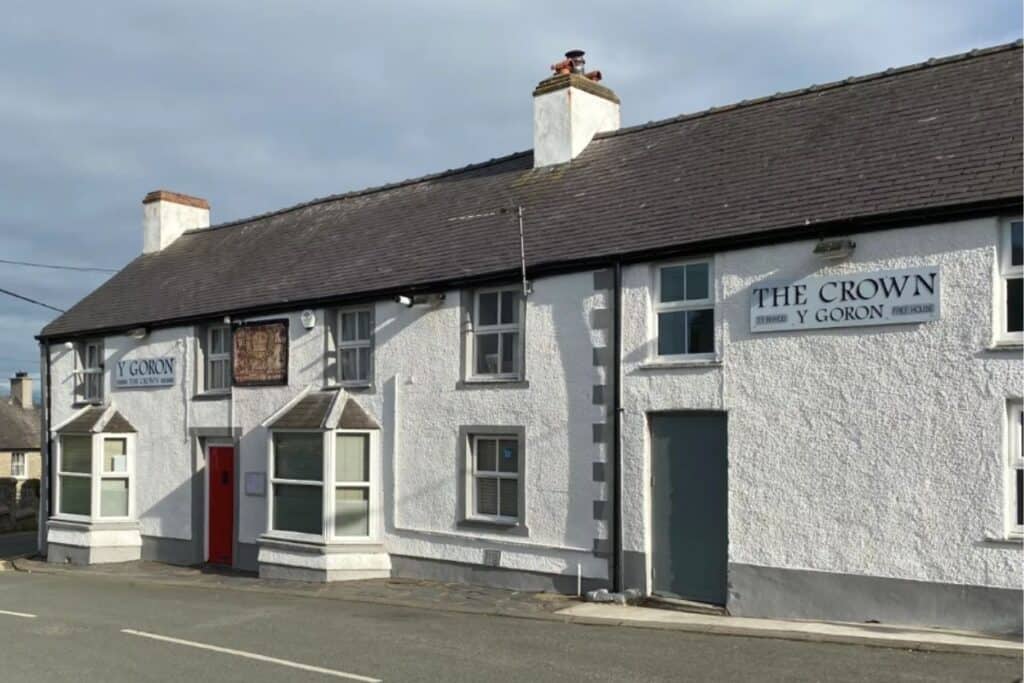 The Crown is a lovely pub nestled in a narrow side street off the main square of Aberffraw. It's a stone's throw from Aberffraw bridge and the beach (Traeth Mawr), and this quaint pub is also a perfect pit stop if you're walking this section of the Anglesey Coastal Path.
Dogs are welcome in the bar and outdoor seating area, provided they are on a lead, and there's free water and treats on request. This well-regarded pub does get busy during the summer months, so it may well be worth booking in advance to avoid disappointment.
Address: Stryd Y Bont, Aberffraw, LL63 5BX
Phone number: 01407 840222
Website: https://www.thecrownaberffraw.co.uk/
The White Eagle – Rhoscolyn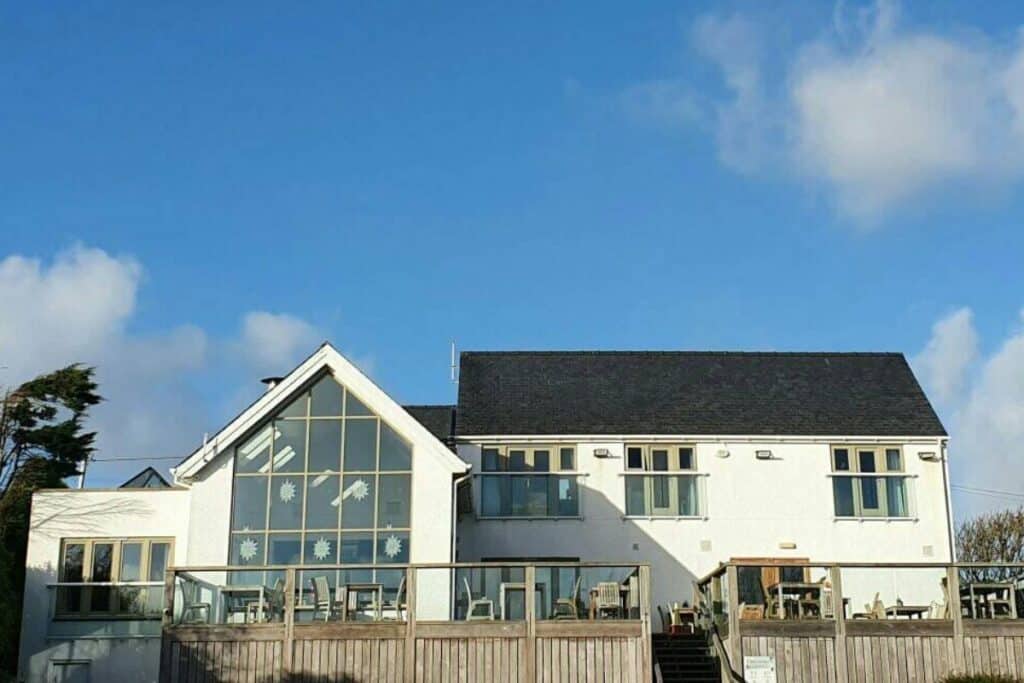 Perhaps the most dog-friendly pub on the island, The White Eagle, is simply a must-visit with your pup. What's surprising is that dogs are allowed in this slightly upmarket gastropub. However, not only are they welcome, but they get a water bowl and treats upon arrival!
There's an indoor seating area for those with dogs, and there are dozens of outdoor tables ready and waiting to welcome you and your four-legged friend after a day spent on Rhocolyn beach or walking along the headland between Rhoscolyn and Trearddur Bay. Once again, booking in advance is recommended, especially if you're planning to sit inside.
Address: Rhoscolyn, Holyhead, LL65 2NJ
Phone number: 01407 860267
Website: https://www.white-eagle.co.uk/
Y Morfa – Rhosneigr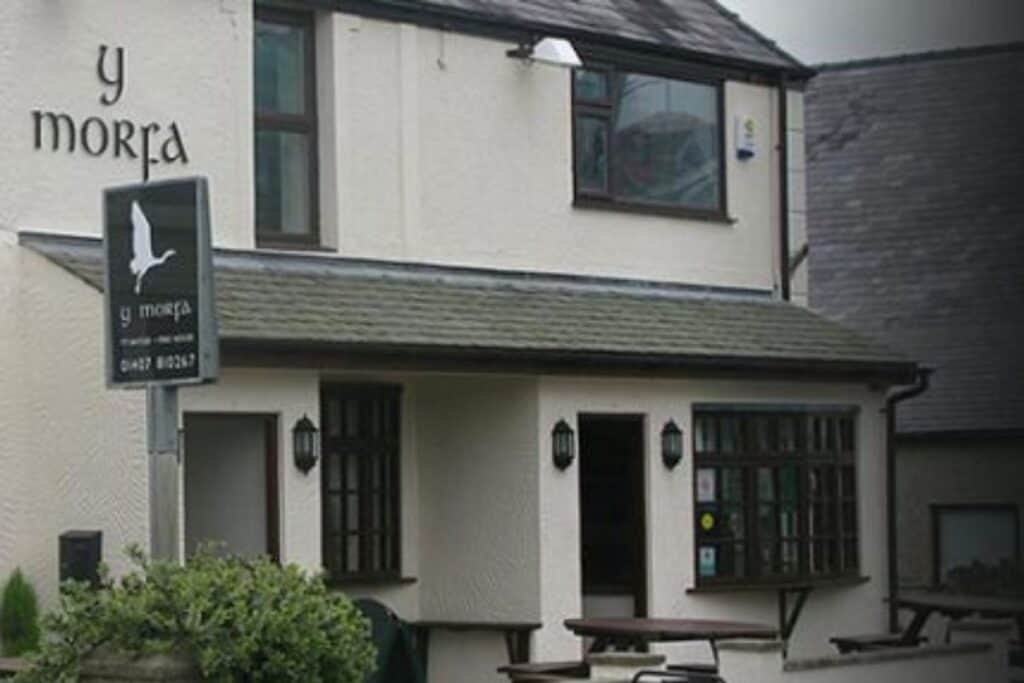 Another one of the island's popular dog-friendly hangouts is at Y Morfa in Rhosneigr. Pooches are more than welcome in the bar area of this laidback, family-friendly pub.
This particular establishment is known for offering up the best pint in Rhosneigr, making it an excellent spot to cool down on a hot summer's day. There's plenty of traditional pub grub on offer, too, if you're looking for an evening meal.
Address: Ffordd Maelog, Rhosneigr, LL64 5QE
Phone number: 01407 810569
Website: https://www.ymorfa.co.uk/
Oyster Catcher – Rhosneigr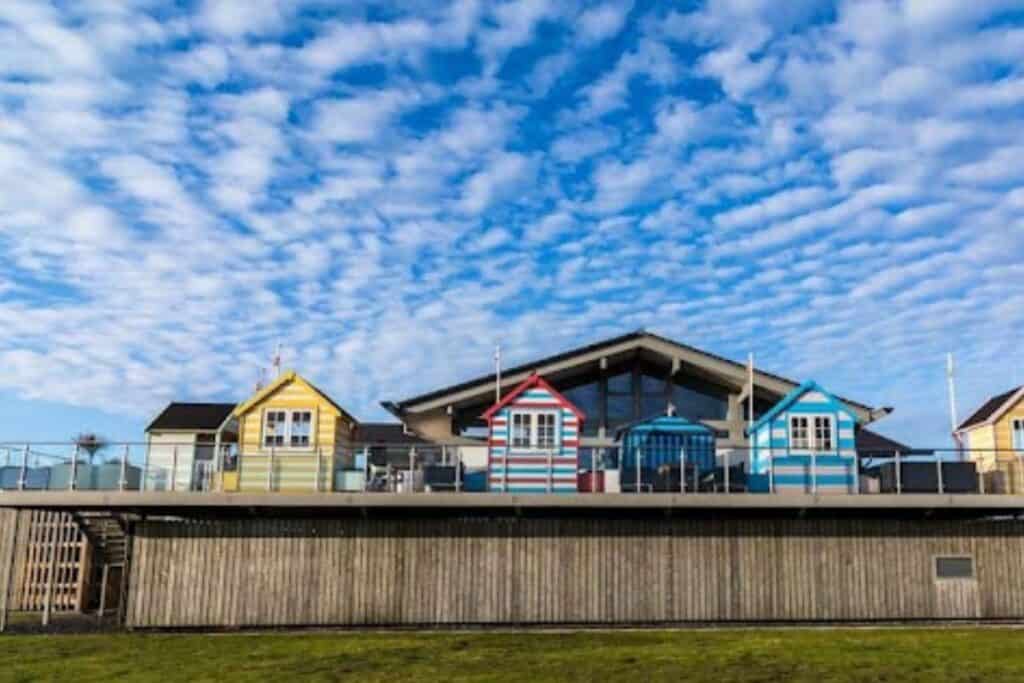 Known as one of the best pub restaurants on the island, the Oyster Catcher is another establishment that welcomes dogs. The modern and distinctive glass and wood exterior sticking out of the sand dunes behind the award-winning Broad Beach belies a friendly and welcoming atmosphere that extends to your four-legged friend.
The setup is similar to the White Eagle, with limited dog-friendly seating inside the restaurant and plenty of space for pooches outside and on the terrace. Once again, as one of the island's most popular eateries, booking is strongly recommended.
Address: Maelog Lake, Rhosneigr, LL64 5JP
Phone number: 01407 812829
Website: https://www.oystercatcheranglesey.co.uk/
Stag Inn – Caemes Bay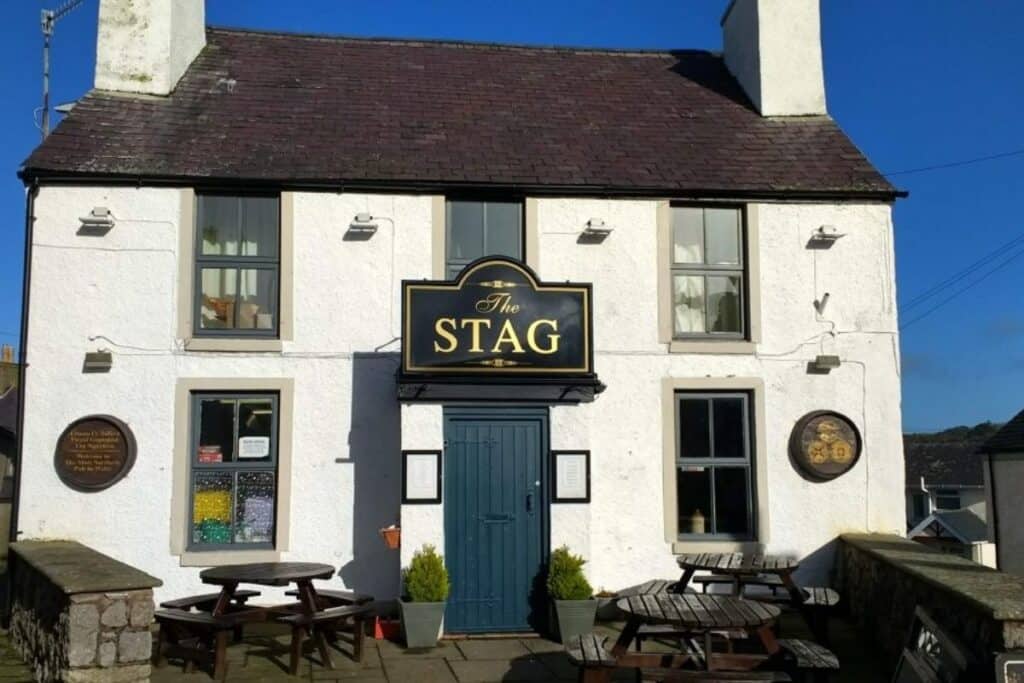 A firm favourite with the locals, The Stag Inn is Wales' most northerly pub, boasting three bar areas, an open fire, and a snooker/pool table. Located a stone's throw from either of the Caemes Bay beaches, this place is great to grab some pub grub after a day of frolicking in the sea.
In winter, this pub comes into its own with a gorgeous open fire to snuggle in front of after devouring a hearty homemade meal. It's also an excellent pit stop along the Angelsey Coastal Path. It boasts absolutely stunning scenery on this particular stretch and includes interesting historical sites such as Llanlleiana Old Porcelain Works and Porth Wen Brickworks.
Address: High Street, Cemaes Bay, LL67 0EW
Phone number: 01407 710521
Website: https://www.facebook.com/StagInnCemaesBay
Ship Inn – Red Wharf Bay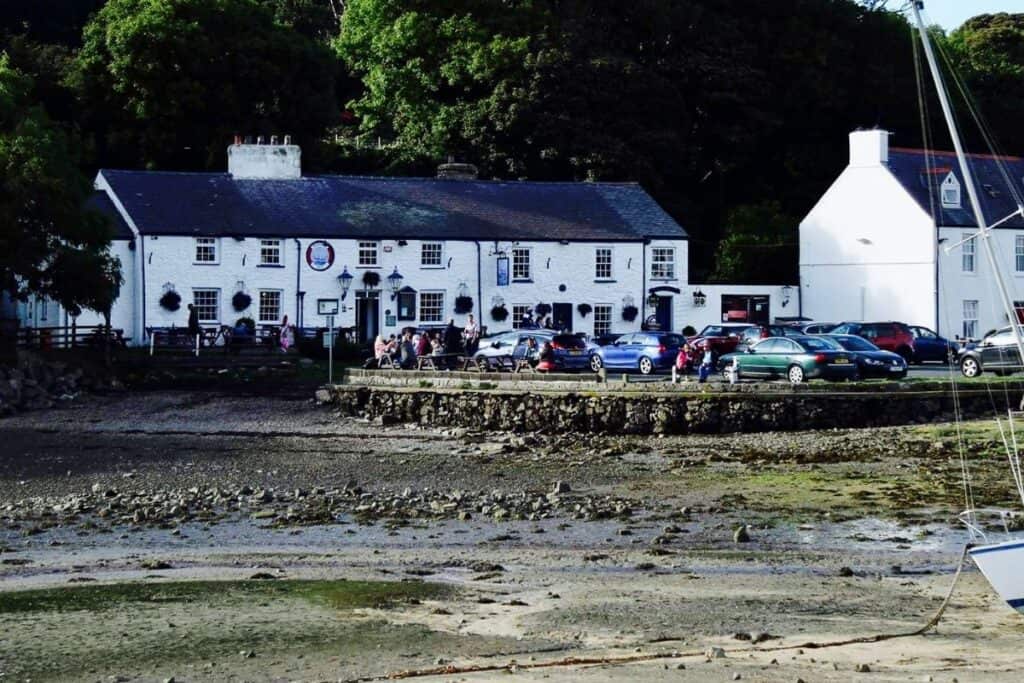 Boasting incredible views of Red Wharf Bay is the Ship Inn, one of Angelsey's most picturesque dog-friendly pubs. Dogs are welcome inside if the weather isn't cooperating, but the chances are you'll set up shop outside and drink in the vistas of the coastline.
There's standard pub fare available on the menu and some of the best real ales offered on the island. Once again, take this as your standard reminder that you might struggle to secure a table on busy summer days without reserving one in advance, and parking is limited, too, so bear that in mind.
Address: Red Wharf Bay, Pentraeth, LL75 8RJ
Phone number: 01248 852568
Website: http://www.shipinnredwharfbay.co.uk/
Tavern on the Bay – Red Wharf Bay
The Tavern on the Bay is a modern, airy gastropub attached to the prestigious private caravan site of St. Davids Park, but it's open to all, not just those staying on the site. It's yet another pub that boasts incredible views, with Benllech Beach, Red Wharf Bay, and the Great Orme all in eyeshot.
This pub welcomes dogs on the outdoor terrace area, and there are dog bowls aplenty. Just a quick word on access, the road down to the caravan park (and therefore the pub) is protected with access barriers, so you'll need to have a reservation in order to get the code that grants vehicular access. Otherwise, you can approach on foot from either the Benllech or Red Wharf Bay directions.
Address: Red Wharf Bay, Anglesey, LL75 8RJ
Phone number: 01248 852751
Website: http://www.thetavernonthebay.co.uk/
Kinmel Arms – Moelfre
Another contender for the best dog-friendly pub on the island of Anglesey is the Kinmel Arms. Perched just behind Moelfre beach, families and their dogs are permanent fixtures on the picnic tables in front of the entrance. That said, dogs are more than welcome inside, too, with several dog-friendly tables available for reservation.
This pub is a proper traditional establishment with dozens of drinks selections, hearty meals, and an interior with more than a whiff of nostalgia about it. It's an excellent stop as you make your way along the coastal path or if you've had a day playing on the shingle beach right in front of it. Another item worth noting is no bookings are taken here; it's walk-ins only.
Address: Kinmel Arms, Moelfre, LL72 8HH
Phone number: 01248 410231
Website: https://www.facebook.com/The-Kinmel-Arms-175936789097172
The White Lion – Newborough
What better way to top off a day of walking through Newbrough Forest or whiling away hours on Newborough Beach than being given the red carpet treatment upon your arrival at The White Lion? And we really do mean red carpet, with a doggy shower, shampoo, and towels included! Plus, you and your pup can get to know the pub dogs and make friends with the parakeets in the aviary.
Dogs are welcome both inside and out, and there is an ample selection of drinks and food to fill you up before heading on your way.
Address: A4080, Newborough, Llanfair PG, LL61 6SH
Phone number: 01248 440143
Website: https://www.facebook.com/profile.php?id=100059595615905
The Bridge Inn – Menai Bridge
With tremendous views over the Telford Suspension Bridge, a cracking selection of real ales, excellent food, and a roaring fire in the winter, this vibrant pub is another favourite for dog owners. You can expect a warm welcome from the staff, along with a water bowl and a few treats if you're lucky!
As with many pubs on this list, dogs have free reign in the outdoor seating area and a limited (but still plentiful) selection of dog-friendly tables inside, making this an excellent spot for lunch or an evening meal during inclement weather. It's worth booking in advance if you think there will be competition for the inside tables.
Address: Telford Rd, Menai Bridge, LL59 5DT
Phone number: 01248 716888
Website: https://www.facebook.com/TheBridgeMenai
Anglesey Arms Hotel – Menai Bridge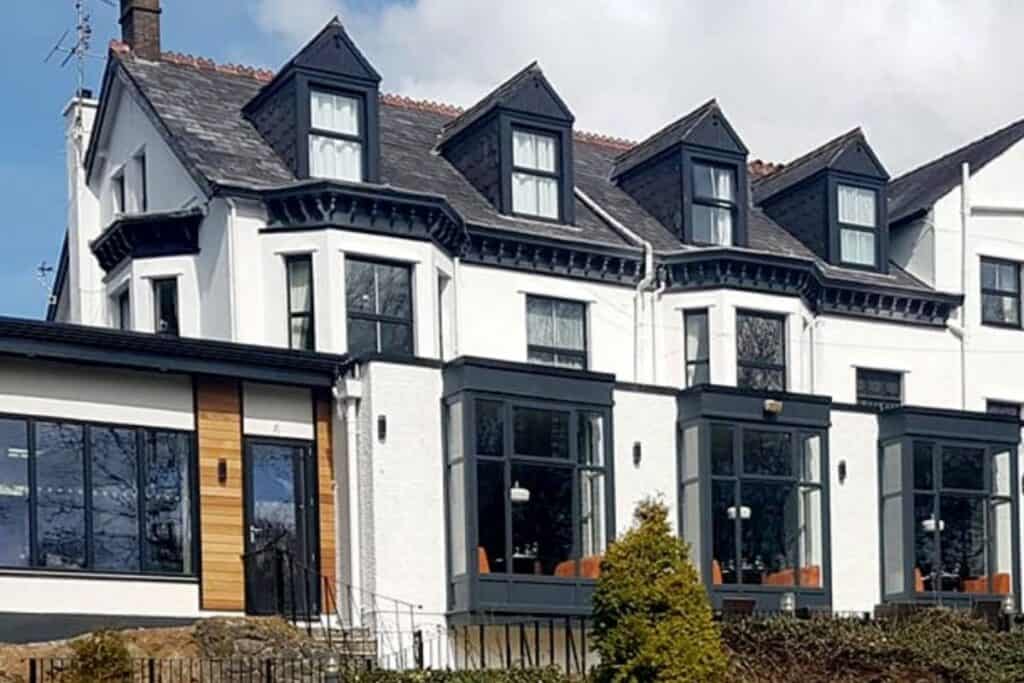 Just a stone's throw from the Bridge Inn, the Anglesey Arms is another dog-friendly pub and hotel that not only offers a warm welcome to diners but also those looking for dog-friendly accommodation.
You have plenty of seating options here, with an extensive beer garden and outdoor seating area, as well as dog-friendly tables in the bar area. As is customary with almost all pubs on this list, dog water bowls and treats are available upon your arrival.
Address: Mona Rd, Menai Bridge, LL59 5EA
Phone number: 01248 712305
Website: https://www.anglesey-arms.co.uk/
The Panton Arms – Pentraeth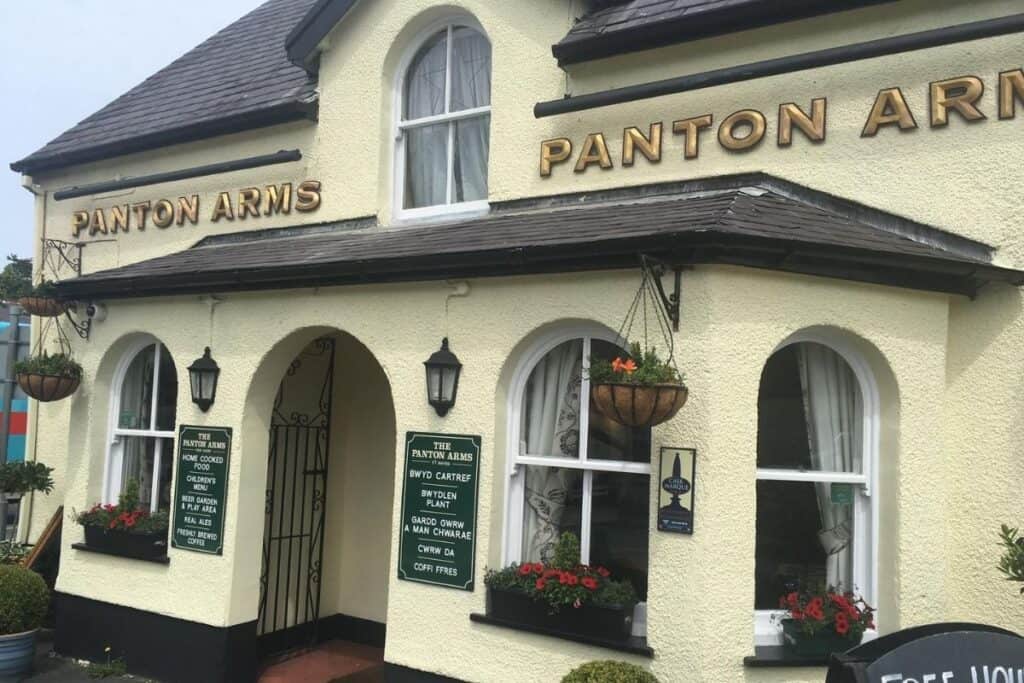 Popular with locals and visitors alike, The Panton Arms welcomes dogs both inside and outside in their extensive beer garden. This establishment is a traditional pub, with the additional draw of terrific wood-fired pizzas. You can also expect plenty of fuss to be made of your waggy-tailed friends.
We recommend stopping off at this pub after a good stomp around Pentraeth Forest or a spell of frolicking on Llandona Beach. Another pub worth booking in advance to secure a table.
Address: Panton Arms, Pentraeth, LL75 8AZ
Phone number: 01248 450959
Website: https://www.facebook.com/ThePantonArms
Y Groeslon – Brynsiencyn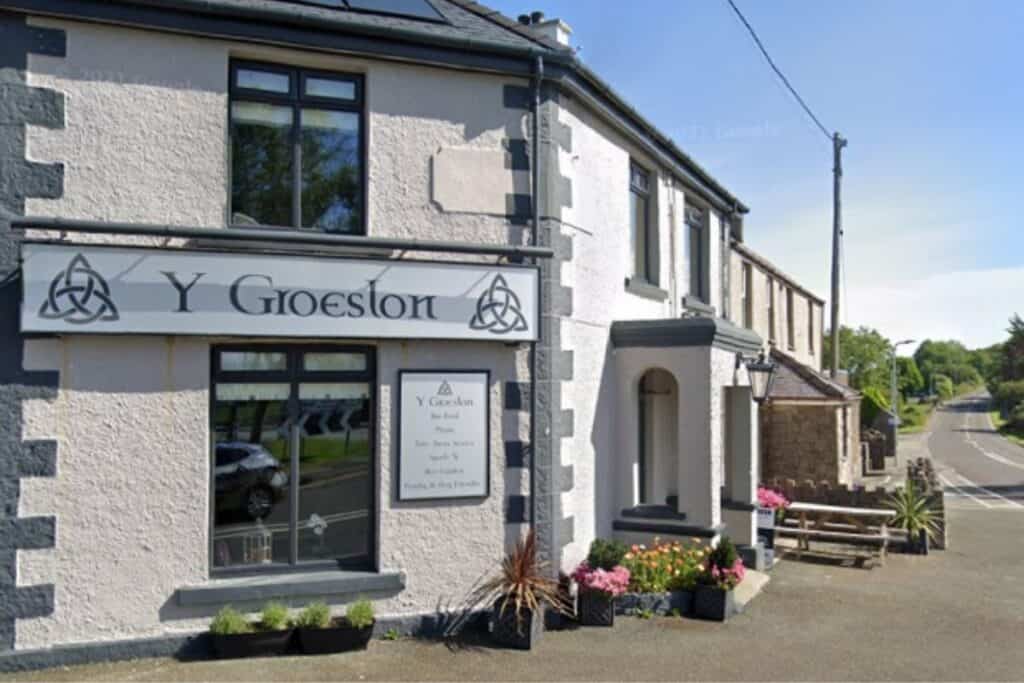 Recently refurbished to a very high standard, the new owners have also made this local pub dog-friendly. Located in the small village of Brynsiencyn, this place makes an excellent pit stop after visiting attractions such as Anglesey Sea Zoo, Foel Farm Park, or Newborough Beach. A bonus is the cracking views of the mountains of Snowdonia offered up by this establishment.
There's a healthy selection of food and drink on offer, and there's a small but handy car park just opposite if you're not on foot.
Address: High St, Brynsiencyn, Llanfair PG, LL61 6TU
Phone number: 01248 430036
Website: https://www.facebook.com/pages/Groeslon-Pub/192216750804657
The Bold Arms Hotel – Beaumaris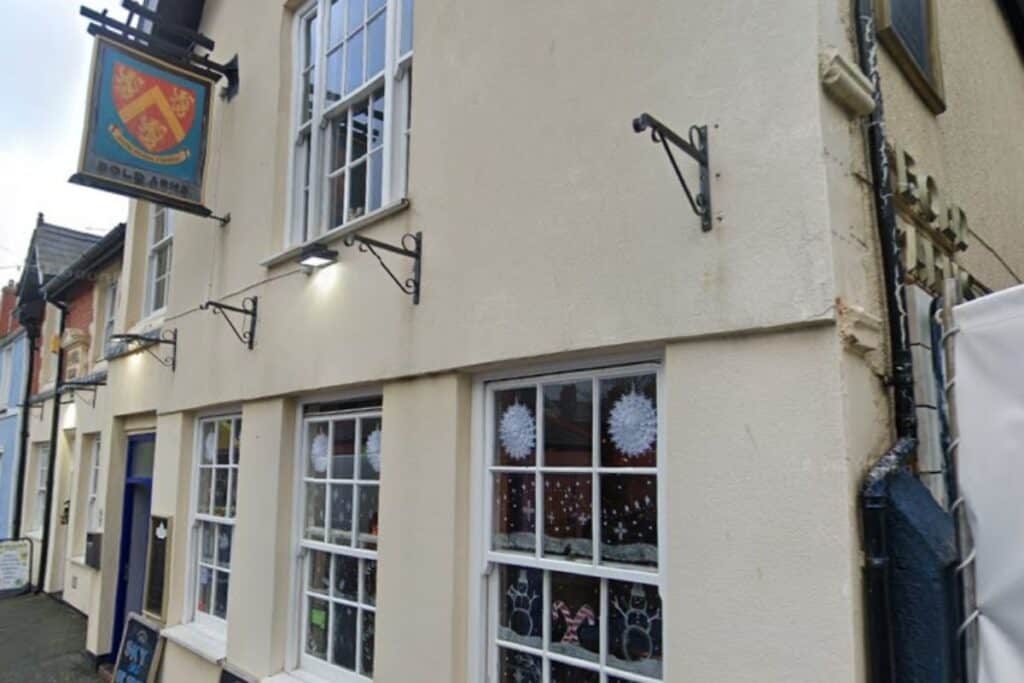 What better place to grab a refreshing pint or a bite to eat than at a pub with its own doggie bar?! Tucked off the main road on a quieter side street, this unassuming pub also offers doggie-friendly accommodation, including dog beds! If you want to come to a place that genuinely puts dogs first, then The Bold Arms Hotel is the spot for you.
With plenty to do in Beaumaris, why not take your dog for a cruise to puffin island? There are regular dog-friendly vessels departing from Beaumaris Pier throughout the day, particularly during the warmer summer months.
Address: Church St, Beaumaris, LL58 8AA
Phone number: 01248 810313
Website: https://www.facebook.com/BoldArmsHotel
The Bull – Beaumaris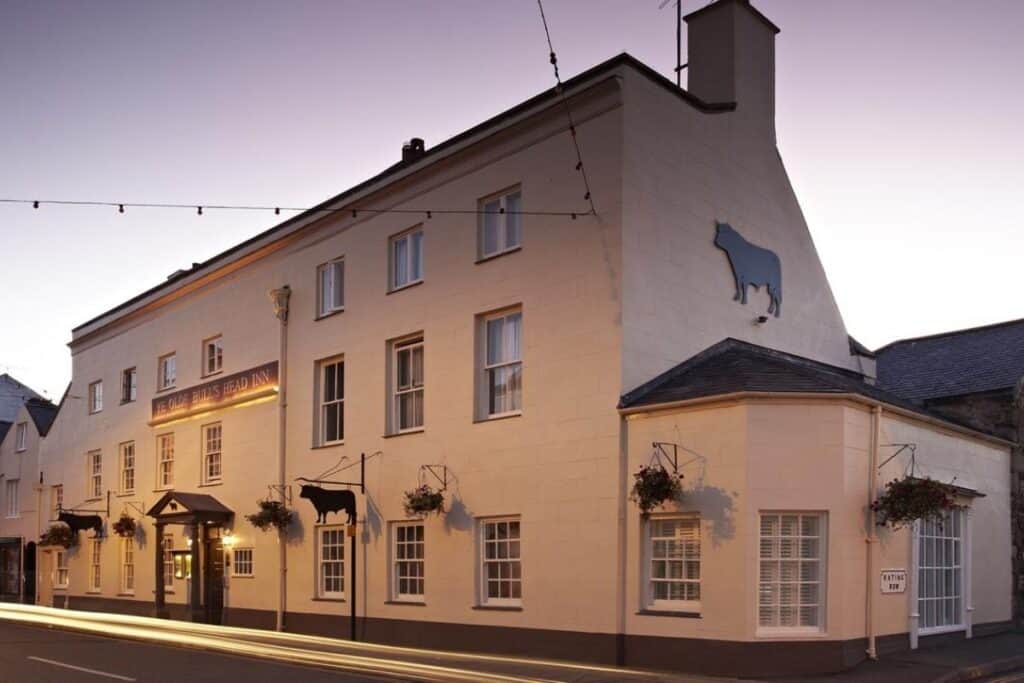 Another dog-friendly option for you in Beaumaris is The Bull. This 400-years-old, five-star establishment is full of character and offers a healthy selection of cask ales and restaurant-quality food.
While they offer dog-friendly accommodation, if you're just visiting to eat or drink, dogs aren't allowed inside. There is, however, an extensive courtyard with excellent shelter and plenty of heaters, meaning you can eat outside year-round, regardless of the weather conditions. However, we would recommend waiting until the spring/summer months.
Address: Castle St, Beaumaris, LL58 8AP
Phone number: 01248 810329
Website: http://www.bullsheadinn.co.uk/
Yr Owain Glyndŵr – Llanddona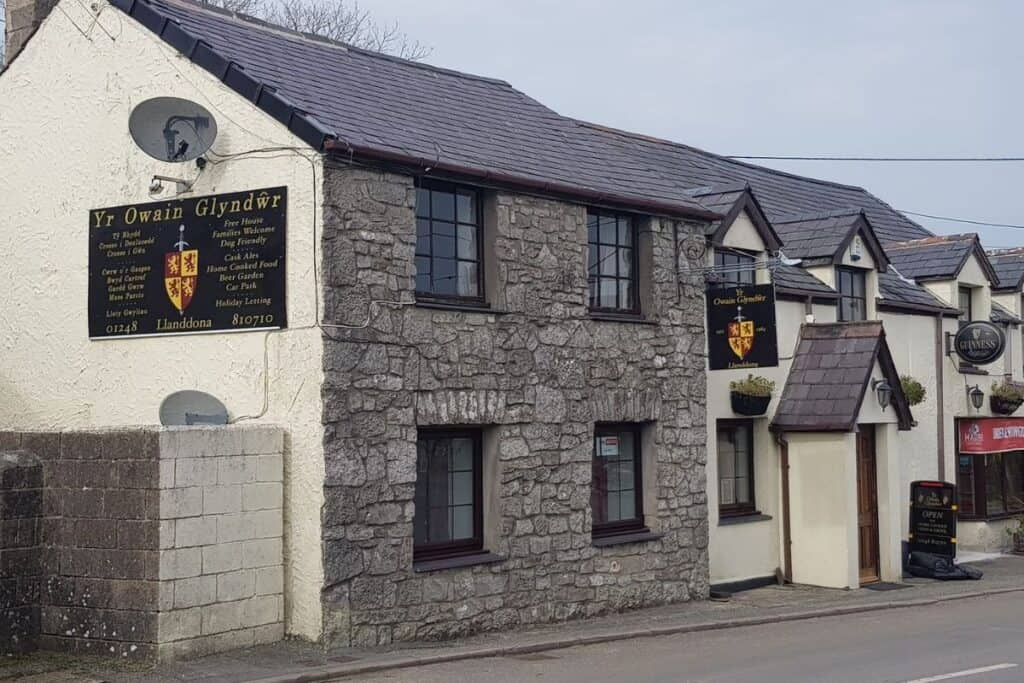 Perched on top of a steep hill, this country-style pub is worth the walk up from Llanddona beach. You'll be greeted with a water bowl and a warm welcome, and you can expect to enjoy a proper country pub lunch (or dinner) at very reasonable prices.
Well-behaved dogs are welcome in the outdoor seating area, the bar, and even the dining room, which is unusual for an Anglesey pub.
Address: High Road, Llanddona, LL58 8UF
Phone number: 01248 810710
Website: https://www.facebook.com/ogdllanddona/
Tafarn Y Rhos – Llangefni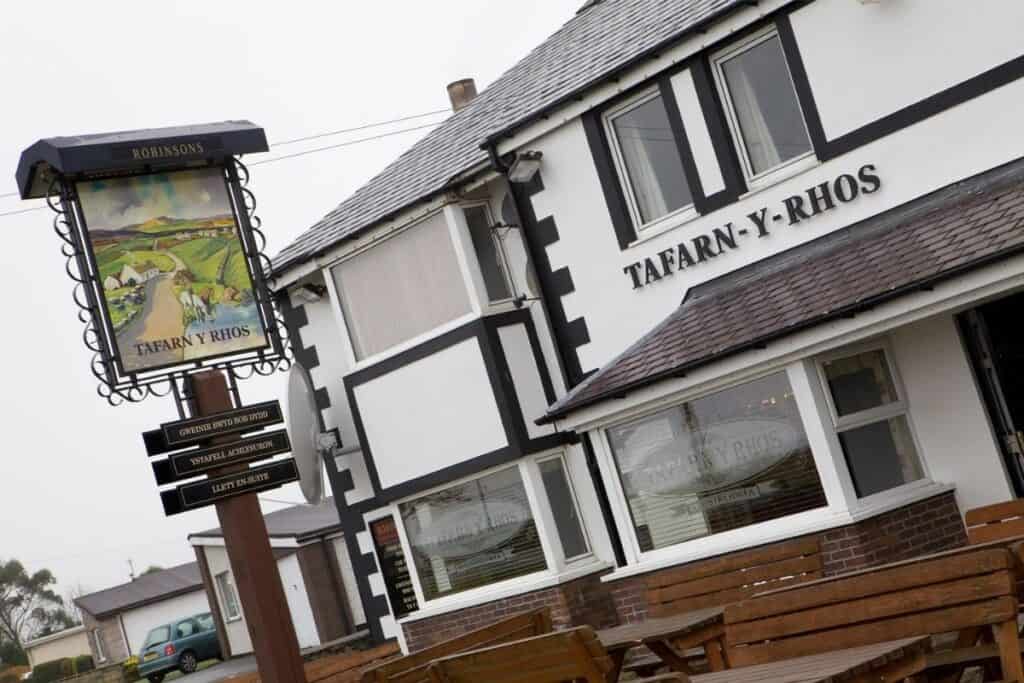 Describing itself as a laidback roadside pub with simple rooms, this watering hole, situated on the outskirts of Llangefni, is an excellent place to base yourself with your pup for the duration of your Anglesey stay.
This pub is part of the Robinsons brewery chain, so you can expect to find everything you might associate with a chain establishment, including great value-for-money meals. There are actually plenty of cracking dog walks nearby, making this a great place to start and finish your exercise for the day.
Address: Rhostrehwfa, Llangefni, LL77 7YU
Phone number: 01248 724404
Website: https://www.facebook.com/TafarnYRhos
Adelphi Vaults – Amlwch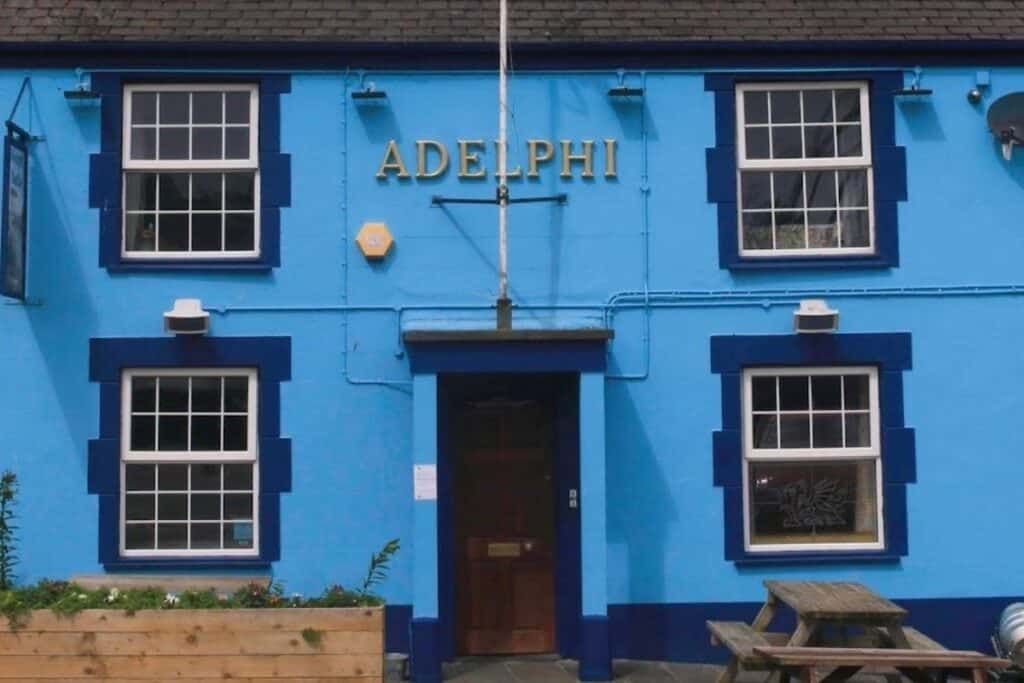 With its unmistakable baby blue exterior, you can't miss the Adelphi Vaults pub as you stroll your way through the port village of Amlwch. Positioned just off the main high street, this place offers a warm welcome and a chance for your pup to make friends with Amber, the pub dog.
Aside from the benches on the front, there's also a delightful beer garden that is well sheltered and acts as a suntrap – perfect for those warm summer days where all you want is an ice-cold pint with your four-legged friend. There's excellent food on offer, too, with a delicious pie, mash, and gravy combination being our top recommendation.
Address: Quay Street, Amlwch, LL68 9HD
Phone number: 07545 556442
Website: https://adelphivaults.com/
Dinorben Arms Hotel – Amlwch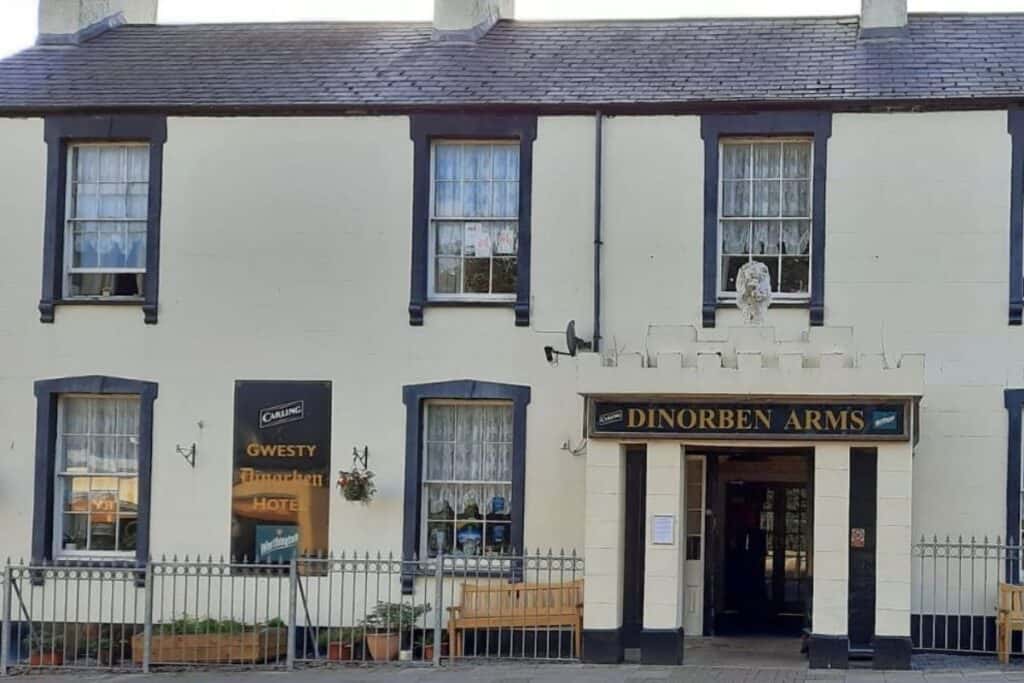 Further up the road in Amlwch is the Dinorben Arms Hotel. With an "olde worlde" feel to the place, your dog is bound to get the welcome he or she deserves from owners Gary and Veronica. Not only can your canines enjoy a meal or drink with you, but they can stay over too, for no extra cost!
Expect treats and water for your little furry friends and a great deal of fussing from staff and patrons alike. Our top tip is booking in for one of their cooked breakfasts, which are very highly regarded indeed!
Address: Dinorben Square, Amlwch, LL68 9AL
Phone number: 01407 830358
Website: https://dinorbenarmshotel.co.uk/
The Inn at the Bay – Trearddur Bay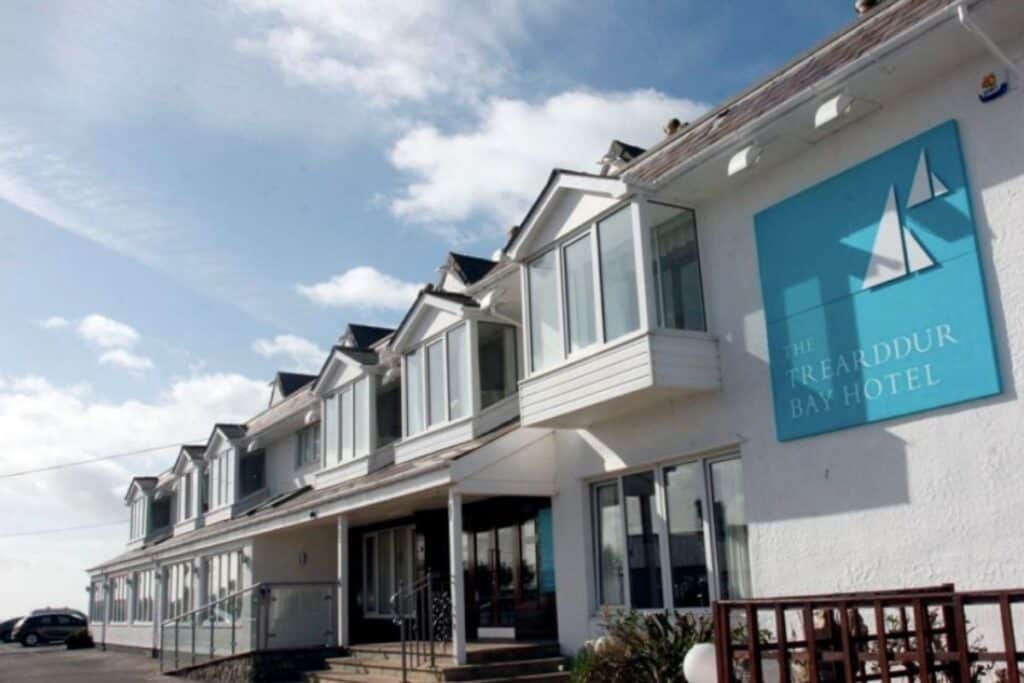 One of Trearddur's best pubs (contained within The Trearddur Bay Hotel), this dog-friendly establishment is just a short stroll away from the bay itself and makes an excellent pit stop either post or mid-walk along the coastline. Dogs are allowed in the extensive beer garden and bar area, just not in the restaurant, which is more than reasonable.
This place is best enjoyed during the spring and summer months as it boasts an excellent beer garden that includes sheltered beach huts, protecting you from any stiff onshore breezes.
Address: Lon Isallt, Trearddur Bay, LL65 2UN
Phone number: 01407 862010
Website: https://www.trearddurbayhotel.co.uk/drink
Bert's Family Pub – Trearddur Bay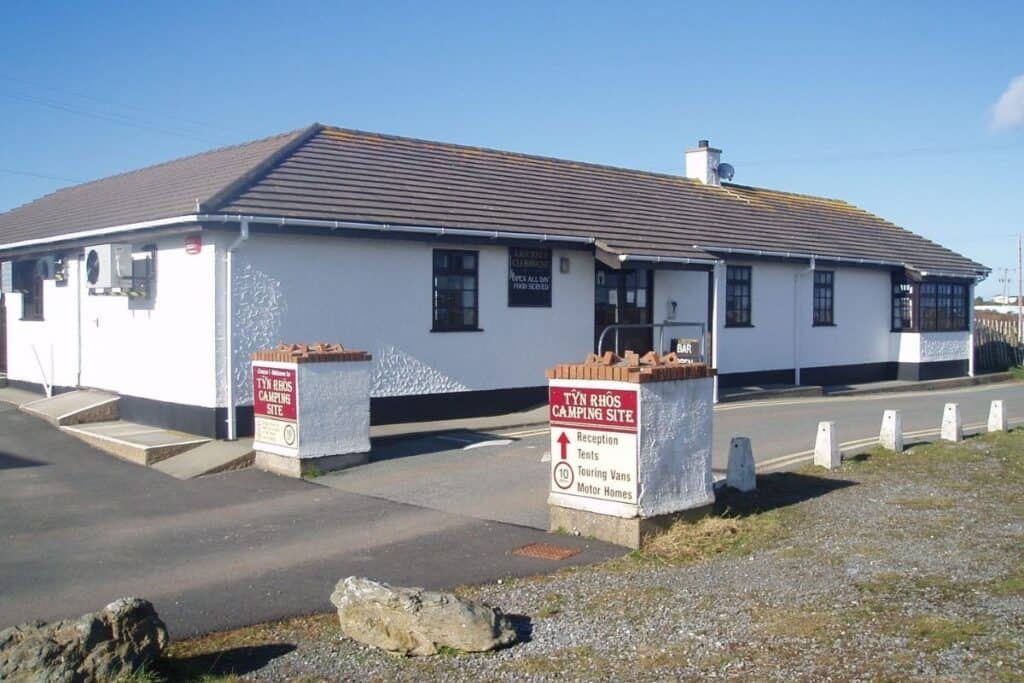 Somewhat of a hidden gem, Bert's Family Pub (formerly the Gywnfair Club) is the Ronseal of pubs – it does exactly what it says on the tin. It's nestled within the Tyn Rhos Campsite/Gywnfair Caravan Park, but it's open to anyone and everyone to pay a visit, including your waggy-tailed friend(s).
This is a proper family pub and is precisely what you would expect for the hub of a family holiday park. Expect big sports screens, a games room for the kids, pub grub, and there's even live music if you stick around until the evening. Dogs are allowed in the extensive outdoor seating area (picnic tables) and inside, which is a real bonus if the weather turns.
Address: Ravenspoint Rd, Trearddur Bay, LL65 2AX
Phone number: 01407 860174
Website: https://www.facebook.com/Gwynfair-Club-186543298065305/
Best Dog Friendly Pubs in Anglesey – Summary
So, there you have it – our top picks for the best dog friendly pubs on Anglesey. Of course, there are plenty of other worthy contenders, and we will continue to monitor and update this list if/when we feel another establishment is worthy of a mention.