Jutting 170m out into the Menai Strait is Beaumaris Pier, one of the must-see attractions of Anglesey. Widely regarded as the best place to go crabbing on the island, the pier is a beautiful piece of architecture in its own right and acts as a departure point for numerous pleasure boat trips, including those heading to Puffin Island.
With that in mind, let's tell you a little more about this pier and explain why it's well worth a visit.
Beaumaris Pier: A Brief History
Beaumaris pier was first constructed in 1846 and was initially made out of wooden piles and iron girders. The purpose of the pier was to welcome pleasure steamers to drop off and collect passengers to the quaint seaside town of Beaumaris.
However, after significant storm damage, the pier was effectively rebuilt in 1872 into the structure we see today and further extended to its current length in 1895. During the same construction works, a T-shaped pontoon was added to the end of the pier to welcome boats, and a pavilion was installed.
Over the next 100 years or so, the pier often fell into varying states of disrepair, with locals continuously raising money for its restoration and preservation. The pier's future wasn't secured until 2011, when an extensive phase of restoration works costing £5.6 million took place, which included adding a floating boat landing platform that allows pleasure trips to run from the pier.
Why Visit Beaumaris Pier?
There are plenty of reasons to visit this historic pier during your stay on the Isle of Anglesey. However, perhaps the most significant reason is that this place offers something for everyone. It doesn't matter whether you're an OAP or a busy family of four – there's an activity on offer that suits your preferences.
Whether you want to admire the 150-year old structure and drink in the incredible views of Snowdonia or bring your fishing or crabbing tackle, there are plenty of activities on offer at this relatively small pier.
So without further ado, let's run through the long list of family-friendly activities to try at Beaumaris Pier.
Things to Do at Beaumaris Pier
Try Crabbing
It doesn't matter how old you are; there's something incredibly satisfying about the activity of crabbing. If you're unfamiliar, you hook a bit of bait on the end of a crabbing line, place it in a net, and wait for the little (or big) critters to take a bite and pull them up once they're trapped in the net. You then put them in your bucket, marvel and your largest catches, and return them to the sea once you've had enough.
If you've got kids, this activity can keep them entertained for hours on end. It's also a fantastic spectator sport if you don't have the inclination to have a go at it yourself.
In terms of equipment, you'll need a crab line/net, a bucket full of seawater, and some bait. Our preference for bait is raw bacon rashers, but there are lots of other viable alternatives. These pieces of kit are all available to purchase from the little kiosk at the entrance to the pier, and the RNLI Lifeboat Station shop adjacent to the pier also often stocks this equipment.
Take a Pleasure Boat Trip
Numerous pleasure boat trips run from Beaumaris Pier. Seacoast Safaris and Starida offer plenty of wildlife watching trips across to Puffin Island, tours of the famous bridges and piers of the Menai Strait, and you can even book them for a sea fishing adventure should you want to.
You can expect to see Puffins (during the summer season of late April to around mid-August), dolphins, all kinds of birdlife, and seals. The duration of these cruises is dependent on the specific trip you book, but most last around 1.5 – 2 hours. There's also a variety of boats to choose from, with mega-fast RIBs or slower cruise boats with more in the way of facilities.
Have a Go at Sea Fishing
If you want something a little trickier than crabbing, you can bring your fishing tackle and try your luck at the end of the pier, which has some angling facilities in place. There's plenty of fish to try and catch, too, with cod, bass, eels, dogfish, mackerel, whiting, and herring all calling the Menai Strait home.
Before you do rock up to rig your fishing rods, it's worth noting that you do require a fishing licence from the Government. You can apply to get yours here.
Enjoy the Views or Spend Time Wildlife Watching
With all the commotion of fishing, crabbing, and boats departing to and from the pier, it can be easy to forget to enjoy the simplest pleasures Beaumaris Pier offers its guests. There are spectacular views of Snowdonia (including Snowdon itself) on a clear day, and the white-capped mountains are something to behold on a crisp winter's day.
Plus, most of the wildlife you can spot on the boat trips is visible from the end of the pier. Dolphins, seals, and birds such as Cormorants are frequent visitors to this stretch of water. In fact, the shelter at the end of the pier is an excellent spot for bird watching if you happen to be an avid twitcher. There are razorbills, cormorants, shags, black guillemots, guillemots, and kittiwakes to name just a few of the bird species that frequent the Menai Strait.
Splash About with the Kids in the Paddling Pool
That's right, Beaumaris Pier has a permanent outdoor paddling pool! It's brilliant for cooling the kids off on a warm summer's day, and the pool is surrounded by a play area that will keep them entertained. It's not technically on the pier, but it's located adjacent before it leaves the land and stretches out into the sea.
Visit the RNLI Lifeboat Station
Also attached to the pier is the RNLI Beaumaris Lifeboat Station. This is another excellent stop off, and you can take a look around during the summer season. They often do practice launches on specific days of the week, too, which is always a great watch. As mentioned, there's also a shop that sells sweets, toys, gifts, souvenirs, books, and cards which helps support the crew and the boat financially.
Beaumaris Pier FAQs
Are There Toilets on Beaumaris Pier?
No, there are no toilet facilities on Beaumaris Pier. However, there are public toilets located opposite the entrance to the pier, up the alley that runs along the side of The Bulkeley Hotel. They are paid-for toilets, so have your spare change ready.
Is There Anywhere to Buy Food and Drink on Beaumaris Pier?
Yes, The Pier Kiosk sells Welsh dairy ice cream and other snacks, while the RNLI station shop also sells refreshments. There are also several tea rooms, restaurants, pubs, and a fish and chip shop located a short walk away from the pier entrance.
Where is the Best Place to Park for Beaumaris Pier?
Parking for the pier is available at the nearby pay and display Beaumaris Green Car Park. There's room for hundreds of vehicles, but it still fills up during the summer season, so you might want to arrive early to secure a spot. All-day parking is reasonably charged at around a fiver, and evening parking is heavily discounted.
Is Beaumaris Pier Accessible?
Yes, Beaumaris is both wheelchair and pushchair friendly. There's also ramp access to get down to the boat landing platforms at the end of the pier.
When is the Best Time to Visit Beaumaris Pier?
The pier can get very busy during the summer season, so it may be best to arrive early or later on to avoid the peak of the crowds. In terms of the tides, it's better to arrive at higher tide times if you plan on crabbing or fishing, so there's enough water to work with. High tide also affords you more viable crabbing space along the pier, which is crucial during busy periods.
If you are just planning a gentle stroll or wish to merely watch the world go by, sunset is an excellent time to pay a visit. With the crowds gone, you might even have the place to yourself.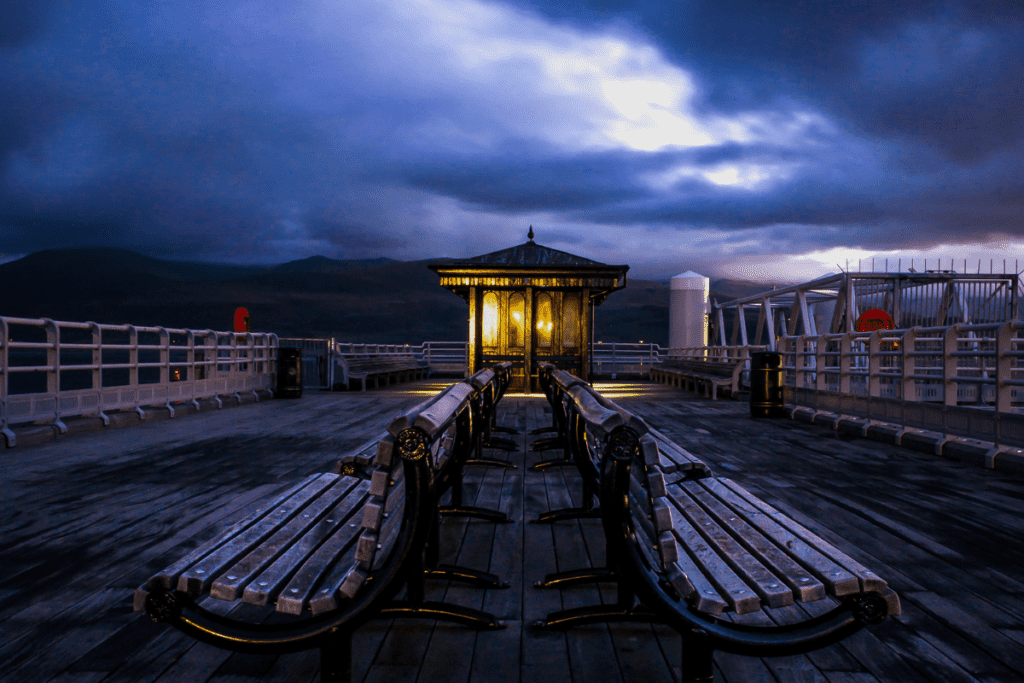 Where is Beaumaris Pier Located?
Unsurprisingly, the pier is located in Beaumaris, a quaint little seaside town on the Eastern coast of Anglesey. It's about a 10-minute drive from Menai Bridge, and the entrance to the pier itself is located opposite The Bulkeley Hotel.