Whether you're using it as a base for your Anglesey holiday, or you've simply spent a day on the beach, if you find yourself in search of food, there are plenty of excellent places to eat in Cemaes Bay. From the local chip shop to the lovely cafe in the main beach car park, there's something for everyone here even though it's only a tiny village.
So whether you're after home-cooked food or something closer to Michelin-star dining, here are your food options when visiting Cemaes Bay – starting with the cafes and fish and chips establishments.
Cemaes Bay Cafes and Fish & Chip Shop
Caffi Bach
Caffi Bach is exactly what you need after a day of playing on the beach. It sells everything you would expect from a beach cafe, including ice creams, lollies, cones of chips, and even bacon butties. But the real jewel in the crown for this particular cafe is the wood-fired pizzas. They really are something to behold, and they are the perfect après-beach day meal for all the family. Plus, they are incredibly well-priced, with some pizzas costing just over a fiver and all topping varieties coming in at under £10.
You can find this beach cafe on the edge of the Traeth Mawr main car park, with hours varying throughout the year (often based on demand). However, during the summer holiday season, you can expect the cafe to open around noon and operate until 20:00. You can find more information regarding the pizza serving times on their Facebook page.
Caffi Banc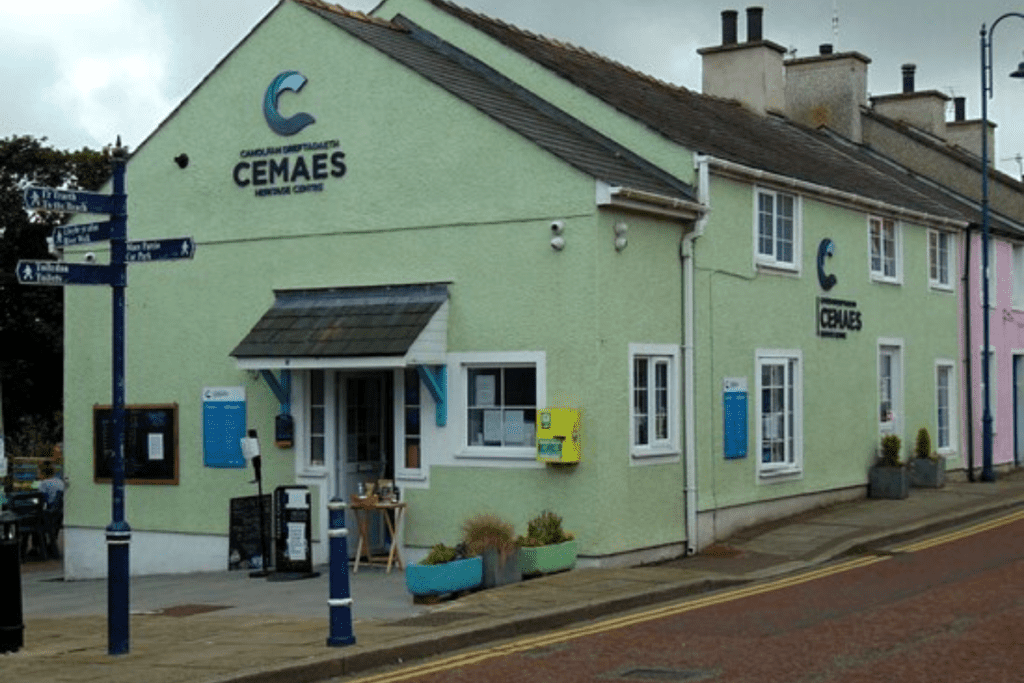 As the name suggests, this high-street cafe is in the place of the old Natwest bank that was in place from the 1960s until 1996, when the community enterprise Cwmni Cemaes Cyf bought it for £12,000. Today the site houses a heritage centre, of which this cafe forms a significant part.
Caffi Banc specialises in serving high-quality local produce and perhaps offers the best-cooked breakfast in the village. The team running the cafe are passionate bakers, making a round of cakes, scones, quiches, and sausage rolls (to name but a few) every single day. There's also a wide variety of breakfast and lunch items available, including favourites such as beans on toast, soups, and salads.
This cafe is well-suited to walkers either making their way to or arriving from Bull Bay along the Anglesey Coastal Path, with takeaway packed lunches also available by order. Lastly, the cafe has a tourist information area, free Wi-Fi, accessible toilets, a baby changing facility and a dog-friendly garden overlooking the Wygyr Valley (please note that only guide dogs are allowed inside the cafe).
Y Wygyr Fish and Chips
Sometimes you just fancy some fish and chips after a long day of splashing about in the sea or walking along the coast path. Fortunately for you, Y Wygyr offers perhaps the best fish and chips on Anglesey, as evidenced by their numerous awards.
Not only can you grab fresh and extremely tasty fish, but you can also try locally-reared Welsh beef burgers, chicken pies, and a whole host of assorted side dishes. If you don't fancy eating them on the beach for any reason (or the weather isn't cooperating), you have the option of eating them in their sit-down restaurant.
Y Gloch
A relative newcomer, Y Gloch (The Bell in English), is a small independent cafe offering diners Red Boat gelato ice cream, coffees, teas, and indulgent slices of cake. They have also recently started serving light lunches such as homemade soups and you and browse the menu on on their Facebook page.
This cafe is located on the high street just a few doors down from the fish and chip shop and welcomes dogs for those looking for dog-friendly service.
Best Cemaes Bay Pubs and Restaurants
The Harbour Hotel
The Harbour Hotel boasts stunning views over Cemaes Bay and is a beautiful place to dine as the sun sets on a beautiful summer's day. The hotel boasts two bars (the Sports Bar and the Lounge Bar), and the Jolly Sailor Restaurant offers plenty of interesting food options for those of you looking for a Cemaes Bay restaurant dining experience.
The menu is varied, and prices are around £10-£20 for main courses. You can choose from fresh seafood, burgers, steaks, and other assorted main courses and light bites. Many of the items (and similar dining options) can be sourced from their takeaway bistro, too, if you fancy eating your dinner on the beach or back at your accommodation.
The Stag Inn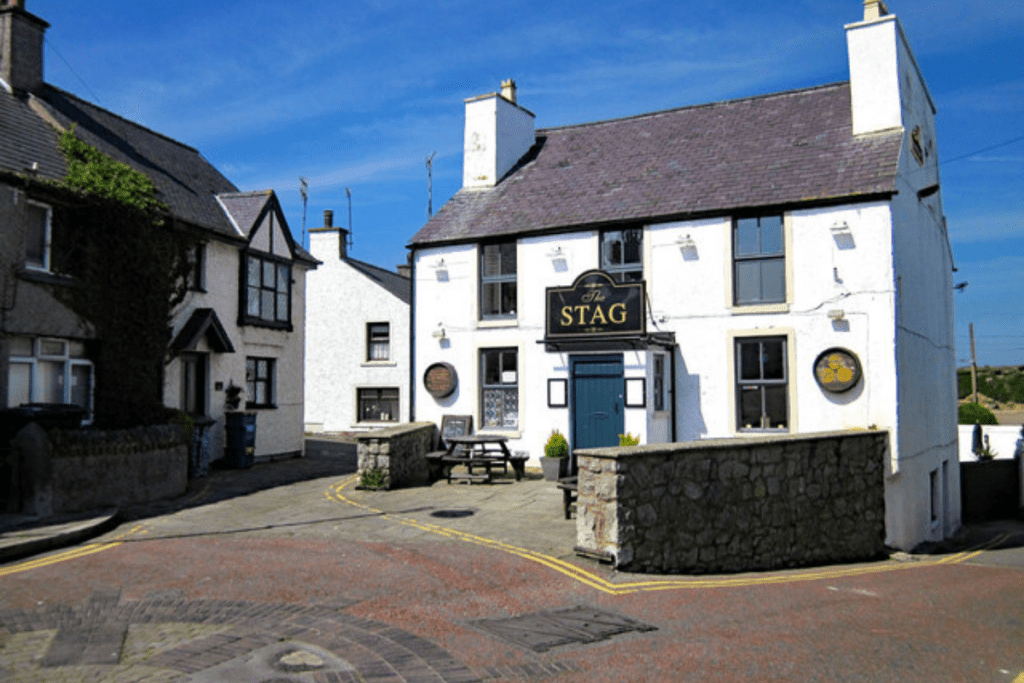 A firm favourite with the locals, The Stag Inn is Wales' most northerly pub, boasting three bar areas, an open fire, and that all-important snooker/pool table. If you're looking for traditional pub grub, this is the place to come with old favourites such as gammon and chips, scampi and chips, and hunters chicken, all on the menu at this family-run Marston's pub.
This cosy pub also offers excellent Sunday roast dinners and burgers, should they take your fancy. While you can sit in any of the bar areas, there are outdoor seating options available in front of the pub facing the road or on the balcony to the rear, which boasts splendid sea views.
Gwesty Gadlys Hotel with Bay Restaurant and Bar
Another restaurant boasting stunning views of the bay is the Gwesty Gadlys Hotel, including the Bay View Restaurant and Bar. This four-star location is perfect if you are a foodie or looking for something a bit more swanky for a special occasion. The restaurant's seasonal menu is packed full of local produce, with local Welsh lamb rump and Welsh beef ribeye representing particular highlights.
As you might expect from this type of establishment, mains are a little pricier, with an average price range of £15-£25. It's also a fair way out of the village up the hill toward Llanbadrig (about a 10-15-minute walk), so it might be worth heading back to shower and change into your smart clothes before making your way over by car.
Which Cemaes Bay Eateries Are Dog-Friendly?
If you've brought your furry best friends with you, then the good news is plenty of the establishments mentioned above are dog-friendly. They include:
Caffi Bach (takeaway only)
Caffi Banc (outdoor seating area only)
Y Wygyr Fish and Chips (takeaway section only)
Y Gloch
The Stag Inn
Where Else is There to Eat in Cemaes Bay?
There are other options in Cemaes, such as the Coffee Pot or Ye Olde Vigour Inn. However, we've not yet visited these places and can't find any information regarding any food they might serve.
Alternatively, if you need a quick snack or ingredients for a bit of home cooking, you can nip in the local McColl's convenience store (also situated on the high street) to pick up a few bits and bobs (and stock up on chocolate bars for your walking or beach activities).
Enjoyed this list of places to eat in Cemeas Bay? Why not check out our recommendations for the best restaurants in Menai Bridge below?