If you're planning a beach day as part of your stay on Anglesey, you might well want to consider Cable Bay Beach. Known locally as Porth Trecastell, Cable Bay (Anglesey) offers visitors a sandy beach without the same number of visitors as many of the beaches nearby.
Nestled in between the towns of Rhosneigr and Aberffraw, this sheltered inlet offers plenty to beachgoers with sloping sand dunes, surfable waves, and rock pools to explore. Plus, if you ever get bored of the sea and sand, you can always stroll along the northern headland to pay a visit to the intriguing ancient burial chamber at the top of the hill.
So without further ado, here is your quick guide to Cable Bay, Anglesey.
Cable Bay Beach Anglesey History
In case you're wondering, there is a reason why this bay is named the way it is. Cable Bay is actually named after a telegraph cable that used to run from this bay across the Irish Sea to Ireland (and from there across the Atlantic to the United States), which was first installed in 1902. While the cable has long since been abandoned, the name has stuck ever since.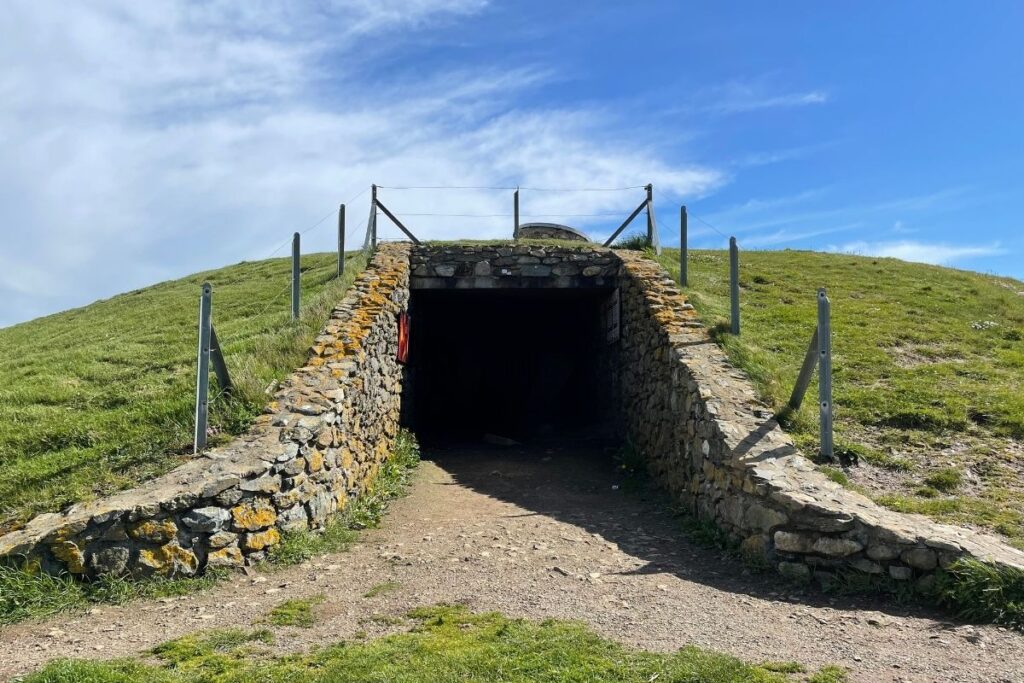 However, the history of this cove stretches back further still, as suggested by the Barclodiad y Gawres Neolithic burial chamber. If you've already paid a visit to the nearby Bryn Celli Ddu, then you're bound to love this chamber which is just a five-minute walk from the beach up the Anglesey Coastal Path along the headland. As with Bryn Celli Ddu, this burial chamber is Neolithic, dating back to around 2500 BC.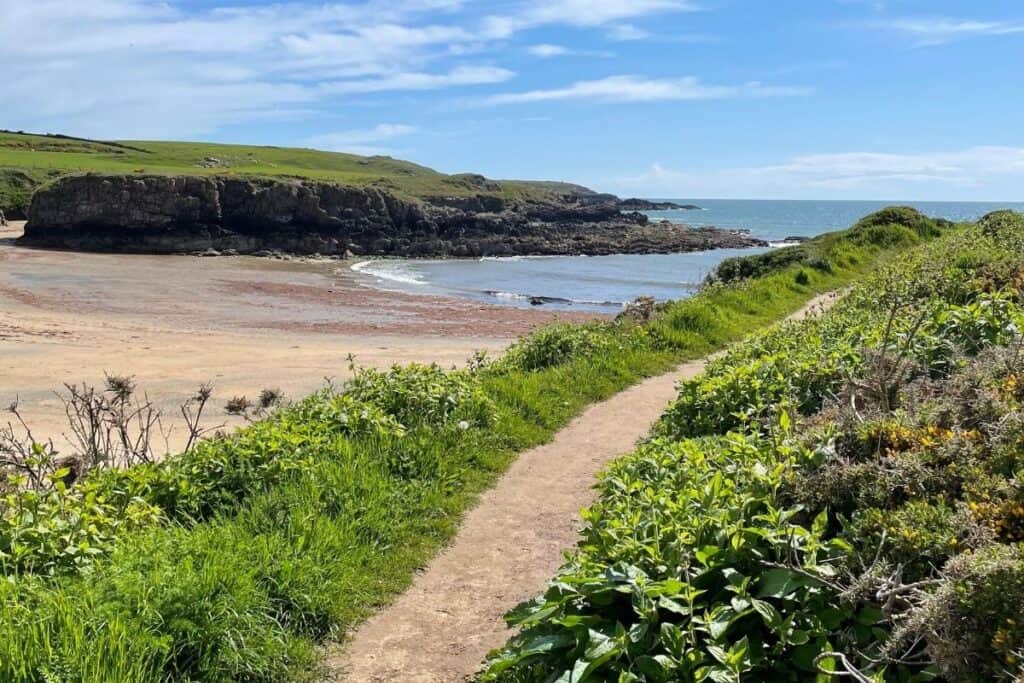 Why Visit Cable Bay for the Day?
When the summer rolls around and many beaches fill up, Cable Bay offers a (usually) quieter beach experience. This cove has less in the way of facilities, which means visitors often flock to those over the headland at Rhosneigr and Aberffraw instead, leaving you in peace to enjoy this little sandy inlet.
Like any beach in North Wales, it can get busier during the spring and summer months (April-September), but the limited car parking facilities means numbers always remain in check.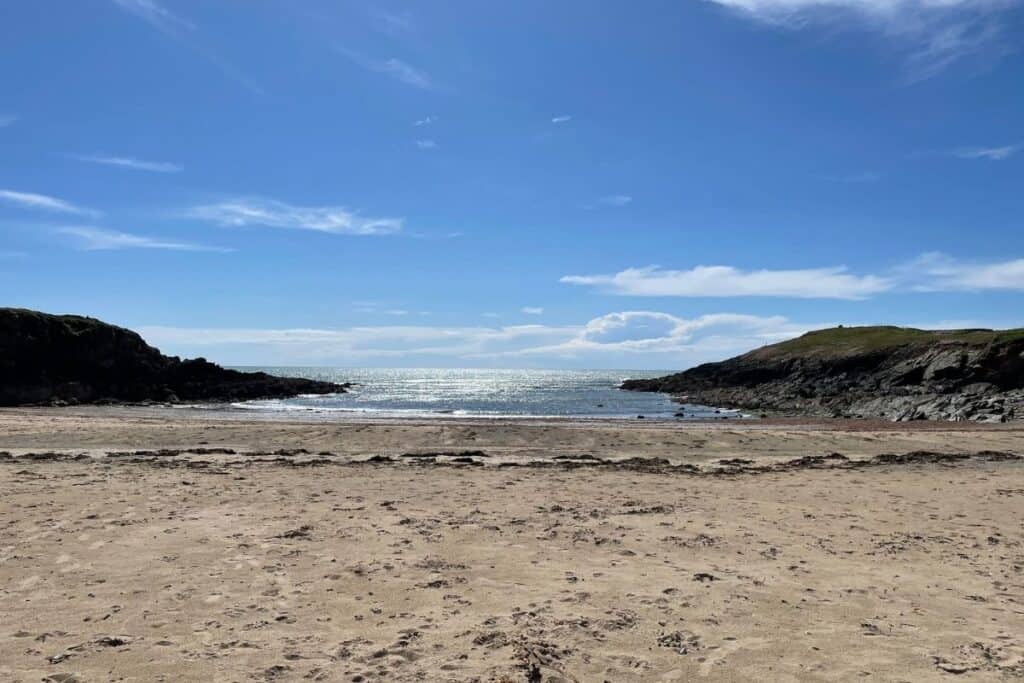 Another reason for visiting Cable Bay (particularly in the off-season) is water sports activities. There are usually perfect conditions for bodyboarding and surfing at Cable Bay during the autumn and winter months. However, you will need a full wetsuit as the water is perilously cold. You'll also need to be experienced with testing water conditions. You're best aiming for the hours before or immediately after high tide if you've got surfing in mind.
Kayaking and/or canoeing is popular here too, with such a short walk from the car park to the sea, Cable Bay provides an excellent access point for keen paddlers to explore this rugged stretch of coastline. Once the fair weather returns, you'll also see dozens of paddleboarders doing the same thing when conditions allow.
Cable Bay Anglesey Parking
The car park is easily accessed from the A4080, which runs directly from the A55 Expressway to the beach (see directions below for more detailed instructions). The car park has room for approximately 30-40 vehicles. However, be aware that there will likely be motorhomes in the car park, especially during the spring and summer months.
The car park used to be free. However, it is now a pay and display car park sharing the following rates (correct at time of writing):
Up to 1 hour – £1.00
Up to 2 hours – £2.00
Up to 3 hours – £3.00
Up to 6 hours – £5.00
Up to 12 hours – £8.00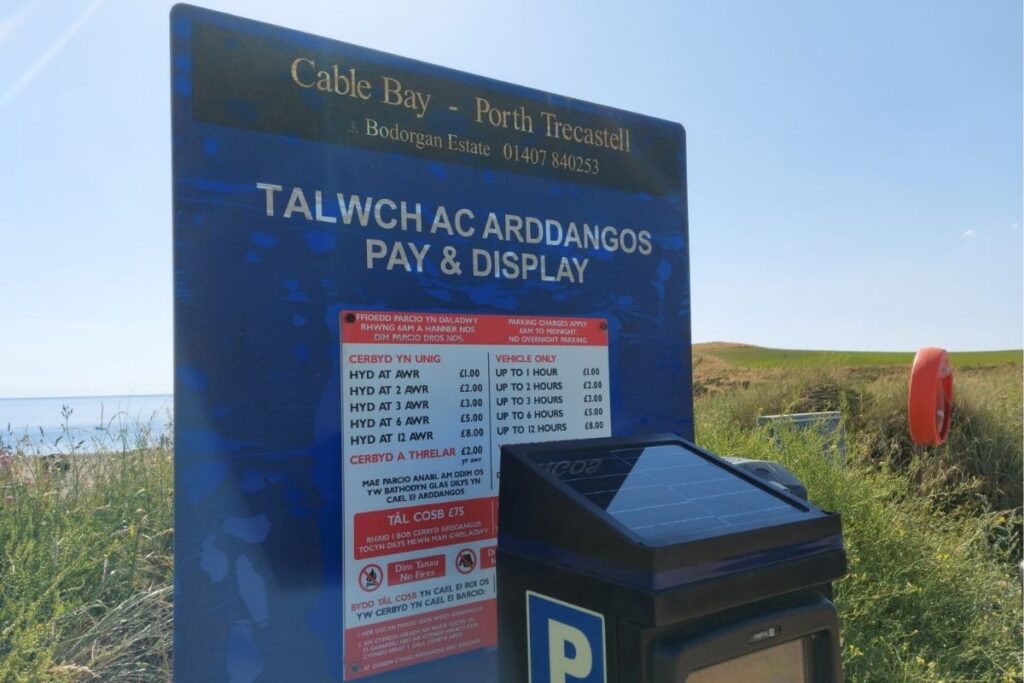 Cable Bay Beach Facilities
The trade-off of having a quieter beach is less by way of facilities. During the summer months, there is usually an ice cream van stationed within the car park. However, it's best to bring your own picnic if you intend on staying a while. While there is a bin, it's best to take your rubbish with you if you can.
There are no toilet blocks at Cable Bay either, so something to bear in mind if you're planning on spending a good few hours here, especially with little ones!
Getting to Cable Bay (Directions)
Cable Bay is very accessible despite its secluded nature and should be an easy journey no matter where you're staying on the island.
From the A55 Expressway:
Take Junction 5 (signposted for Rhosneigr).
Follow the A4080 as it winds through a few small hamlets before arriving at Llanfaelog.
Continue on the A4080, ignoring right-hand turns signposted for Rhoneigr in Llanfaelog and Bryn Du.
Follow the road as it passes the large Broad Beach car park, and slow as the road rises toward a blind summit.
Immediately after cresting the hill, you'll see Cable Bay on your right, as well as the entrance to the car park.
Cable Bay Beach FAQs
What Activities Can You Do at Cable Bay Beach?
– Kayaking
– Sea fishing
– Paddleboarding
– Rock pooling
– Surfing
– Bodyboarding
– Swimming
– Walking
Where is the Nearest Place to Eat at Cable Bay?
While there may be an ice cream van in the car park, if you find yourself stuck, then there are options for refreshments in the nearby villages of Rhosneigr and Aberffraw. The highly regarded Oyster Catcher restaurant is just a five-minute drive away.
Are Dogs Allowed At Cable Bay?
Yes, Cable Bay is a dog-friendly beach, with no restrictions placed on them as there are on many of the more popular beaches on the island. Of course, you should always make sure to keep your dog under close control and ensure that you clean up after them immediately.
What's the Postcode for Cable Bay?
The closest postcode for Cable Bay is LL63 5TE. However, you will need to continue along the road until you see the car park on your right-hand side if approaching from Llanfaelog.
What Type of Beach is Cable Bay?
Cable Bay is a sandy beach with rocky outcrops backed by a system of sand dunes.
Are There Lifeguards at Cable Bay Beach?
No, there is no lifeguarding service at this beach. You enter the water at your own risk.