Silver Bay Beach, Anglesey, might represent one of the best remote beaches in North Wales. Only accessible on foot (unless you happen to be staying in the nearby Silver Bay Holiday Village), this vast expanse of sand and rocks is one of the best places to enjoy an Anglesey beach experience without any of the associated crowds.
Combing low rocky headlands with the background sights and sounds of RAF Valley, this is undoubtedly a beach with a difference. So with that in mind, let's tell you a little more about Silver Bay and why it's worth paying a visit.
What Makes Silver Bay Beach Different to Anglesey's Other Beaches?
Well, unlike most of Anglesey's famous beaches, such as Newborough and Trearddur Bay, this beach is not served by any car parks. The closest you can get your car is, at best, a 20-minute walk away. However, that walk is more than worth it to enjoy what is objectively one of Anglesey's finest beaches without the crowds you might have to contend with on better-served beaches.
This beautiful beach represents back to basics, with no real facilities to speak of. There are no ice cream vans or toilet blocks although there is now a hut with picnic benches and bins, which is likely run by the holiday park. This was closed on our last visit so it's unclear as to what food and drink you may be able to purchase here.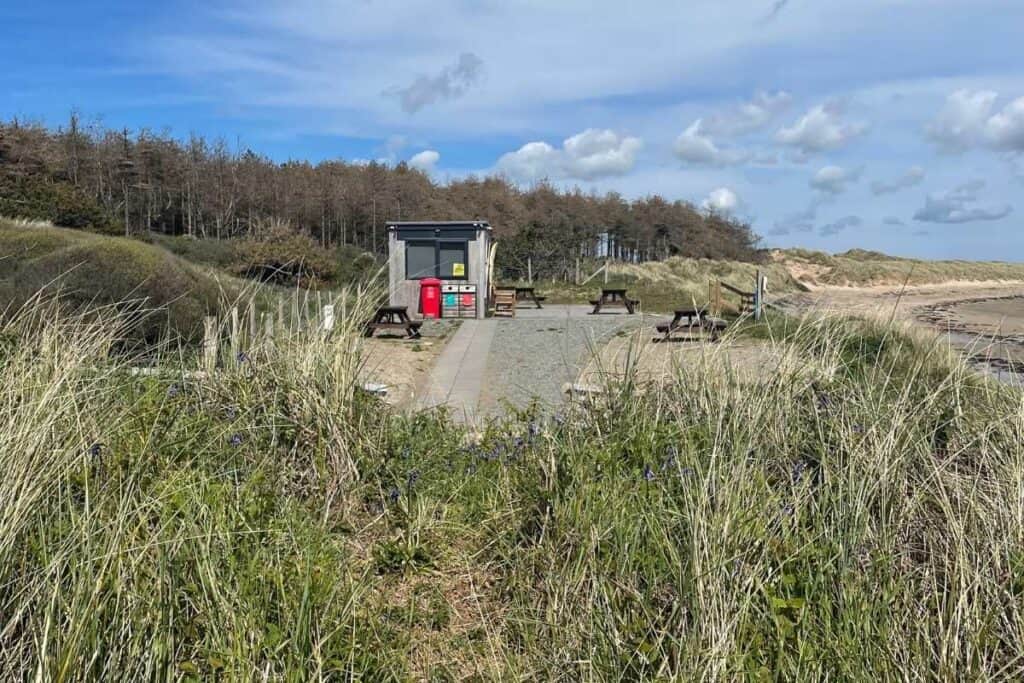 Upon arrival, all you are presented with is a vast expanse of sand and rocks that you will often have to yourself (or very few others). In the summer holidays, the difference between Silver Bay Beach and other nearby beaches such as Trearddur Bay, Rhoscolyn, and Rhosneigr Beach is stark, and it can very much feel like your very own place.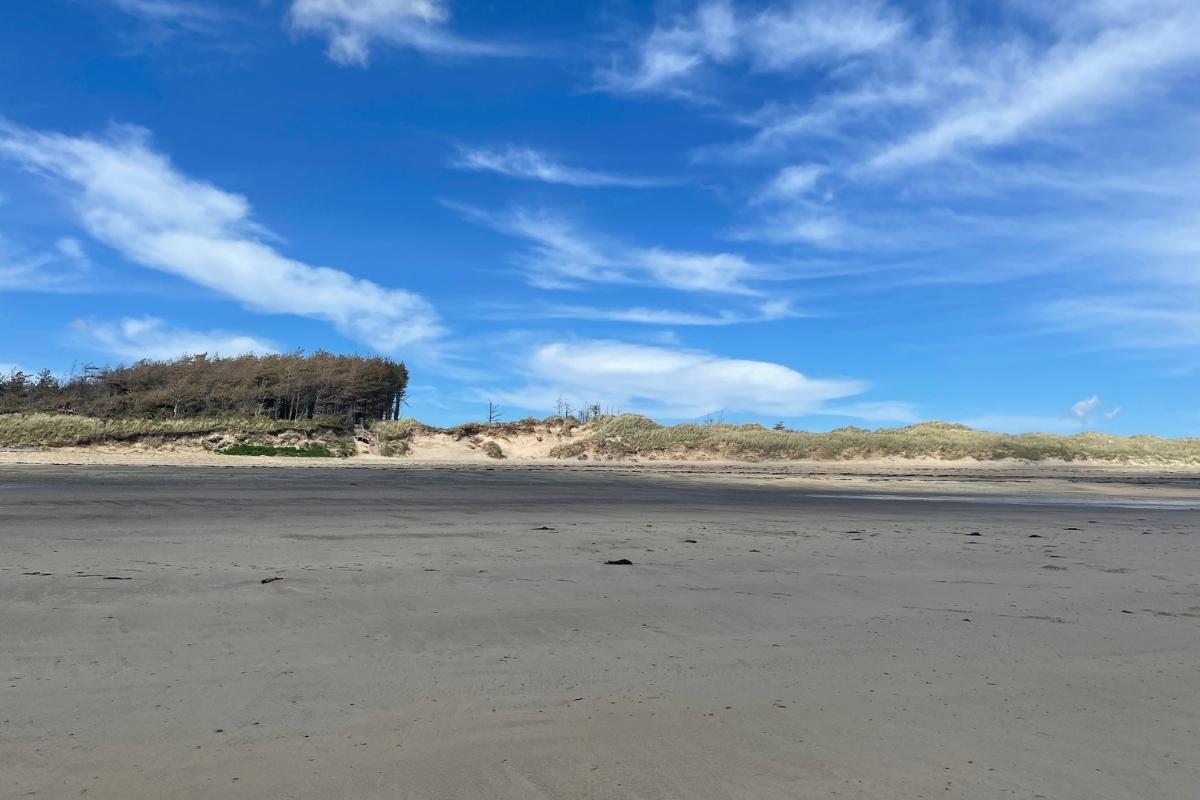 Silver Bay Beach Activities
Despite not having much in the way of facilities, there is plenty to do at Silver Bay (or Traeth Llydan, if you prefer). If you have kids (or don't), when the tide rolls out, there are a mountain of rockpools that you can go and explore, fishnet and bucket in hand.
For those more adventurous, on calmer days, you can blow up your paddle board and venture out into the bay or enjoy a spot of surfing on those windy days. Kayaking and canoeing are also popular at this beach. Just remember that you will have to carry any watersports equipment a long way given the access difficulties of the location.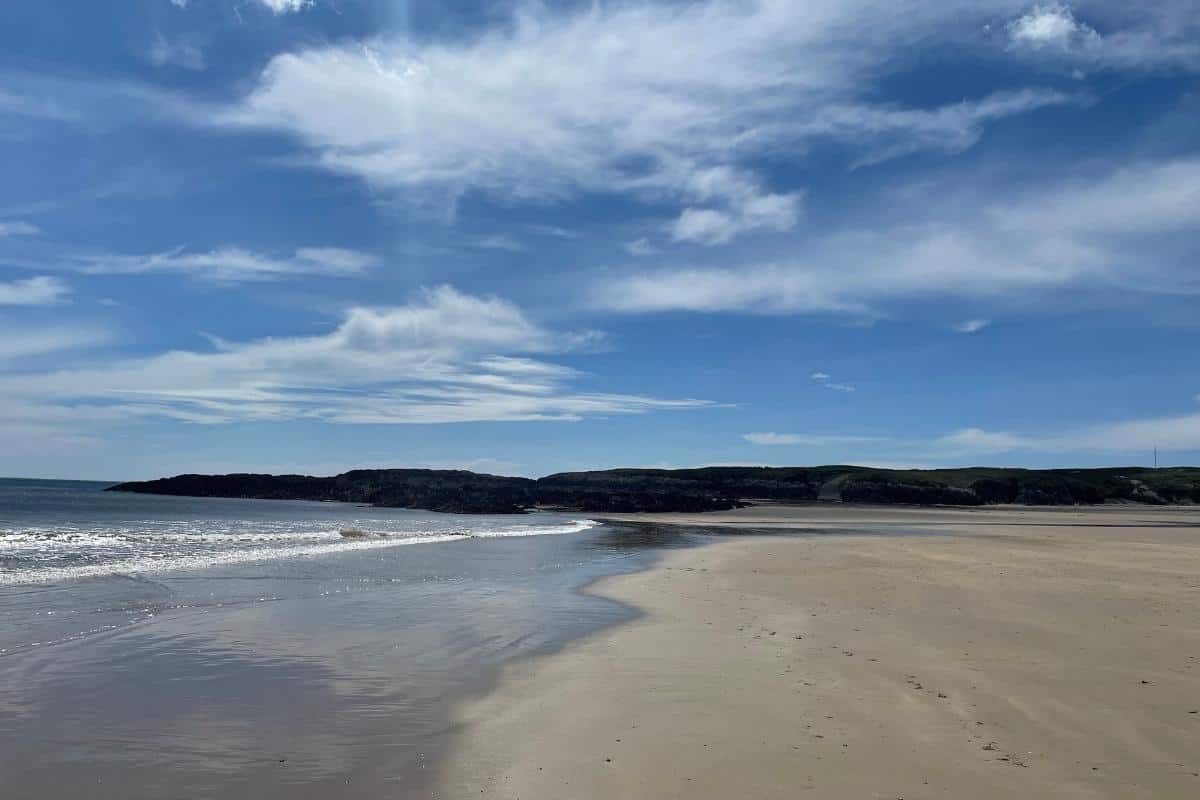 A surfboard, bodyboard, or inflatable paddle board may be feasible, but windsurfing is most likely impossible unless you happen to be staying in the holiday park. The same goes for any sea fishing gear you might want to bring with you.
If none of those activities takes your fancy, it's an excellent idea to stroll along this sandy horseshoe in the direction of RAF Valley and watch the many jets and helicopters taking off. Of course, you can always go for a swim too. However, as with all remote beaches, there is no lifeguarding service on this beach. You enter the water at your own risk.
Getting to Silver Bay Beach, Anglesey
The hard part is getting to this beach in the first place. It is not serviced by any car parks or facilities, meaning you'll have to park somewhere else and then make your way across on foot.
It is not recommended to walk through the Silver Bay Holiday Village. That site is private property, and you will be turned away if you make your way through the park with a load of gear clearly destined for the beach. Plus, you will miss out on what are two potentially very enjoyable walks.
The first, and perhaps the best, route to Silver Bay Beach is from Rhoscolyn.
Park at the Rhocolyn Beach car park (Traeth Borth Wen Pay & Display Car Park) and then make your way back up the narrow road you came down to the house on the final bend.
You'll see the signpost for the Anglesey Coastal Path.
Take a right and follow it as it meandering around the rear of Rhosoclyn Beach.
After weaving through some more bungalows, the path opens up onto the headland.
Follow the path as it takes you around the little inlets and gulleys around the headland until you eventually arrive at Silver Bay beach. This should take you around 15 minutes.
If you want to take a different route home, you can:
From the back of the beach, head up to the pine forest plantation (there are wooden steps here).
Follow the fenced path up through the plantation until you pick up signs for the coastal path.
Then head diagonally across the farmer's fields (NB: there are sometimes cows in this field if you have a dog with you) to the gate next to the holiday home.
Follow the track up from the holiday home until the point at which it becomes a road.
Follow the road down to a T junction on a bend. Turn left.
Follow this road until it splits into a road that bears left and a track that bears straight on/right. Take the track.
After roughly 400 yards, bear right and come off the track onto another one that has the appearance of somebody's drive.
Walk down past the property and garden until you reach the back of Rhoscolyn Beach.
You can either retrace your steps by taking a right and heading back to the car park, or you can bear left and drop down onto Rhoscolyn Beach.
Silver Bay Beach FAQs
What Do I Need to Bring With Me to Silver Bay?
There are very little facilities to speak of at Silver Bay. It's best to assume that you will need to bring food, drink, and all other beach-going equipment with you. Please bear this in mind if you intend to spend the day at Silver Bay. There are no toilets either, so that's something else you need to consider.
Where is the Nearest Place to Eat at Silver Bay?
The nearest place offering food and drink is the well-regarded White Eagle pub in Rhoscolyn. There is also small hut on Silver Bay Beach that may offer refreshments during the summer months.
What Activities Can You Do at Silver Bay Beach?
There are several activities you can try, including but not limited to:
– Kayaking/canoeing
– Sea fishing
– Jet-skiing
– Sailing
– Rock pooling
– Surfing
– Windsurfing
– Walking
Are Dogs Allowed on Silver Bay Beach?
Yes, dogs are allowed at Silver Bay Beach year-round, which is unusual for an Angelsey beach. However, please make sure to clean up after them and bring enough poo bags for a whole day.
Is Silver Bay Beach Disabled-Friendly?
If you are staying at one of the nearby holiday parks, there is wheelchair-friendly access to the beach via privately-owned roads. However, if you are coming from anywhere else, the beach is not reachable for those with accessibility needs, such as parents with pushchairs.
What is the Postcode for Silver Bay Beach?
The nearest postcode for Silver Bay is LL65 2RZ. However, this is the postcode for the nearby holiday park. The postcode you need is for the nearby Roscolyn Beach car park, within walking distance to Silver Bay. The postcode for Traeth Borth Wen Pay & Display Car Park is LL65 2NJ.
Is Silver Bay Beach Quiet?
Silver Bay, due to its remote nature, is often deserted. However, please be aware that it lies adjacent to RAF Valley, meaning you will have to contend with noise from the jets if you visit on a weekday. They do not tend to fly during evenings, weekends or bank holidays.
How Much Does Parking Cost at Silver Bay?
Technically, there is no charge as there is no car park associated with Silver Bay Beach. However, Rhoscolyn Beach car park charges as follows (correct at time of writing):
Up to 1 hour – £1.00
Up to 2 hours – £3.00
Up to 4 hours – £6.00
Up to 12 hours – £10.00
You can pay by cash or card via your mobile phone.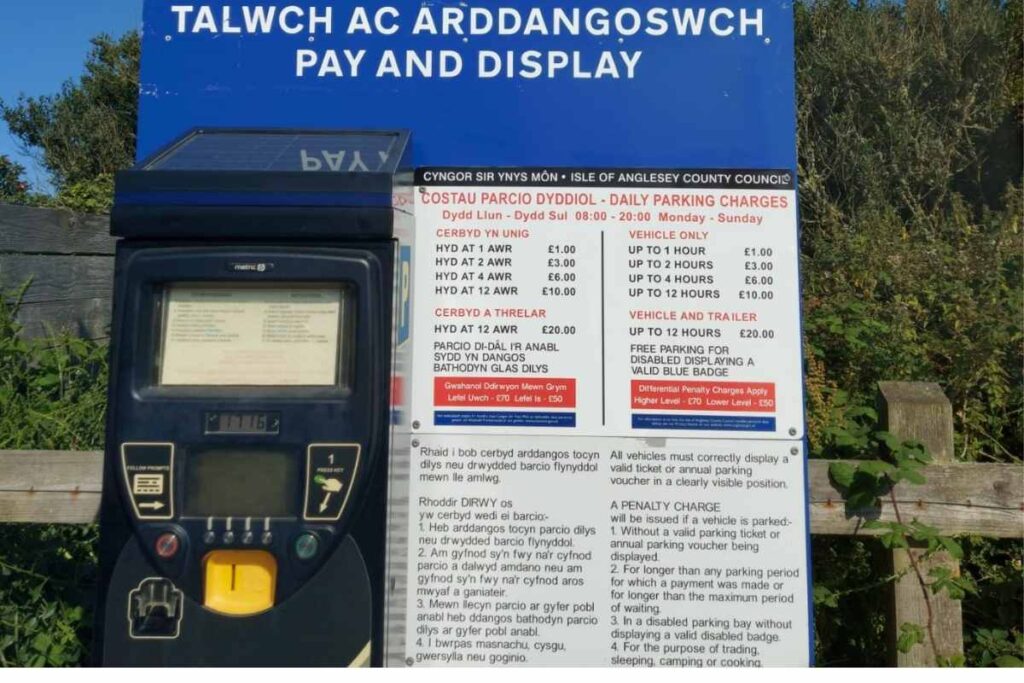 What Type of Beach is Silver Bay?
Silver Bay is a sand beach with rocky outcrops.
Are There Lifeguards at Silver Bay Beach?
No, there is no lifeguarding service at this beach. You enter the water at your own risk.