Nestled on the easternmost tip of Anglesey is Penmon Beach, one of the most popular on the entire island. And yet it's not a conventionally beautiful beach like many of the others on the island – it's a beach made up of pebbles and rocky outcrops.
Pebble beaches are not everyone's cup of tea. They can be difficult to walk on, not to mention hot in the summer sun. But there's something about Penmon Beach that keeps visitors coming back.
One of the reasons this place is so popular is that there's something for everyone here. Whether you want to relax in a deckchair, go rockpooling with the kids, watch the plentiful wildlife, or take a romantic stroll along the Anglesey Coastal Path, Penmon Beach is the perfect place to do it all.
So what is there to do at Penmon Beach, and why is it well worth a visit despite its slightly unconventional appearance?
Why Plan a Trip to Penmon Beach?
Penmon Beach, while perhaps not as easy on the eye as some of Anglesey's other pristine blue flag beaches, still attracts visitors year after year for a number of reasons.
This beach is an excellent place to:
Relax and Soak up the Incredible Views
Due to its relatively remote location, Penmon Beach offers some of the best beach views on the island. The first thing you'll notice upon arrival at Penmon Beach is the stunning Puffin Island, which lies just offshore.
Another unmistakable monument vying for your attention is the Penmon Point Lighthouse, Trywn Du. The distinctive black and white stripes of this lighthouse make it a popular photo spot for amateur and professional photographers alike.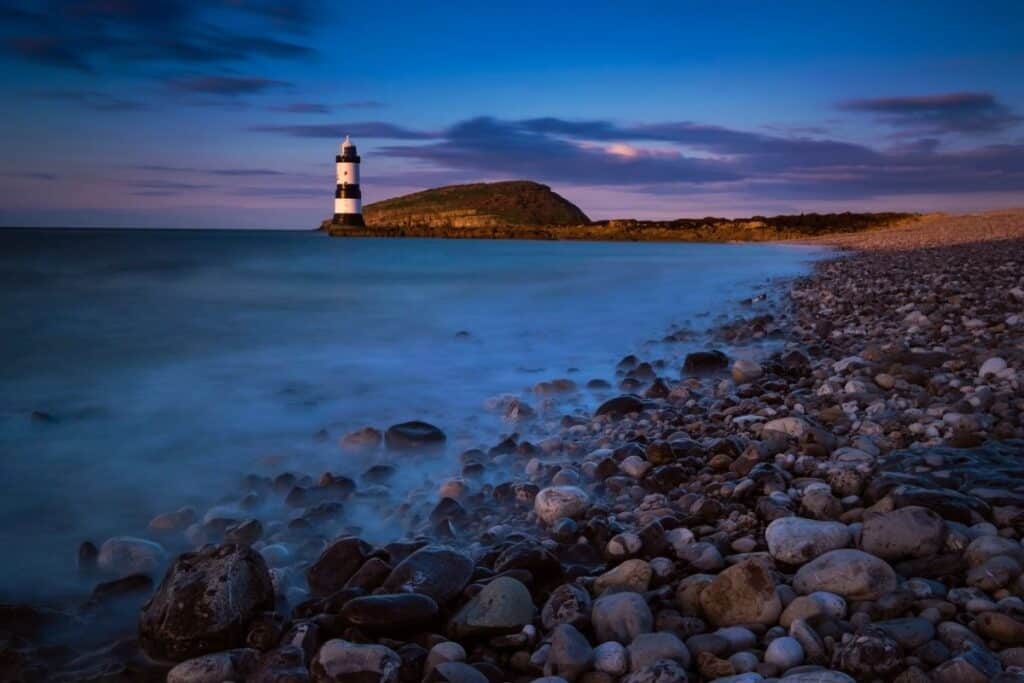 But it's not just the landmarks that make the views here so special – the whole coastline is breathtaking. The cliffs and rocky outcrops make for a dramatic setting, and on a clear day, you'll be able to see the distinctive ridges and bumps of the Snowdonia mountain range from just above the dip the beach sits in.
Whether you're planning to spend your whole day at the beach or just want to take a quick stroll to take in the views, Penmon Beach is definitely worth a visit for its incredible panoramas.
Spot an Array of Wildlife
It will come as no surprise that there's plenty on offer when it comes to wildlife watching at Penmon Beach. Being in such close proximity to Puffin Island means you've got a good chance of seeing some rarer bird species that make their home there, including puffins, razorbills, and guillemots. If you're hoping to do some serious birdwatching during your time on Anglesey, Penmon Beach is the perfect place to start.
You might also spot a seal or two basking on the rocks just offshore, particularly in the autumn months. The seals often swim close to the beach when hunting, as do dolphins and porpoises. So keep your eyes peeled, and you might just be lucky enough to see one of these majestic creatures up close.
But even if you're not a keen birdwatcher or wildlife spotter, it's still enjoyable to simply take a walk along the beach and see what you can find.
Explore the Numerous Rock Pools
Penmon Beach is a great place to go rockpooling. The beach boasts several dramatic rocky outcrops, particularly between the main beach's pebbles and the stretch down to the lighthouse.
When the tide recedes, you can head out with your fishing net and bucket and see what you can find lurking in the pools. Crab, shrimp, and sea anemone are just a few of the many creatures you might find living in these rocky enclaves.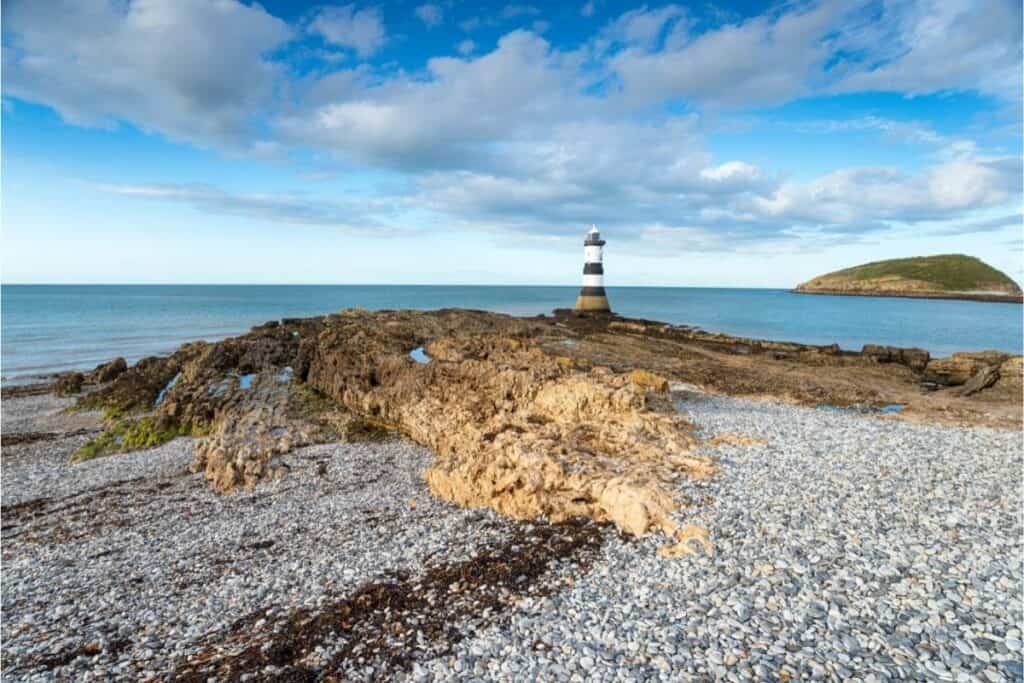 And if you're not interested in getting your hands (or feet) wet, you can still enjoy exploring the rock pools – they make for great photo opportunities.
Take a Stroll Along the Anglesey Coastal Path
Penmon Beach is situated right on the Anglesey Coastal Path, making it the perfect place to start (or end) a coastal walk. The Anglesey Coastal Path covers some 125 miles of coastline and takes in some of the most stunning scenery on the island.
Whether you're planning to walk the whole route or just want to enjoy a short stroll, Penmon Beach is a great place to start with its well-stocked café, ample car parking, and toilets. There are several different walking routes you can take (including those not part of the Anglesey Coastal Path), all of which offer stunning coastal views.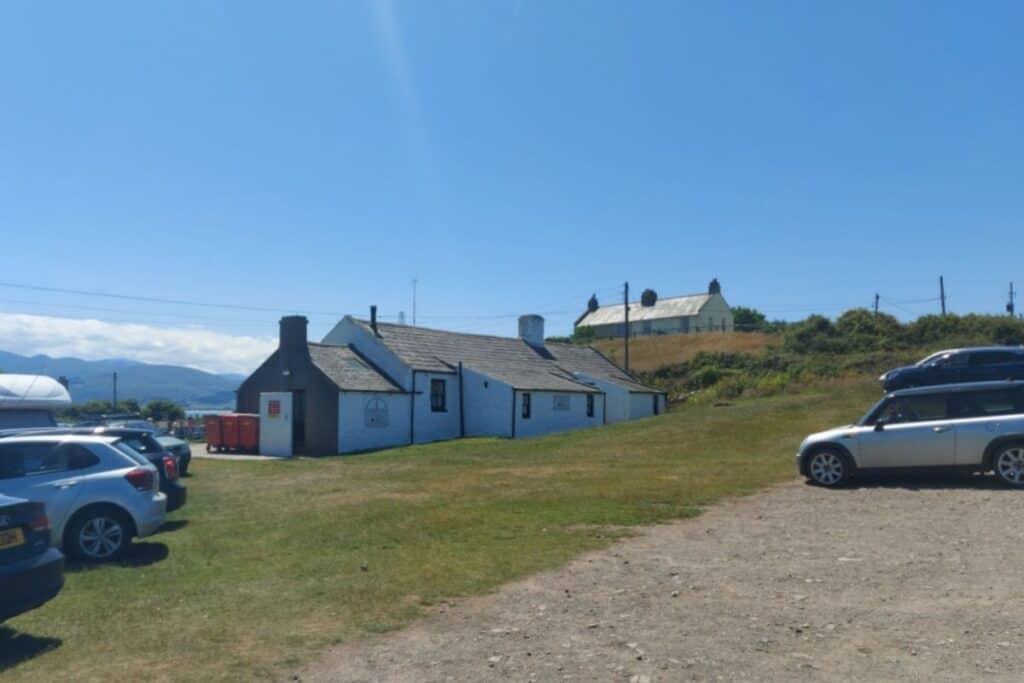 Go Fishing
Given the buzz of wildlife activity, it may come as no surprise that Penmon Beach is somewhat of a hotspot for anglers. The waters just offshore are teeming with fish, making it the perfect place to try your hand at sea fishing.
Mackerel is the most common catch at Penmon Beach, but you might also be lucky enough to snag a bass, flounder, dogfish, or conger eel.
Enjoy Penmon Beach After Dark
One of the unique attractions of Penmon Beach is that it sometimes plays host to some of nature's most captivating displays. The first comes in the form of bioluminescent algae, which sometimes appears in the summer after dark.
When present in the water, it lights up an electric blue when disturbed, making for a truly magical experience.
Penmon Beach is also one of the best places in the UK to see the Northern Lights when conditions align. Although sightings are rare, the Aurorae Borealis is best seen from Penmon Beach in winter, when the nights are longest.
Where is Penmon Beach? How Do I Get There?
Penmon Beach is located on the eastern tip of Anglesey, at Penmon Point. The beach is situated just a stone's throw from the old village of Penmon, which has some interesting ruins you can visit before heading down to the beach.
Penmon Beach is open all year round and is easily accessible by car. To get to Penmon Beach, simply follow these instructions:
From Beaumaris, take the B5109 towards Llangoed.
After around 1.5 miles, at the crossroads, turn right off the main road (signposted Penmon)
Stay on this windy B road as it makes its way through groups of houses and passes by a few beaches and car parks.
Keep progressing along the road as it turns to a single-track road with passing places until you stumble upon the ruins, church, and old dovecote building.
You'll notice a gravel car park on your left.
There'll be a jolly man sat near a wooden hut who'll take payment for the Penmon Toll. He will give you a ticket as a receipt for parking and then continue past the unofficial toll booth up the hill.
Stay on this road until it opens out into a large grass/gravel car park, with a café building on your right.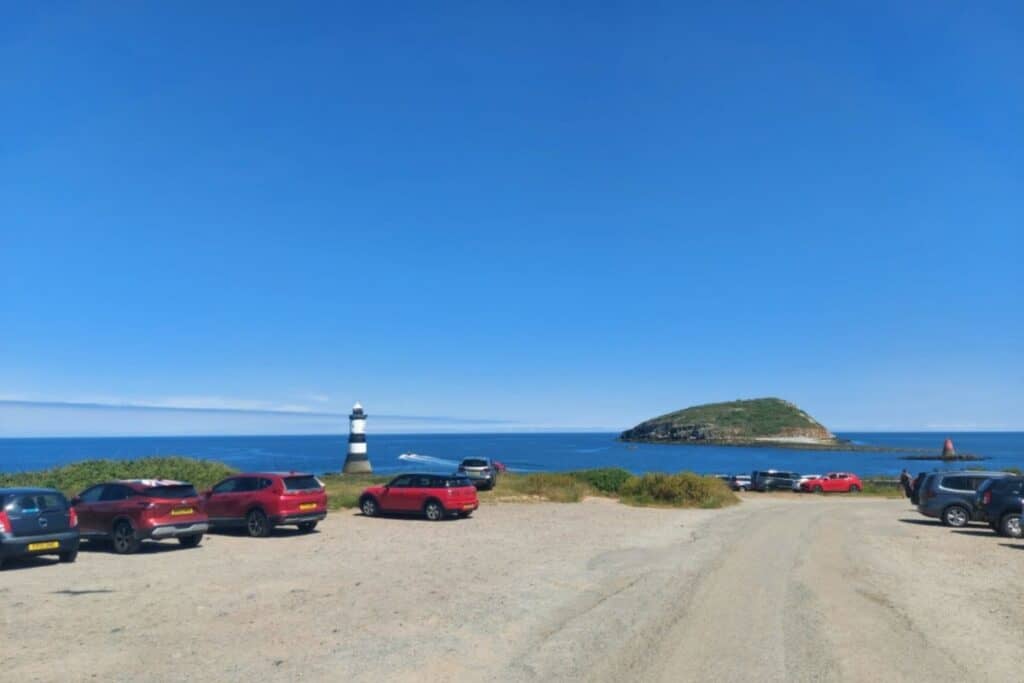 Penmon Beach FAQs
Are There Any Facilities at Penmon Beach?
Yes, the beach is served by a seasonal café that sells all kinds of refreshments and other bits and bobs. It's also where the toilet is located, although use (restricted via a physical key) is strictly reserved for patrons of the café only.
Is Penmon Beach Dog-Friendly?
Yes, dogs are allowed on Penmon Beach, and there are no seasonal dog restrictions in place. That said, dogs should be on a lead or under close control at all times due to the bird nesting areas located around the headland.
Is There a Lifeguarding Service at Penmon Beach?
No, there is no lifeguarding service at Penmon Beach. You enter the water at your own risk.
Can You Go Swimming at Penmon Beach?
Penmon Beach is one of the few beaches on Anglesey where swimming isn't recommended. Due to its exposed position, high winds and strong currents often make the waters too dangerous for swimming. The best time to swim in the sea is late in the day when the water is much calmer.
What Kind of Wildlife Can I See at Penmon Beach?
Penmon Beach is home to an array of different wildlife, both on land and in the sea. Birds that you might spot include choughs, peregrine falcons, ravens, guillemots, razorbills, and kittiwakes.
If you're lucky, you might also catch a glimpse of the resident seals that bask on the rocks of Puffin Island or swim in the waves. Dolphins and porpoises are also often spotted from the shore. In the summer months, you might also see bioluminescent algae in the water after dark.
How Much is Parking at Penmon Beach?
Parking for cars is currently £3.50 for the day (subject to annual increase), which represents excellent value for money if you're staying for several hours. Motorbikes are charged at a £1.00, vans are charged at £7.50, and motorhomes cost £12.50.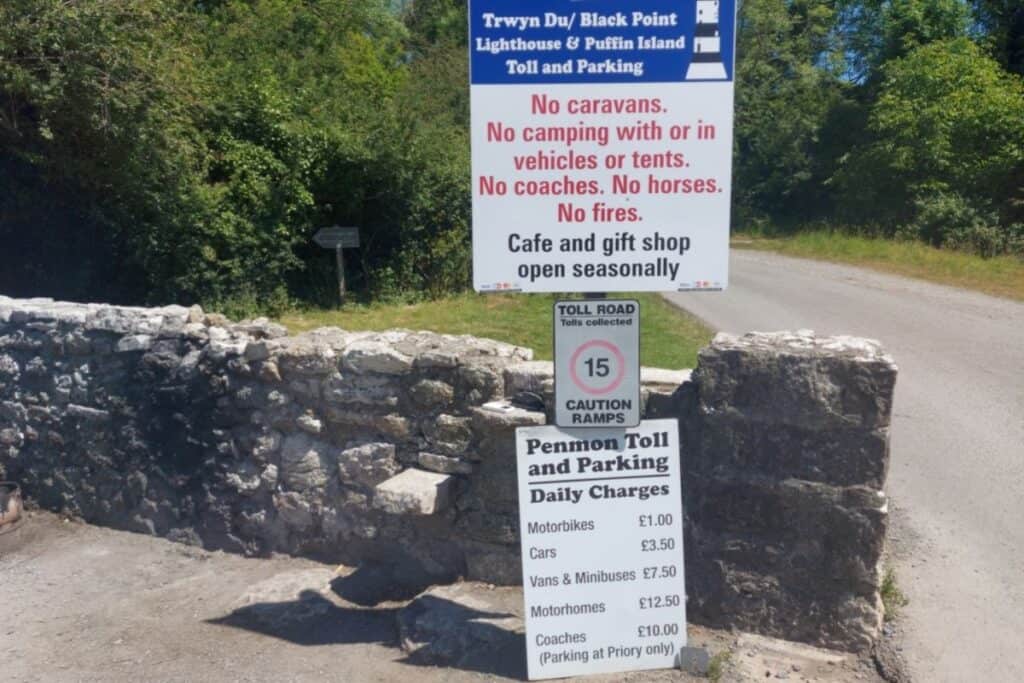 Is Penmon Beach Accessible for Those With Limited Mobility?
While access to Penmon Point is ok for those with limited mobility, there is no disabled access to the beach itself. You can still enjoy the beach from the comfort of the grassy car park and spend time in the café.
What Is the Penmon Beach Postcode?
The nearest postcode for Penmon Beach is LL58 8RP.
How Far is Penmon Beach from Beaumaris?
Penmon Beach is roughly five miles away from Beaumaris. The journey by car should take no more than 15 minutes.
How Busy Does Penmon Beach Get?
Penmon Beach is a popular destination for both locals and tourists alike. You're rarely going to have the place to yourself, particularly from April to September. That said, you'll never feel as though you're on top of other people as there's plenty of space to spread out.
If you visit out of season, you'll likely enjoy a much quieter experience.
When Is the Best Time to Visit Penmon Beach?
The best time to visit Penmon Beach is in the summer months when the weather is at its best. However, the beach is open all year round and is just as beautiful in the autumn and winter months.