If you're visiting Anglesey on a rainy day, don't let the weather dampen your spirits. There are plenty of things to do on Anglesey in the rain. From indoor activities to museums and other indoor attractions, there's something for everyone that will keep you both entertained and dry.
So, if it happens to be chucking it down outside and you're short of ideas, here's our guide to the best things to do in Anglesey on a rainy day.
Anglesey Sea Zoo
If you're looking for a fun and educational indoor activity on a rainy day in Anglesey, the Anglesey Sea Zoo is a great option. This aquarium is home to a wide variety of marine life, including over 40 different species of fish and invertebrates.
One of the highlights of the Anglesey Sea Zoo is the large tank containing a replica of the Seven Sisters shipwreck and is home to many different species of fish, including conger eels. You can also see seahorses, lobsters, crabs, and other fascinating creatures in the various exhibits.
One interesting fact about the Anglesey Sea Zoo is that it is the largest aquarium in Wales. It's a great place to learn about the marine life that lives in the waters around Anglesey and the rest of the UK.
Beaumaris Gaol & Courthouse
If you're looking for a unique experience on a rainy day in Anglesey, why not visit the historic Beaumaris Gaol and Courthouse? This fascinating attraction offers a glimpse into the harsh world of Victorian prisons and courtrooms, with two distinct sections to explore.
Gaol
The gaol section of the attraction allows you to explore the dimly lit corridors and spartan cells that once housed prisoners. You can even visit the punishment cell and the condemned cell, which gives you a sense of the darkness and despair that prisoners must have felt. The gaol is largely unaltered, providing a unique insight into the history of the prison system in the UK.
Fun fact: The Beaumaris Gaol was designed by Hansom and Welch and was built in 1829. It hosted two executions and one attempted escape during its time in operation.
Courthouse
The courthouse section of the attraction allows you to explore the courtrooms where justice was once served. You can sit in the dock, stand in the witness box, and even sit in the judge's chair. The courthouse has been fully restored to its former glory, providing an authentic experience of what it was like to be in a Victorian courtroom.
Fun fact: The courthouse was built in 1614 and is one of the oldest courthouses in the UK that is still in use today.
If you're interested in history and want to experience what life was like for prisoners and those facing justice as far back as the 17th century, the Beaumaris Gaol and Courthouse is a must-visit attraction.
Pili Palas Nature World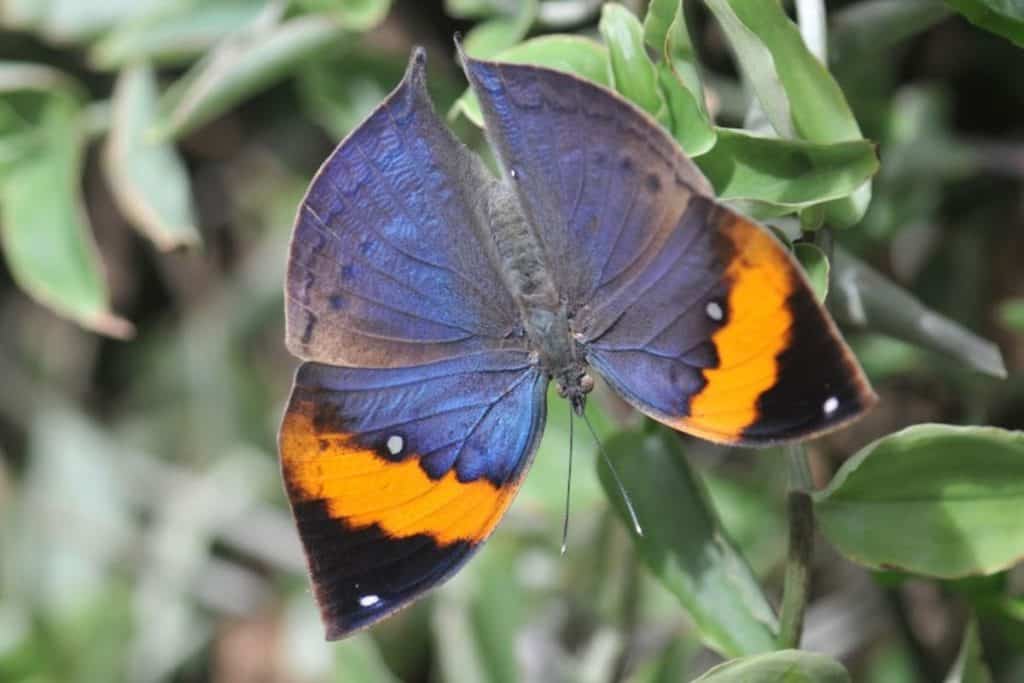 On a rainy day in Anglesey, Pili Palas Nature World is a great place to visit. This indoor attraction is perfect for families with children and offers a variety of activities to keep everyone entertained.
At Pili Palas, you can explore the tropical butterfly house, where you can see hundreds of butterflies from around the world. You can also visit the exotic animal collection, which includes meerkats, monkeys, and reptiles. For a hands-on experience, head to the farm yard, where you can feed and interact with friendly farm animals.
One of the highlights of Pili Palas is the outdoor play area, which features a giant bouncy castle, trampolines, and a zip line. There is also an indoor soft play area for younger children.
If you're feeling peckish, the on-site café serves a range of hot and cold drinks, snacks, and meals. There is also a gift shop where you can purchase souvenirs and gifts.
Overall, Pili Palas Nature World is a fun and educational attraction that is perfect for a rainy day in Anglesey. With its wide range of activities and exhibits, there is something for everyone to enjoy. That's why it's often packed during wet summer holiday days – so get there early!
Holyhead Maritime Museum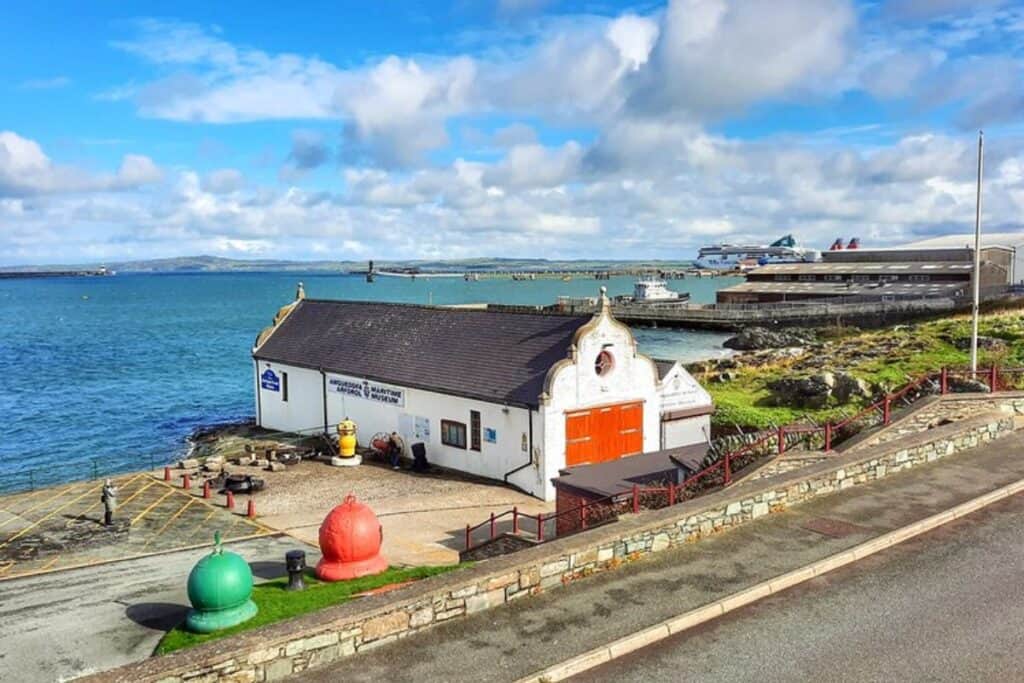 When you're faced with a rainy day, a visit to the Holyhead Maritime Museum is a yet another great way to spend your day. This museum is a must-see for anyone interested in maritime history and the tales from the deep. It's located in Holyhead, a town that has a rich history of shipwrecks and dramatic rescues.
The Holyhead Maritime Museum is run by knowledgeable volunteers who are passionate about the history of the area. They have done a fantastic job of preserving the maritime heritage of Holyhead and Anglesey and they will be happy to answer any questions you may have.
The museum has a vast collection of artefacts, photographs, and documents that tell the story of the town's maritime past. The exhibits are well-presented, and the museum is easy to navigate.
One of the highlights of the museum is the section dedicated to shipwrecks. The museum has information about some of the most famous shipwrecks in the area, including the Royal Charter, which sank off the coast of Anglesey, near Moelfre, in 1859. The museum also has information about dramatic rescues that took place in the area, including the rescue of the crew of the Hindlea in 1959.
The Copper Kingdom Centre
Experience the rich industrial history of Anglesey indoors at The Copper Kingdom Centre, a comprehensive exhibition situated within the town of Amlwch. This captivating museum provides an in-depth look into the region's significant copper mining heritage, transporting visitors back to a time when Anglesey was a copper powerhouse.
Dedicated to preserving and presenting the history of the local copper industry, the Centre's offerings span a myriad of exhibits that range from artefacts recovered from the mines to interactive displays that bring the copper mining process to life. Educational videos complement these exhibits, offering a more immersive understanding of how copper mining shaped the community.
Once the rain has passed, a trip up to the Parys Mountain site, once the world's largest copper mine, would be a nice complement to your visit to The Copper Kingdom Centre.
By visiting the mine itself, you'll get to witness firsthand the remnants of the extensive mining operations, including ancient mine shafts and the ruins of the smelting works. Just remember to check the weather forecast before heading up from the indoor centre to the open mine!

If history, industrial heritage, and interactive learning pique your interest, then a trip to the two separate sites of The Copper Kingdom is a must on your itinerary.
Ucheldre Centre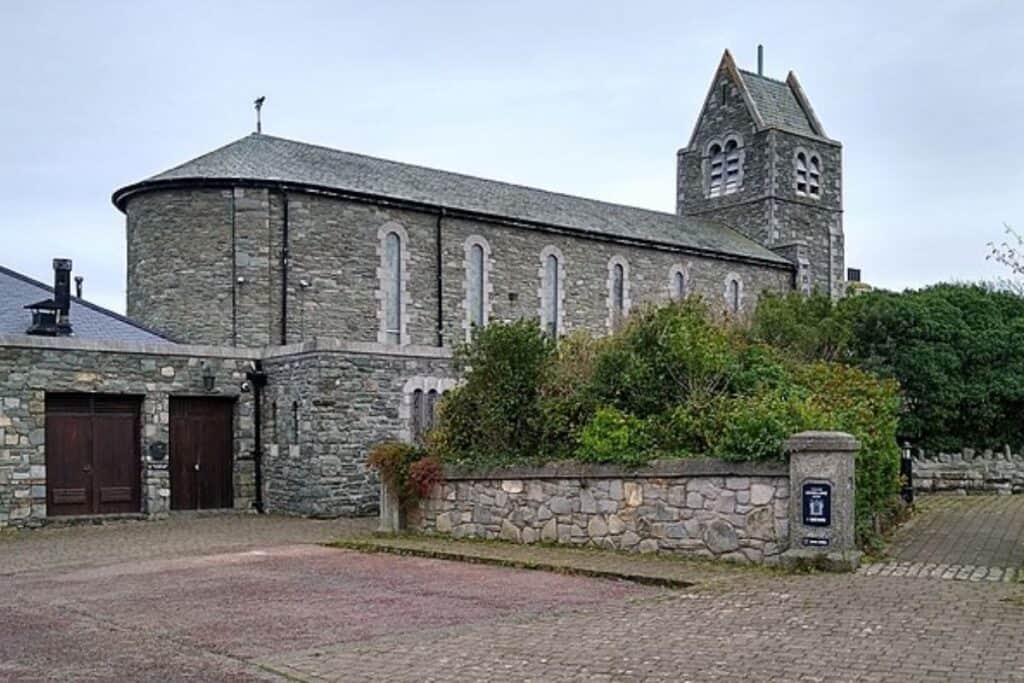 When the rain clouds roll in on Anglesey, The Ucheldre Centre in Holyhead offers a cosy cultural hive and a warm welcome to families, couples, and solo travellers alike.
Brimming with artsy charm and a friendly atmosphere, this venue isn't merely an escape from the rain – it's an invitation to immerse yourself in a world of culture and creativity. Whether you're an art aficionado, an eager cinema-goer, a music lover, or simply looking for an engaging family-friendly hub, the Ucheldre Centre has you covered.
Visual arts enthusiasts will be delighted by the local art exhibitions, ranging from traditional painting to contemporary sculpture. These displays, frequently rotated, give you the chance to witness the depth and diversity of Anglesey's artistic talent.
If you're in for a cosy cinematic experience, then their regular film screenings are just the ticket! Families can revel in matinee shows, while couples can indulge in the charm of an evening cinema date.
Those with a passion for live performances will appreciate the eclectic mix of concerts and theatrical performances that grace the Centre's calendar. You never know – you might stumble upon an impromptu amateur theatre act during your visit!
Craving hands-on fun? Join one of the many workshops hosted by the Centre. From jewellery making to art classes, these sessions promise both learning and laughter, making them a hit among adults and kids alike.
And let's not forget the cherry on top – the Centre's delightful café. Offering a range of hot and cold refreshments, it's the perfect spot to catch your breath and soak up the atmosphere in between activities.
Before your visit, be sure to check their website or Facebook page for the latest event schedule. It's the ideal way to make sure you don't miss out on anything that catches your fancy.
Plas Newydd
If you're looking for a great way to spend a rainy day in Anglesey, look no further than Plas Newydd House and Gardens. This historic site is home to Rex Whistler's famous 58-foot mural and numerous works of art. The Grade I listed garden features the Italianate Terraces, rhododendron garden, Australasian arboretum, and extensive woodland.
Plas Newydd is a go-to spot to see Red Squirrels with feeding stations dotted about it is Squirrel heaven. The Old Dairy Café is a great place to take a break and enjoy a selection of food and drink from the food and beverage outlets at Plas Newydd. The Old Dairy Shop is also worth a visit.
There's also the incredible house gardens and Dairy Wood play area, which can be enjoyed even on a rainy day. So if the weather is letting you down, Plas Newydd is a great option to fill the time between downpours.
Anglesey Transport Museum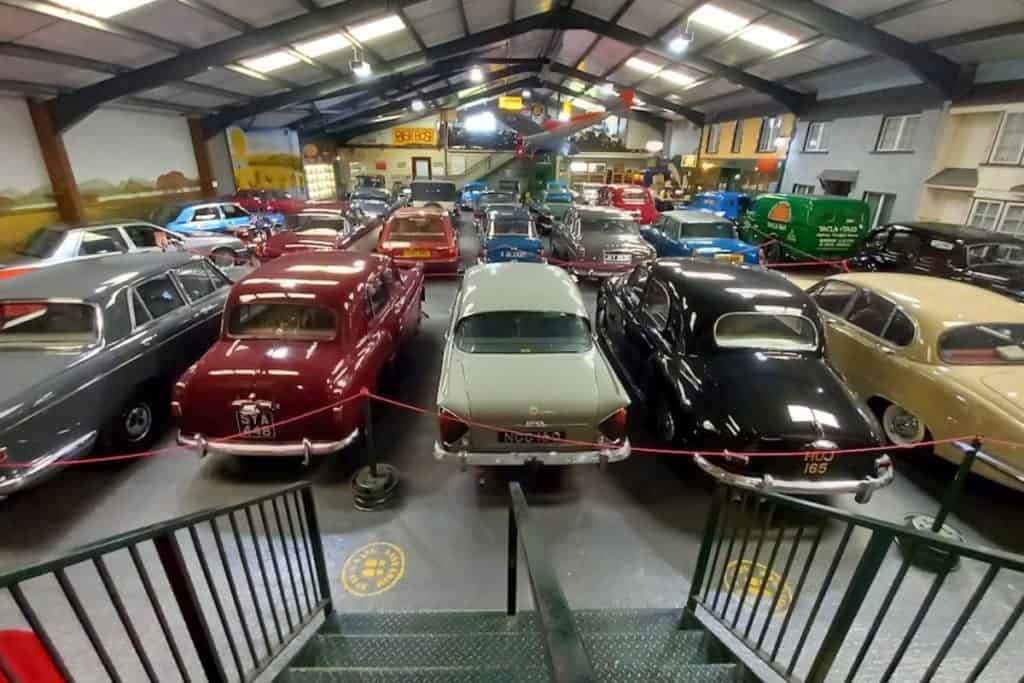 When the skies in Anglesey darken, an exciting journey into the world of classic vehicles awaits you at the Anglesey Transport Museum, locally known as Tacla Taid. Conveniently located just a 2-minute drive from Newborough, this delightful mostly-indoor attraction is a must-visit spot, offering plenty to intrigue visitors of all ages.
Step into the museum and travel back to the 1920s as you explore over 130 classic vehicles. Cars, motorbikes, tractors, Land Rovers, military vehicles, and static engines share the spotlight here, each telling a unique story of the past. You'll also find an abundance of memorabilia adding layers to the narrative of transport and agricultural history.
The main building hosts a faithful replica of a 1940s cobbled street where you can take in an array of vehicles, from nifty motorbikes and sleek cars to robust tractors and agricultural equipment.
A peek into the workshop unveils an exciting display of ongoing projects, including an exclusive 1934 Albion Coach – the only one left in the world. If you're a TV enthusiast, you won't want to miss the Series 1 Land Rover, which has starred in popular shows such as ITV's "A Great Welsh Adventure" with Griff Rhys Jones, Julia Bradbury's "Best Walks With a View," and BBC's "Bargain Hunt."
For a mid-exploration break, the on-site Café Nain provides a variety of Dwyfor coffees, hot and cold drinks, homemade cakes, and hot meals. Sit indoors or take advantage of the outdoor seating that presents stunning panoramic views of Snowdonia, with Yr Wyddfa taking centre stage. For younger visitors, there's also a play park awaits to keep them entertained.
Lastly, the Anglesey Transport Museum prides itself on being dog-friendly. You're welcome to take your four-legged friend on a wander through around 50% of the museum, with both indoor and outdoor seating areas available for a restful pause.
Whether you're an automobile aficionado, a history buff, or a family looking for a fun and educational rainy day activity, the Anglesey Transport Museum is perfect for you.
Anglesey Sea Salt – Halen Môn
When it's raining outside and you're looking for something to do on Anglesey, why not take a trip to Halen Môn? This unique attraction is located right next door to Anglesey Sea Zoo on the Menai Strait and is the perfect place to spend a couple of hours on a wet day.
At Halen Môn, you can take a tour of the salt works and learn about the process of making sea salt. The tours are twice daily and must be pre-booked, so make sure to check their website for more information. During the tour, you'll get to see behind the scenes of the family business and finish with a tutored sea salt tasting.
If you're a foodie, you'll love the fabulous gift shop at Halen Môn. Here you can find a range of sea salt products, including pure sea salt, smoked sea salt, and sea salt blends. You can also find a range of other food products, such as roasted garlic, sweet things, and gin.
Did you know that Halen Môn has won numerous awards for their sea salt? In fact, their sea salt is used by top chefs all over the world, including Heston Blumenthal and Mark Hix. So, you know you're getting a quality product.
Oriel Môn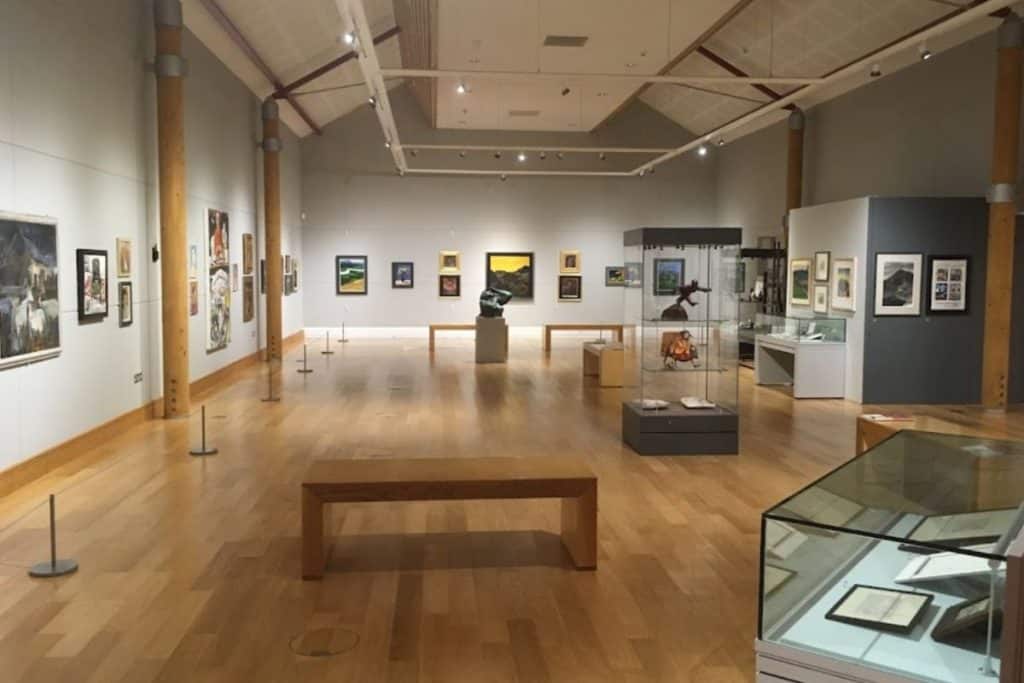 Rain or shine, it's fair to say there's an enriching cultural encounter awaiting you at Oriel Môn, nestled in the heart of Llangefni. This distinguished art museum and gallery provides an intimate look at Anglesey's cultural heritage, making it a must-visit destination for art lovers, history enthusiasts, or anyone seeking an alternative indoor activity on a rainy day.
Stepping inside Oriel Môn, you'll be greeted by a rich tapestry of artwork, each piece echoing the stories and talents of the island. The gallery is renowned for housing significant collections of works by renowned artists Sir Kyffin Williams and Charles Tunnicliffe, both of whom shared a deep bond with the landscapes and culture of Anglesey.
The museum section further delves into the rich historical tapestry of Anglesey, offering exhibits that span from the prehistoric to the contemporary era. Expect to find archaeological treasures, compelling photographs, and captivating artefacts, each sharing a unique piece of Anglesey's past.
To make your visit more interactive, Oriel Môn also hosts various workshops and events throughout the year, offering something for all ages and interests. From art classes to historical lectures, there's always a chance to learn something new.
Don't forget to visit the Oriel Môn shop, where you can find unique gifts, local craftwork, and prints. Bringing home a souvenir from here means carrying a piece of Anglesey's vibrant artistic spirit with you. And when it's time for a pause, the museum's café, with its delicious offerings and tranquil ambiance, is the perfect spot for a restful break.
So, when the rain showers descend on Anglesey, let Oriel Môn's enchanting world of art and culture be the remedy.
Stone Science Museum
Another perfect place for an indoor adventure is the Stone Science Museum. Nestled just a short drive from Pentraeth village, this unique museum offers a captivating experience that's ideal for families, history buffs, and anyone with a curiosity about the natural world.
From the moment you step into the Stone Science Museum, you'll embark on a fascinating journey through time. The museum is home to an extensive collection of fossils, rocks, and archaeological artefacts, each with its own tale to tell about the rich history and geological past of Anglesey and beyond.
What makes the experience even more intriguing is the museum's hands-on approach. You can touch, examine and ponder over many of the exhibits, making this a real, tangible voyage of discovery – especially for kids. Similar to the maritime museum in Holyhead, the staff here are really friendly and on hand to answer questions and share intriguing facts and stories.
What's even better is that well-behaved dogs are welcome too. So there's no need to leave them in the car while you enjoy the museum.
You can finish your visit in the well-stocked gift shop, where you'll struggle to leave without buying something. You have been warned!
James Pringle Weavers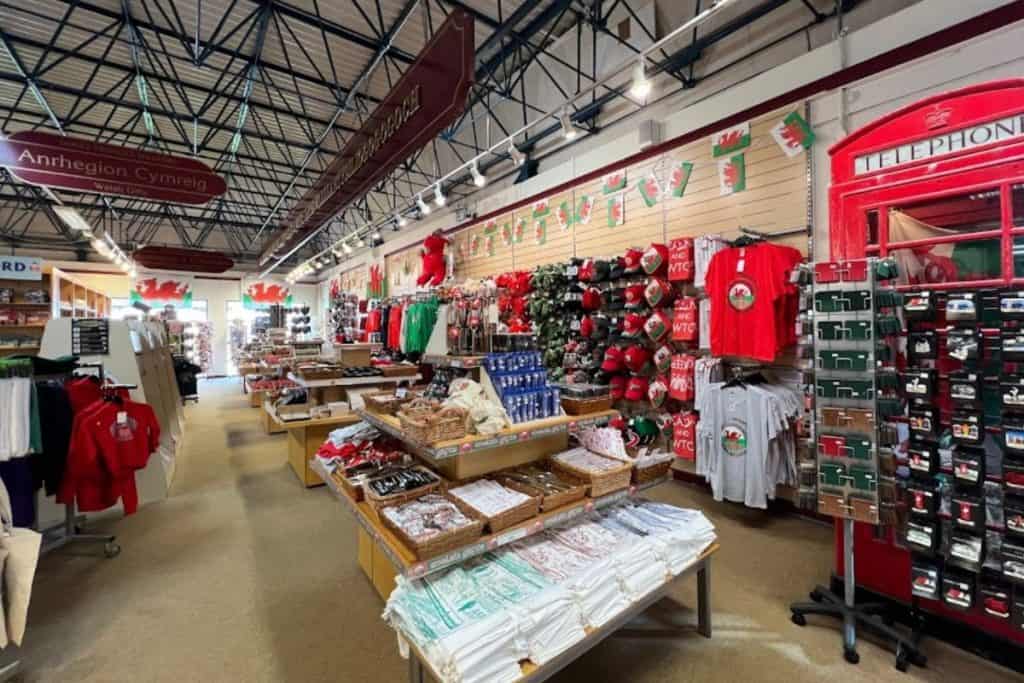 When Anglesey's skies are grey and rainy, an exceptional indoor shopping experience awaits you at James Pringle Weavers. It's situated next to the railway station with the longest place name in the UK – Llanfairpwllgwyngyllgogerychwyrndrobwllllantysiliogogogoch.
Once inside, you'll discover an Aladdin's cave filled with a diverse range of goods. From cosy Welsh woolens that echo the weaving heritage of the Pringle brand, to homewares, gifts, and an array of stylish clothing for all ages, there's something to catch everyone's eye.
There's everything you can think of, including a massive section dedicated to pick n mix sweets! Think Boundary Mill on steroids. A warm café serving delicious afternoon teas and other Welsh staples is a nice added bonus.
James Pringle Weavers isn't just about shopping or afternoon teas though. It's an opportunity to delve into a little Welsh history and tradition. The store carries a delightful selection of Welsh souvenirs and locally crafted items, making it an excellent place to pick up a unique keepsake of your visit to Anglesey.
Another bonus a trip to James Pringle Weavers offers is the chance to snap a picture next to the famous railway station sign – a delightful memento of your visit to this charming spot in Anglesey.
If you enjoy your time here, you might also enjoy The Exchange at Beaumaris, which shares a similar vibe, and is a community-led enterprise that showcases the work of local artisans and businesses.
Tre-Ysgawen Hall Hotel Spa
When it's raining outside, there is no better place to be than at Tre-Ysgawen Hall Hotel Spa. This luxurious spa offers a range of treatments to help you relax and unwind, including massages, facials, and full-body exfoliations with Anglsey sea salt. You can also take advantage of the spa's many facilities, such as the swimming pool, thermal suite, and gym.
There are plenty of options for your day of pampering and relaxation. The spa offers a range of packages to suit your needs, whether you want a quick pick-me-up or a full day of treatments. So if you're looking for a luxurious and relaxing day in away from the downpours, Tre-Ysgawen Hall Hotel Spa might just be the ticket.
However, it's worth checking the forecast and spotting a potential rainy day ahead of time, as you'll need to book in advance to ensure availability.
The Fun Centre, Caernarfon
If you're looking for a fun indoor activity on a rainy day in Anglesey, The Fun Centre in Caernarfon is a great option. Just a short drive from Britannia Bridge, this family-friendly attraction has a variety of activities to keep everyone entertained contained within a converted church.
The top floor features a kiddies go kart track, while the main attraction is undoubedtly the massive soft play area, which has a dedicated section for under 5s and boasts over 14,000 square feet of ball pits, swing over nets, tumble towers, spinning steps, dark maze squeeze rollers, and so much more.
The headline act is the giant 25ft high drop slide along with its sister 25ft high double drop slide. They start near vertical and many parents have been caught having a go!
Lastly, there's a well-stocked café serving hot and cold refreshments and other activities such as laser space sport and a mini museum. Once again, be warned that this place can be rammed on a busy day, so go early or late in the day to avoid peak times.
Holyhead Empire Cinema
If the weather is set to stay miserable for the entire day, it might be worth sneaking off to the Empire Cinema in Holyhead. This small independent cinema is oozing with charm, with an old-fashioned auditorium and screen that'll take you back to the day before modern multiplexes. There are even stage curtains!
You can watch one of the current blockbuster movies out on general release and benefit from more reasonable prices on tickets, food, and drink than you might find at a standard cinema location.
Better still, there's a surprisingly extensive indoor soft play area that'll keep the kids entertained for an hour or so, and arcade games too. So if you've got hours to kill while it's raining cats and dogs, this place should feature on your list.
Melin Llynon
If you're looking for a fun and educational activity on a rainy day in Anglesey, Melin Llynon is a great option. The mill here has been painstakingly restored after coming into ownership of the Holt family, and is finally open for viewing.
Touring the last fully-functioning flour wind mill in Wales, you'll learn about the history of the mill, and how it was powered by the wind to grind the wheat into flour. There are also several roundhouses that give you a fascinating insight into the way people used to live on Anglesey.
There's now also a model safari, featuring all kinds of model safari animals hiding in the trees for children to spot.

Lastly, and perhaps most importantly, you simply have to try the world-famous Mônuts available in the on-site shop. These donuts, made fresh each morning are to die for. With new and unusual flavours released all the time, you're sure to find something you love.
They're certainly not the cheapest, but they are utterly delicious, and you'll do well to restrict yourself to just one.
RNLI Lifeboat Station Moelfre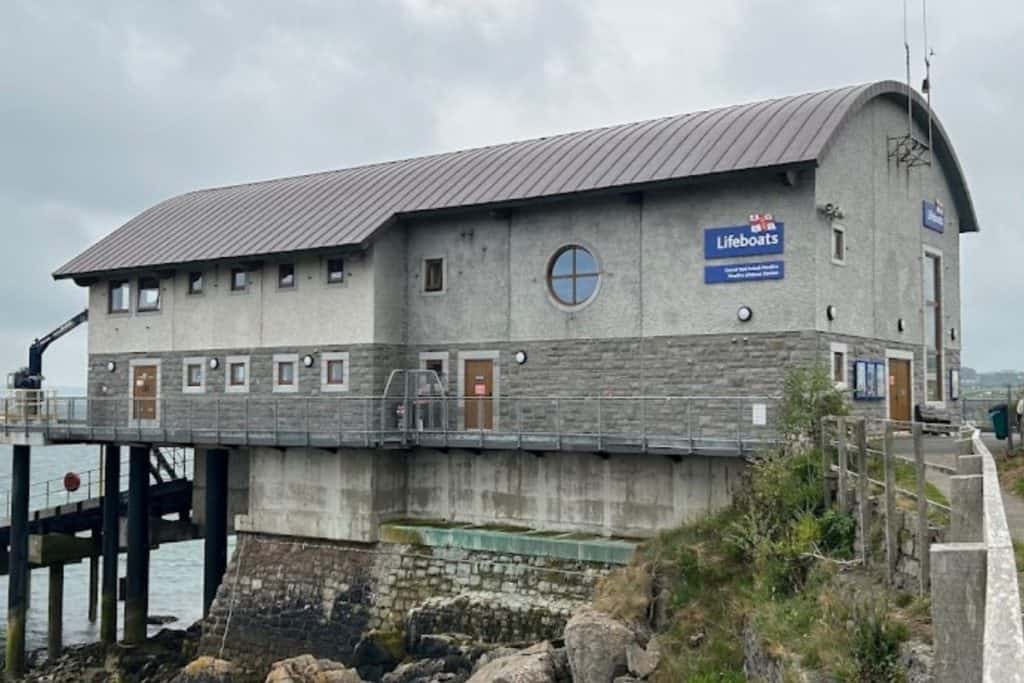 If you're interested in learning more about the RNLI and its life-saving work, a visit to the RNLI Moelfre Lifeboat Station is a must. The shop-come museum (the building set back from the sea) offers a fascinating insight into the history of the institution and its volunteers, and is a great way to spend an hour or so on a rainy day in Anglesey.
There's a giant RNLI in the middle of the shop, which kids will love, as well as lots of interesting memorabilia, and the shop stocks a wide range of RNLI merchandise, including clothing, toys, books and gifts. All proceeds go to the RNLI.
You can then walk down from there to the refurbished current lifeboat station, which is often open to the public. You can get onto the gallery and view the impressive Tamar class boat suspended above the launch ramp, and if you time it right, you can watch the team in action practicing a rescue launch and other training exercises.
The only thing you'll need to do here is ring ahead as both the shop and station are run by volunteers on flexible schedules. Therefore, what you see listed online often doesn't line up with the opening hours "on the ground." So it's worthing ringing ahead to ensure someone will be there.
Wrapping Up: There's no Shortage of Things to Do in Anglesey on a Rainy Day
So, as the rain patters against your window on Anglesey, remember that a drizzle, or even a downpour, doesn't mean the end of your adventures on this incredible island. With a wealth of indoor attractions catering to a variety of interests, there's always a place to discover, a story to uncover, or a treasure to find.
Whether you're immersing yourself in history, exploring local art, indulging in retail therapy, marvelling at vintage vehicles, or getting up close and personal with exotic wildlife Anglesey's rainy day offerings ensure that your holiday remains vibrant, engaging, and full of memorable moments.

Photo credits go to each respective attraction and the following: Carol Decker, Martin C, Stuart Giblin, Motorhoming Fun.