Red squirrels are one of the UK's protected species and can be seen on the Isle of Anglesey all year round. These cute critters are smaller than their grey counterparts and have reddish-brown fur, making them harder to spot in their preferred forest habitats. The red squirrel is Anglesey's only native squirrel and is an important part of the island's ecosystem.
And while you can find red squirrels in certain hotspots across North Wales, Anglesey undoubtedly provides the best opportunities to spot red squirrels in the wild, with the island playing host to 60% of Wales' red squirrel population.
So, where are the best places to see red squirrels on Anglesey?
Where Can I See Red Squirrels on Anglesey?
Fortunately, if you're on the hunt for these rare creatures, you won't have to travel far, as you can spot red squirrels in various locations across Anglesey. Some of the best places to see red squirrels include:
Newborough Forest
Newborough forest hosts a thriving population of red squirrels, with regular sightings reported. Given that the nearby Newborough Beach is a popular tourist destination, it's perhaps no surprise that this red squirrel hotspot is one of the most easily accessible on Anglesey.
However, that also means that you'll need to venture deeper into the forest (away from the beach and main car park) to have a chance of encountering one of these cute mammals. The best spot in Newborough Forest is the volunteer-maintained Llyn Parc Mawr community woodland, which has dedicated red squirrel feeders and seating areas for you to sit and wait for them to appear.
Plas Newydd
This National Trust-owned property boasts its own red squirrel woodland, which offers the perfect opportunity to catch a glimpse of red squirrels in their natural habitat. With the red squirrels packed into a smaller space, your chances of seeing one are significantly increased.
There are also several feeders around the estate that red squirrels visit on a regular basis, making Plas Newydd one of the best places to see red squirrels on Anglesey.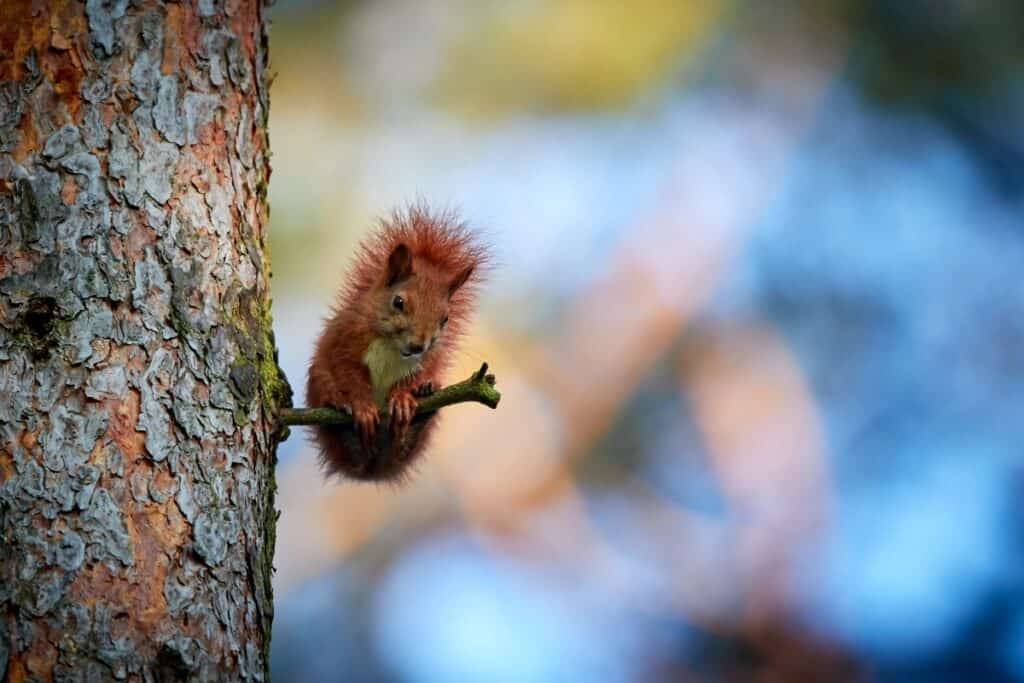 Penrhos Country Park
Another good place to spot red squirrels is over on Holy Island, near Holyhead. Penrhos Country Park is home to a number of red squirrels, with regular sightings reported by visitors. Once again, there are feeding stations set up, and the red squirrels here are used to human company, so you may even be able to get up close for a photo!
The park is also excellent for birdwatching (and isn't far from South Stack, where you can catch a glimpse of some puffins), so it's well worth a visit even if you don't see any red squirrels.
Pentraeth Forest
Another popular red squirrel forest habitat is Pentraeth, near Llanddona. Together with Newborough, these forests are home to at least 200-300 adult squirrels, making them some of the best places to see red squirrels on Anglesey.
Again, like Newborough, despite their increased number, the sheer size of the forest means that you're not guaranteed a sighting. However, if you do venture into the depths of the forest, you may be rewarded with a glimpse of one of these furry creatures.
Other Red Squirrel Hotspots on Anglesey
The above locations are merely a selection of red squirrel hotspots on Anglesey – there are many other locations where you can spot red squirrels.
The wooded stretch from Menai Bridge to Beaumaris is inundated with red squirrels, with regular sightings reported. Much of this stretch of woodland is private, but there is the odd public footpath that gives access.
Other red squirrel hotspots on Anglesey include the woodlands above Red Wharf Bay and Benllech, and forested areas in the centre of the island near Llangefni, including those around Cefni reservoir (Llyn Cefni).
In short, red squirrels are dotted pretty much all over Anglesey, so just remember to keep your eyes peeled and your camera at the ready in case you're lucky enough to spot one!
How Many Red Squirrels Are There on Anglesey?
Latest estimates place the red squirrel population at around 700-800 on Anglesey. Numbers have been dramatically boosted after conservation efforts got underway in the late 1990s after the red squirrel population dropped to just 40 in 1997.
It's thought that the height of the red squirrel population on Anglesey was in the 1950s, after which grey squirrels coming over from the mainland (either via the two bridges or by swimming across the Menai Strait at low tide) started to decimate the red squirrel population.
However, with several designated red squirrel woodlands in place across Anglesey and a number of conversation projects, including constructing rope bridges to help them cross roads and railway tracks, red squirrel numbers are slowly but surely increasing.
When is the Best Time of Day to See Red Squirrels on Anglesey?
Generally speaking, red squirrels are crepuscular, meaning they're most active during the morning and the evening. They tend to rest in the middle hours of the day to avoid the heat and becoming visible to birds of prey. In the winter, with so little daylight and colder temperatures, red squirrels tend to be more active during the day, only taking short rest periods.
So, if you're hoping to catch a glimpse of red squirrels on Anglesey, your best bet is to venture out early in the morning or late in the afternoon, unless visiting in autumn or winter.
That said, there is no guarantee that you will see red squirrels at any specific time of day. The best thing to do is simply keep your eyes peeled when making your way through any of these locations and be prepared for a sighting at any time.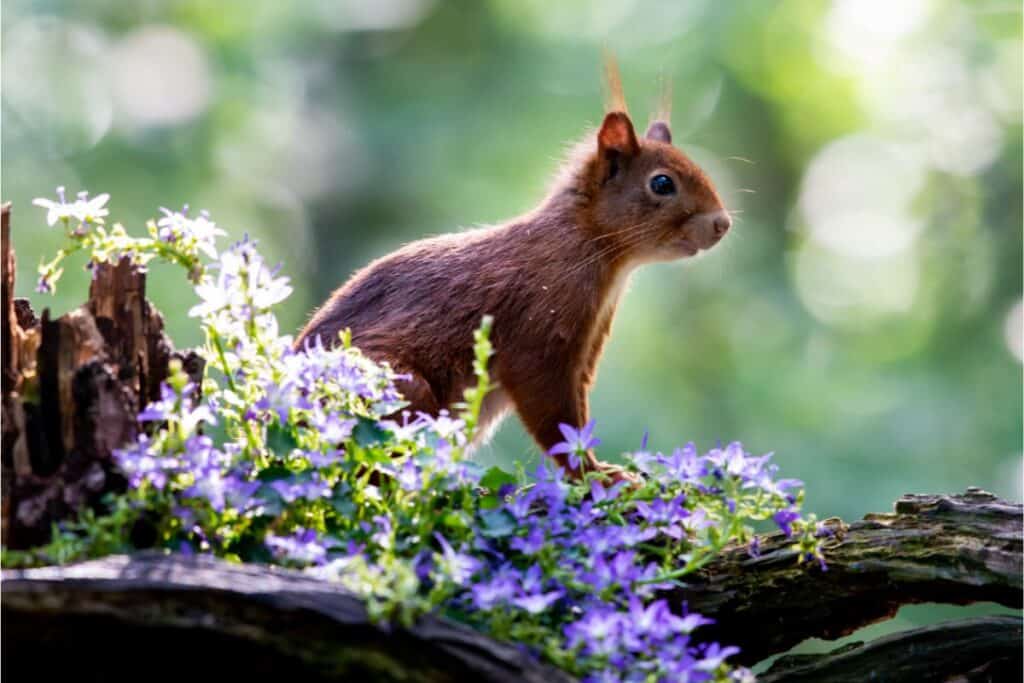 Are There Any Grey Squirrels on Anglesey?
After an extensive trapping operation, there are now very few grey squirrels left on Anglesey. Although the island was declared grey squirrel free in 2016, greys continue to try and make the journey across from the mainland, meaning conservation efforts remain ongoing.
So, while you're unlikely to spot a grey squirrel on Anglesey, they do pose a serious threat to the red squirrel population, so it's important to report any sightings to local authorities.
Given their ongoing incursions, they may be as many as a dozen or so grey squirrels on Anglesey at any one time. However, they tend to be concentrated near the bridges linking Anglesey to the mainland, making them easier to spot and remove. This is a significant improvement on the 3,000-4,000 greys that used to call the island their home, almost wiping out the red squirrel population in the process.
With red squirrel numbers on the rise, and a renewed operation launched by Gwynned Council to better prevent and relocate grey squirrels crossing over from the mainland, it's hoped that red squirrels will continue to remain the only type of squirrel on Anglesey.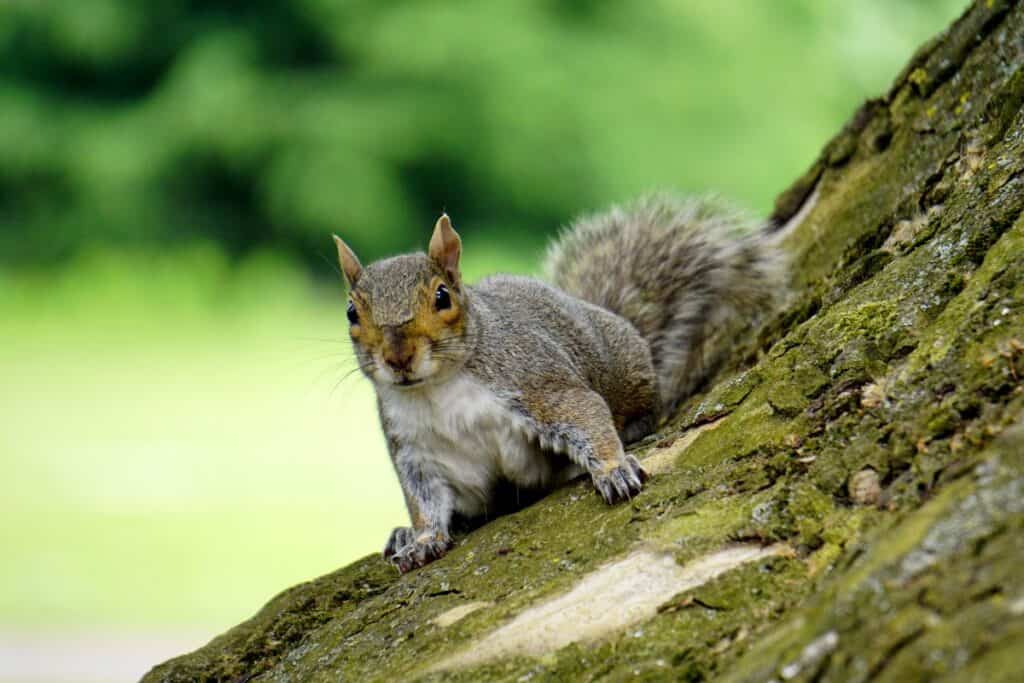 Spotting Red Squirrels on Anglesey – Final Thoughts
While red squirrels can be found in various locations across North Wales, Anglesey is undoubtedly the best place to see these creatures in the wild. With a red squirrel population of around 700-800, there's a good chance you'll spot one if you know where to look.
Of course, there's no guarantee that you'll see red squirrels on Anglesey, but your best bet is to venture out to one of the hotspots mentioned above early in the morning or late in the afternoon and keep your eyes peeled. Who knows, you might just get lucky!