Today, viewing puffins on Anglesey has become a rite of passage for many visitors to the island.
These cute little birds, distinguishable by their bright orange feet and multicoloured beaks, make Anglesey their home for a few months each summer. Many people are keen to glimpse these incredible and often comical miniature creatures during their brief stay, and there's definitely something to be said for seeing these charismatic birds in person.
So, where can you see puffins on Anglesey? And when is the best time of year to try and spot them?
When Can You See Puffins on Anglesey?
Puffins only make Anglesey their home for a few months of the year once the weather warms up. They start returning to the island from the beginning of April onwards and begin to depart from early July, with the last few remaining birds leaving the island as late as mid-August (although this is rare).
The best time to view puffins on the island of Anglesey is the months of May and June, which coincides nicely with the two bank holidays during this period. If you're planning a short break to Anglesey, it's well worth pencilling in a trip to see the puffins.
So, without further ado, here are the best spots on Anglesey to catch a glimpse of these rare birds.
Where Can I See Puffins in Anglesey?
There are two primary locations where you can watch puffins on Anglesey. The first is South Stack cliffs, and the second is Puffin Island. You can also catch a glimpse of them if you're lucky and have a pair of decent binoculars from Penmon Point.
However, there is no guarantee you'll see puffins at any of these sites, even during their stay here, since they spend so much time in and around the water hunting for sand eels and other fish.
South Stack Cliffs Puffin Watching
South Stack Cliffs are a nature reserve overseen by the RSPB located on the Westernmost tip of Holy Island, near Holyhead. These cliffs provide a nesting site for up to 9,000 seabirds every single year, including puffins.
There weren't any puffins on these cliffs until recently, when conservationists reintroduced a couple of breeding pairs. Fortunately, these pairs have since thrived, and now dozens of puffins come back each year to make these cliffs their home.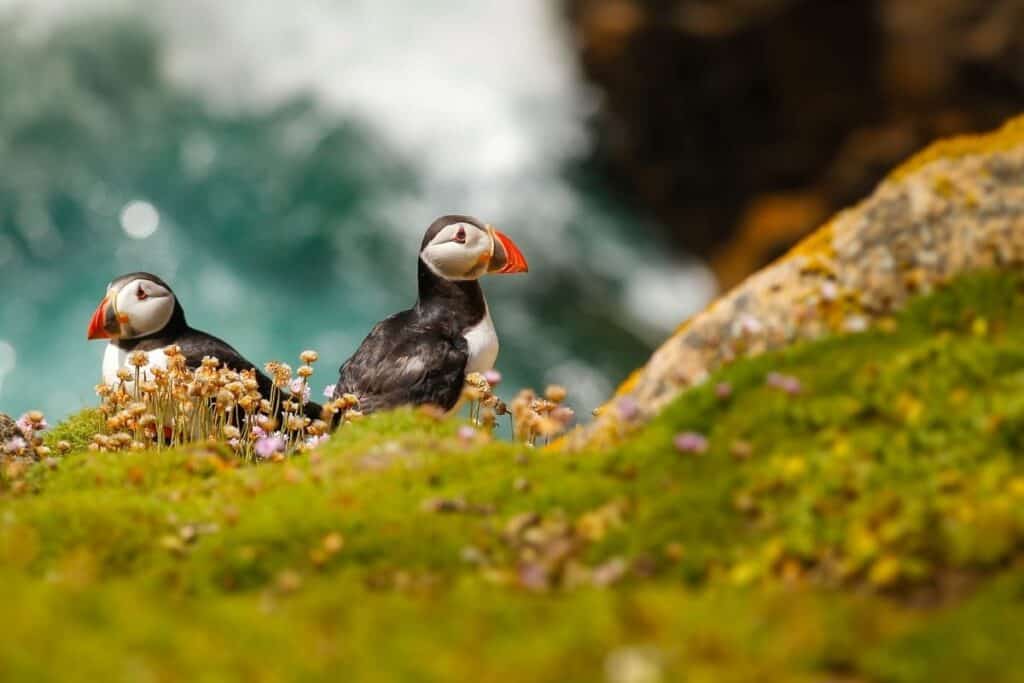 What's also great about watching the birds from the steep steps down to South Stack lighthouse is that you will spot thousands of other exciting species, including but not limited to Choughs, Guillemots, Peregrine Falcons, and Razorbills.
Puffin Island
The clue is in the name of this island. Puffin Island is another bird sanctuary supporting plenty of species and a vibrant Atlantic Grey Seal population. It used to host thousands of puffins every year, but rats were introduced to the island in an unfortunate turn of events, decimating the puffin population with both chicks and unhatched eggs devoured.
With the rats now eradicated through a diligent pest control program, slowly but surely, puffins are starting to return. Numbers are increasing year on year and now outstrip numbers seen at South Stack. The only issue is that the island is out at sea, so you need to take a boat trip to see them up close.
Seacoast Safaris and other boat tour operators run several Puffin Island cruises a day, departing from Beaumaris Pier. They usually last around 90 minutes, and the captain and staff offer their expert insight into the wildlife on the island, making these trips an excellent choice for all ages.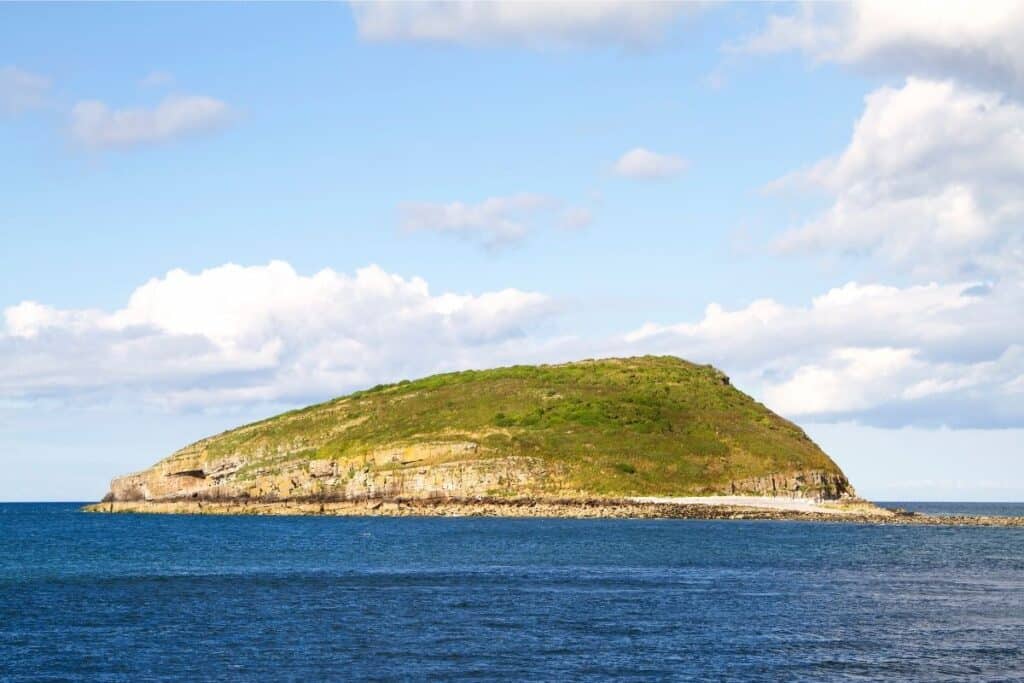 Penmon Point
The next, and last, least likely place to spot a few puffins is at Penmon Point. From here, you'll be able to see Puffin Island, which is only a few hundred metres away. If you're planning a visit here, it's worth heading down towards the famous Trwyn Du Lighthouse at low tide and peering through your binoculars to see if you can catch these birds in action as they hunt for sand eels and other treats offered up by the Menai Strait.
The chances you'll see puffins here are slim. However, it's a worthwhile activity if you're already planning to visit Penmon Point.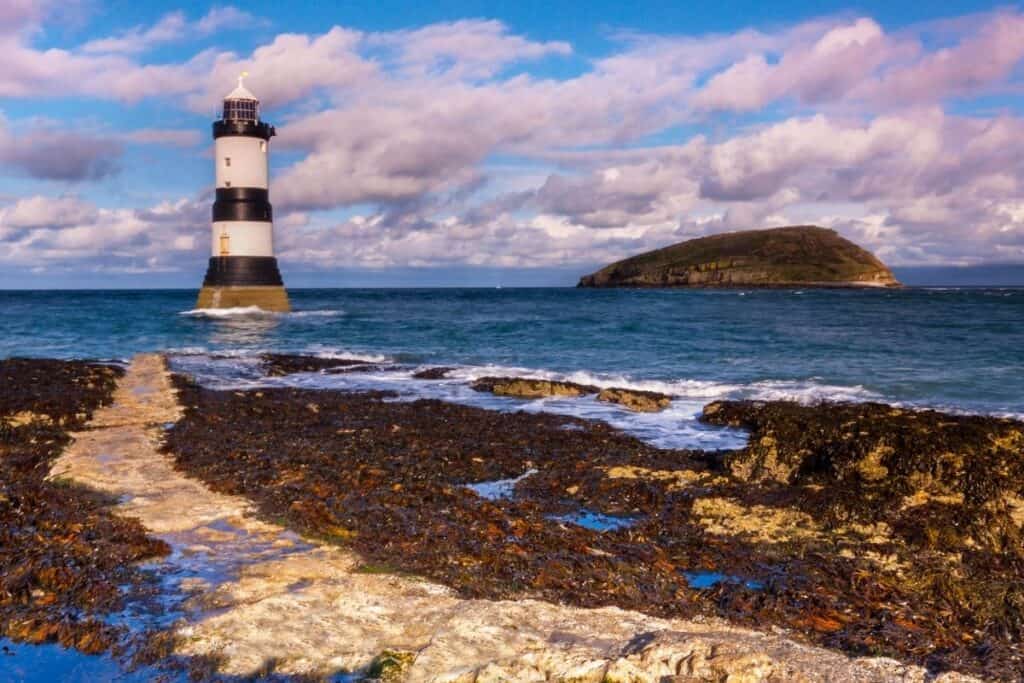 Spotting Puffins on Anglesey – Final Thoughts
So, there you have it, the best locations to see puffins on Anglesey. As mentioned, there are no guarantees you'll see these delightful little birds at any of these locations.
However, it's sure to be a memorable experience if you do. And, even if you don't see any puffins, you're bound to enjoy the stunning scenery and other wildlife on offer at these locations.