Porth Wen Beach is located in a quiet little natural harbour, just a few miles west of Bull Bay and a few miles East of Cemaes Bay on the isle of Anglesey. It's a small cove positioned right next to the famous Porth Wen Brickworks and is well worth tacking it on to your visit here.
So what is there to do on this small and out-of-the-way beach?
What Can You Do at Porth Wen Beach?
Despite being relatively small in stature, there's plenty to do at Porth Wen Beach.
Fishing is popular off the rocks and from the beach itself, with good catches of wrasse, whiting, dogfish, and conger eels available. Then there are the rock pools that reveal themselves at low tide, which are full of shrimp, crabs, and other small marine life.
Porth Wen is also an excellent place for a spot of open sea swimming. The sheltered nature of the cove makes for calm waters that are perfect for a cooling dip on a scorching day.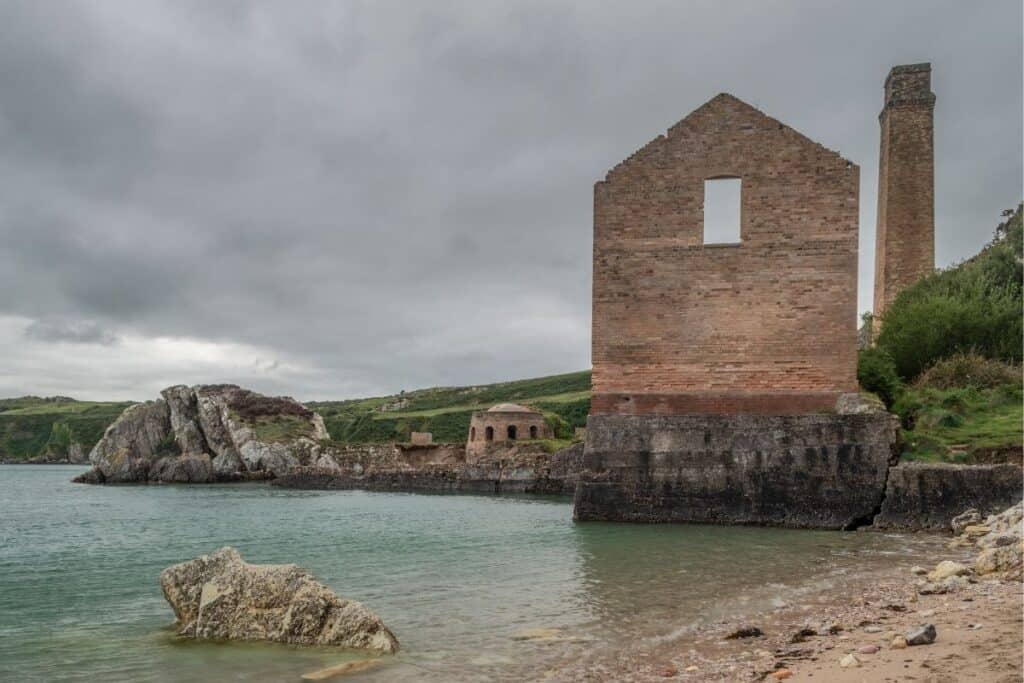 This stone and shingle beach is an excellent place to stop for a picnic on your way along the Anglesey Coastal Path from Bull Bay to Cemaes Bay (or vice versa) or just to enjoy a few hours relaxing in the sun. Why not wildlife watch while you're there? Seals, porpoises, and dolphins are all regular visitors to Porth Wen's waters. There's plenty of birdlife to enjoy too.
Porth Wen Beach is also popular with kayakers, as it provides a sheltered spot to take a break after paddling along the coast from Bull Bay or Cemaes Bay. Anyone with a water-going vessel can also reach the longer stretch of beach at Porth Wen, which is almost impossible to access on foot due to the sheer drops and cliff faces that back onto the beach.
Getting to Porth Wen Beach
As mentioned, Porth Wen Beach is pretty far off the beaten track and accessing it is not for the faint of heart. There's a steep descent (and therefore ascent) to reach it, and there are no facilities or amenities once you're down there.
That said, it's a beautiful and often peaceful place to spend an hour or two, especially if you're lucky enough to have it all to yourself.
To reach the beach, park up in one of the lay-bys off the A5025 that runs between Cemaes Bay and Bull Bay. Then, once out and on foot, take the small single-lane country road until you see a gate and grass footpath on your right-hand side (when the road bears left).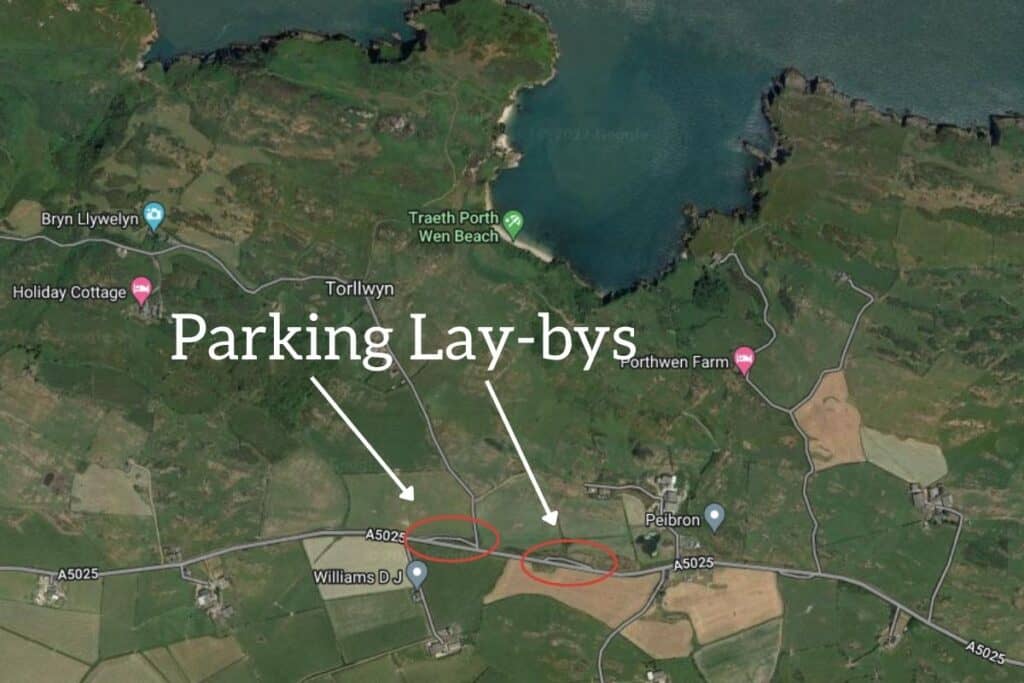 Head through the gate off the road onto a grassy track/public footpath. The brickworks will come into view as you meander down the winding path. After around a quarter of a mile, the path splits, and you need to take the one bearing right through the gorse bushes.
As you start to descend, you will eventually meet a gate with several padlocks, which you need to climb over. You'll then start the very steep descent to the brickworks on the narrow, slippery, and often muddy path. At the bottom, take great caution, as there is a three-storey sheer drop that needs to be traversed in order to gain access to the site.
You can also access Porth Wen beach from the Anglesey Coastal Path, again by bearing right when the path bears left and climbs up the hill away from the brickworks (or bear left when the path goes straight on if you're coming from Cemaes).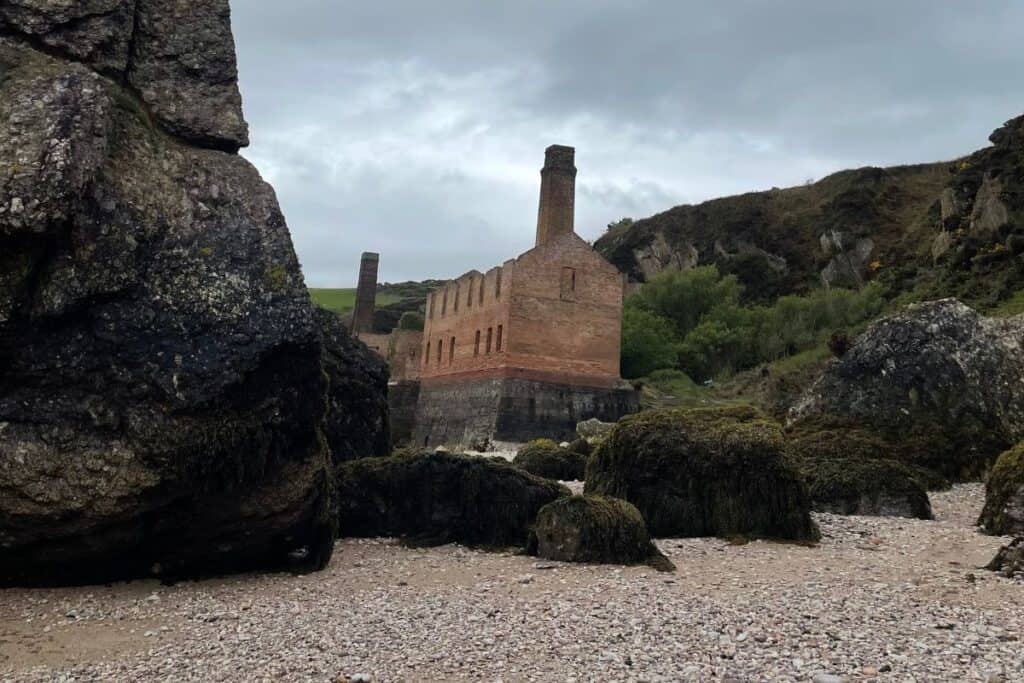 Traeth Porth Wen Beach FAQs
What Type of Beach is Traeth Porth Wen?
Porth Wen Beach is a combination of rock, sand, and shingle, with shingle being the predominant feature. It's not really one to have your bare feet exposed on.
Is Porth Wen Beach Dog-Friendly?
Yes, dogs are allowed on Porth Wen Beach.
When is the Best Time to Visit Porth Wen Beach?
Porth Wen is a sheltered beach, meaning the tides are usually not too strong. However, as very little of the beach remains at high tide, we would recommend planning your visit to coincide with the hours of low(er) tide(s).
Are There Lifeguards at Porth Wen Beach?
No. You enter the water at your own risk.
What Activities Are On Offer at Porth Wen Beach?
There are a number of activities on offer at Porth Wen Beach, including:
– Fishing
– Diving
– Kayaking
– Swimming
– Hiking
– Visiting the adjacent ruined brickworks
– Wildlife watching
– Picnicking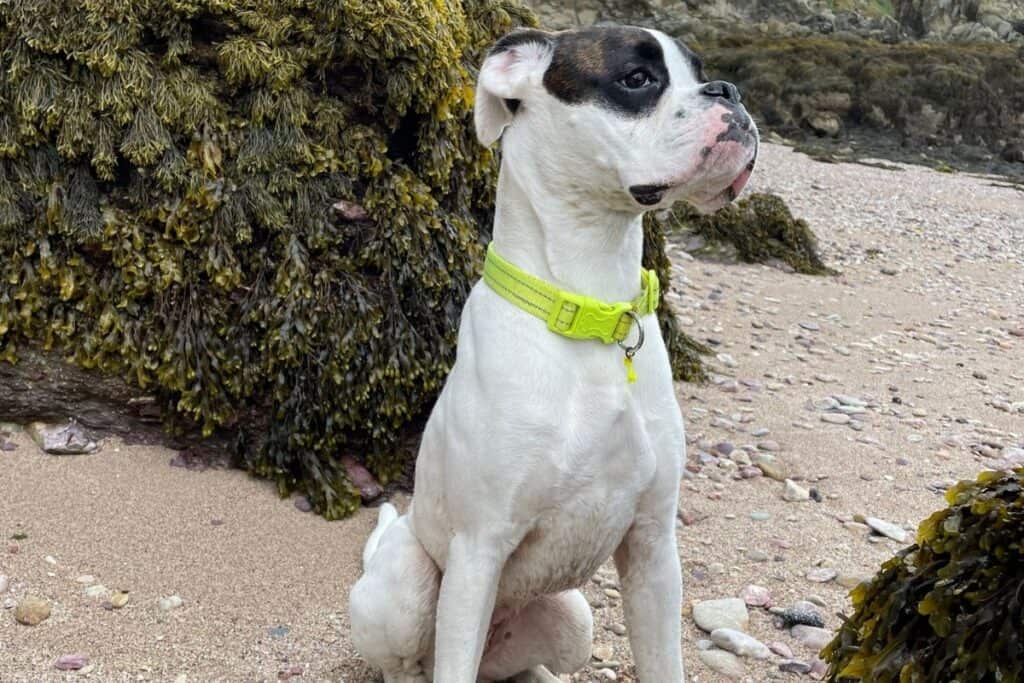 What Facilities Are There at Porth Wen Beach?
There are no facilities at Porth Wen Beach. This includes no toilets, no shops, and no cafes. It's a completely unofficial beach. Therefore, you should take everything you need with you when you visit and make sure you leave the beach as you found it.
Can You Drive to Porth Wen Beach?
You can drive towards Porth Wen, but only to within around half a mile or so from the beach. You'll then need to walk the rest of the way.
Is Porth Wen Beach Accessible for Those With Limited Mobility?
No. There is an arduous descent/ascent to and from the beach on a narrow path. It is not wheelchair or pushchair-friendly.
What Is the Porth Wen Beach Postcode?
The nearest postcode for Porth Wen Beach is LL67 0NA, which will situate you close to either of the lay-bys off the main road.
How Far is Porth Wen Beach from Cemaes Bay?
Porth Wen Beach is around 3 miles from Cemaes Bay along the Angelsey Coastal Path. However, please be aware that the path is extremely undulating and challenging on this section of the coastline.
How Far is Porth Wen Beach From Bull Bay?
The distance is slightly shorter when approaching from Bull Bay and is about 2.5 miles. However, again, the terrain is challenging (though less than the route from Cemaes Bay).