Set just behind Borth Wen Beach and in front of an impressive manor house is the so-called Rhoscolyn burial chamber. Made up of several standing stones and a capstone, the site has courted controversy over the years as to whether the structure is real, a restoration of preexisting stones to mark the site of an ancient burial chamber, or just a complete fake.
So, what's the story behind this mysterious chamber?
Rhoscolyn Burial Chamber – Real or a Recent Invention?
The general consensus regarding this structure is that it must be fake. Several factors indicate that it is a more recent construction, not an ancient site. Firstly, it is not marked on any sort of map, ancient or modern. There's also no mention of it in any ancient texts or historical records.
If the chamber were indeed a megalithic chambered tomb, it would be one of only a dozen or so in North Wales and a significant archaeological discovery. However, there is no evidence to suggest that the site is anything more than a modern fake.
Locals remember the site being there as far back as the 1940s, and there are photos of the site dating back to the 1960s. But beyond that, there's little to no evidence to suggest that there ever was an ancient burial site here.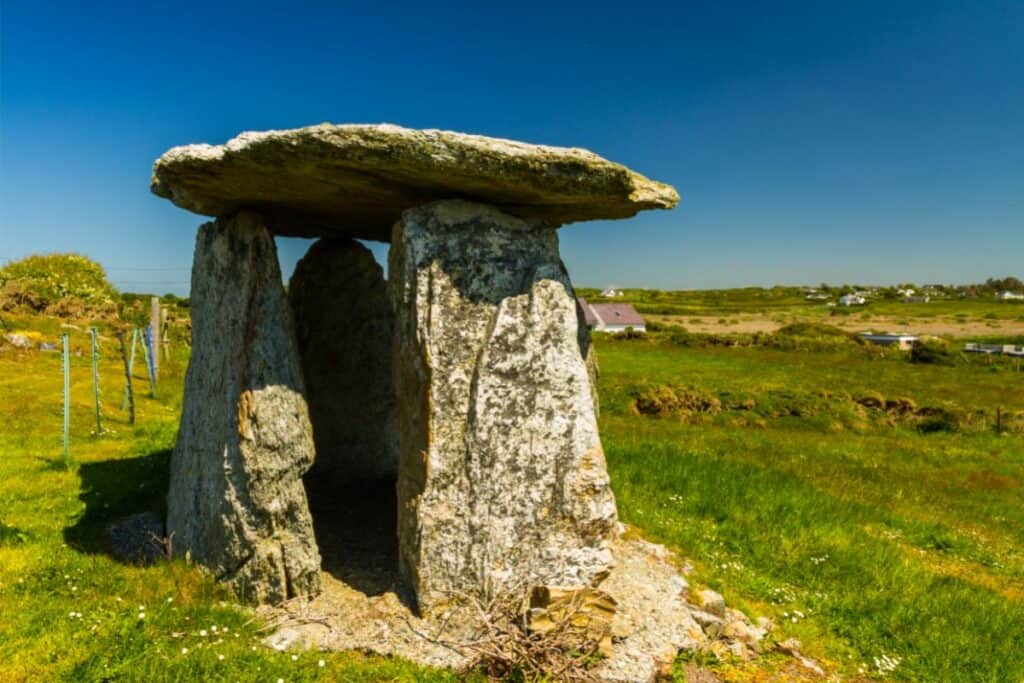 Is There a Burial Chamber in Rhoscolyn?
While it's likely that this structure is a modern replica, there is a site of a possible cromlech situated further up the coast beyond the coastguard station. This site is marked on many maps dating back more than a century, so there was likely at least some form of burial ground located in Rhoscolyn.
But upon encountering the site today, which is in a farmer's field, there is nothing to be seen. It's possible that the stones were removed at some point or that they were never above ground (at least, not recently) in the first place.
So if you're a history buff looking to take in some authentic burial sites dating back thousands of years, you would be better served to try famous Anglesey sites such as Barclodiad y Gawres or Bryn Celli Ddu near Llanddaniel Fab.
Is the Rhoscolyn Burial Chamber Worth Visiting?
Real or not, the so-called Rhoscolyn burial chamber is worth a quick visit, especially if you already happen to be spending time at the nearby Borth Wen Beach. It's only a couple of minutes (if that) to walk up to it from the beach, so it's a worthwhile activity if you find yourself wanting to break up your beach day.
Irrespective of its authenticity, we already know from other burial chambers on the island of Anglesey that the chambered burial tombs often did look like this. So it's a replica that at least has some historical basis.
You can also include it as part of a walk around the headland since it's a stone's throw from the Anglesey Coastal Path, and you can finish with a nice cold pint on the elevated terrace of the popular White Eagle pub located just up the road.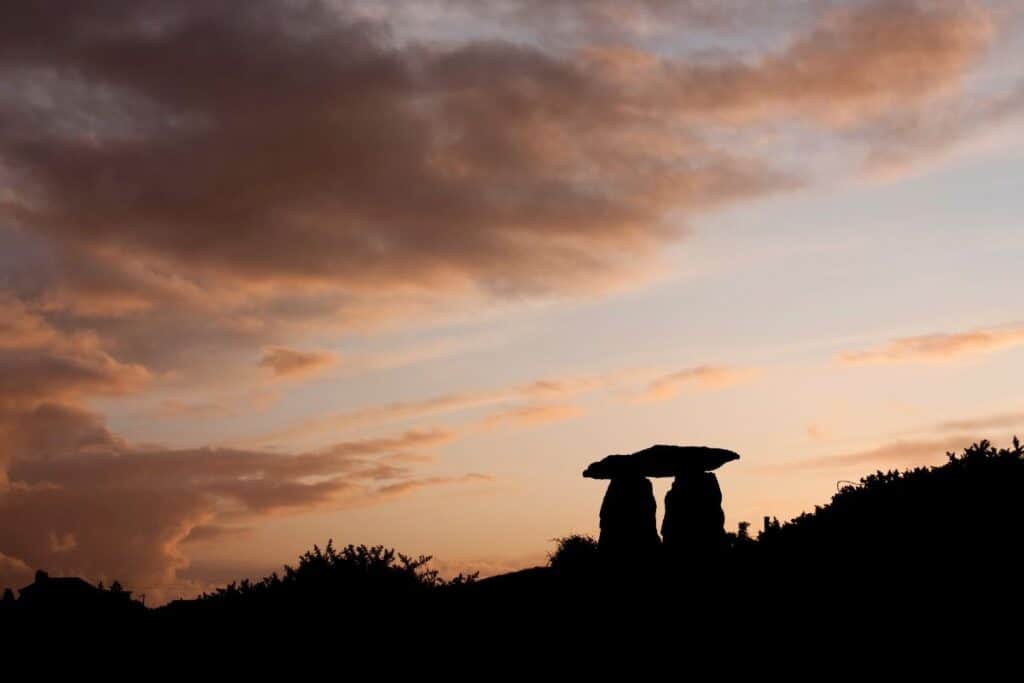 Where is the Rhoscolyn Burial Chamber?
As mentioned, it's situated just above Borth Wen Beach. Take the stile just before the steps leading up to the walkway on top of the sea wall and walk up the field to get to it.
For detailed directions when travelling by car from anywhere on the island, you can follow the directions posted here for The White Eagle pub. Just follow the road down to the beach car park after you've passed the pub.
Final Thoughts
So, while the current consensus is that this site is likely a replica, it's still a fun little spot to check out if you happen to be in the area. And even if it is a fake, it's still a good representation of what a megalithic chambered tomb would have looked like and provides an excellent photo opportunity.