Anglesey is perhaps the island most steeped in history across the British Isles, and when it comes to Anglesey castles, you're spoilt for choice. Both on the island itself and within a 20-minute driving radius are some of the best-preserved examples of medieval military fortifications in Wales, making the Anglesey area an ideal destination for a castle-themed day out or holiday.
Some of the most notable Anglesey castles include Beaumaris Castle, Caernarfon Castle and Conwy Castle – all of which are UNESCO World Heritage Sites, putting them alongside the Pyramids of Giza and the Statue of Liberty as some of the world's most significant historical landmarks.
But Anglesey isn't only home to world-famous castles; there are plenty of other fascinating fortresses and ruins worth exploring, including hidden gems such as Aberlleiniog Castle.
Whether you're looking to explore a Norman fortress, stroll along medieval walls, or climb up a turret for breathtaking views, these castles in and around Anglesey have it all. And with so many to choose from, you'll be planning your return trip before you've even left.
So without further ado, let's give you a run down of the best castles in the Anglesey area.
Beaumaris Castle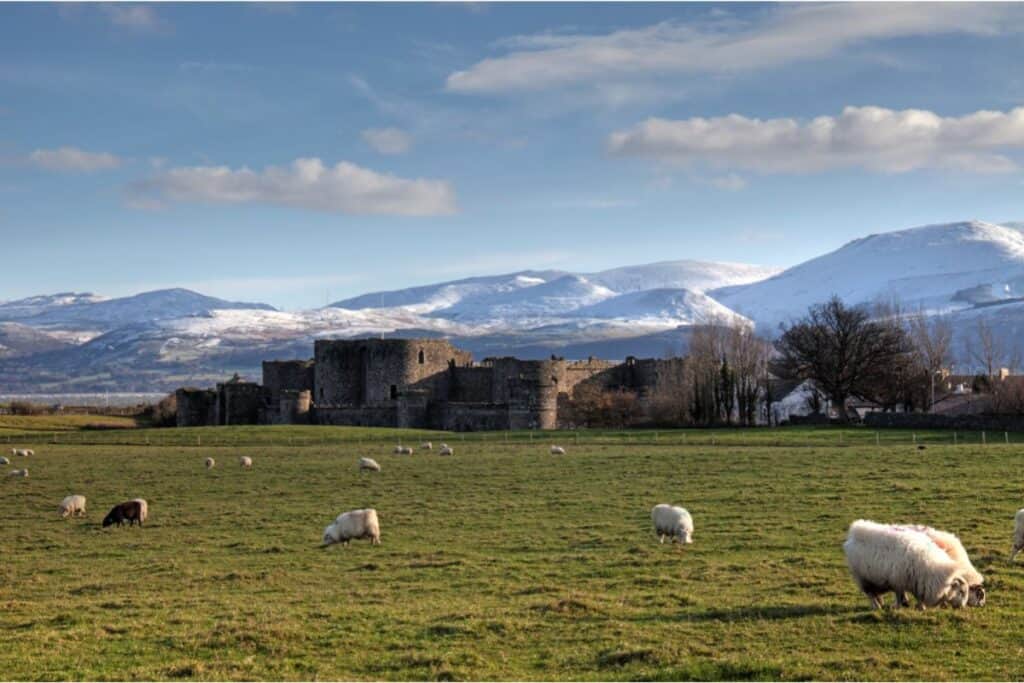 Arguably the most impressive of Anglesey's castles is Beaumaris, which was built by King Edward I, forming part of his so-called "Iron Ring" of fortresses designed to cement English rule in Wales following his conquest of the country in 1282.
Known as the greatest castle never built, construction on Beaumaris Castle began in 1295, and it was set to be the jewel in the crown of the Iron Ring (which included Conway, Caernarfon, and Harlech Castles). However, work on this ambitious architectural project was interrupted due to a shortage of money and human resources, and work petered out by the 1320s, with several sections of the castle left unfinished.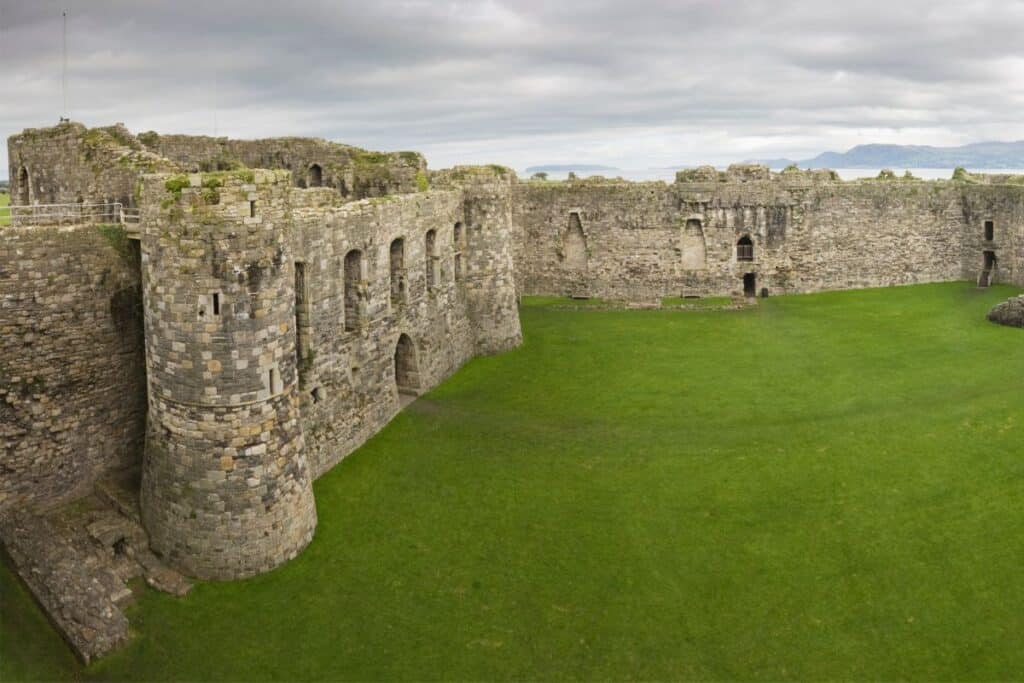 Despite its unfinished state, Beaumaris is widely considered one of the most technically perfect examples of concentric castle design in the world, and it's easy to see why when you explore its near-perfectly symmetrical circuits of walls and towers.
The fortification is built of local stone, with a moated outer ward guarded by twelve towers and two gatehouses, overlooked by an inner ward with two large, D-shaped gatehouses and six massive towers. UNESCO has described the site as one of "the finest examples of late 13th century and early 14th-century military architecture in Europe", making it well worth a visit.
For information regarding opening times, ticket prices, and how to get there, please head over to the official Beaumaris Castle website.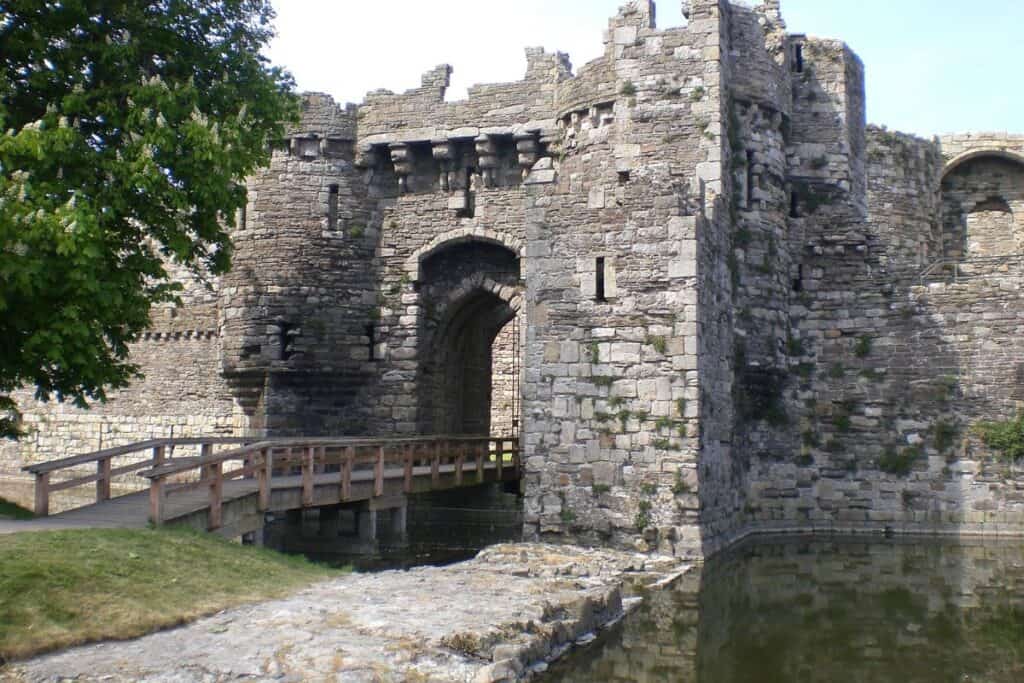 Caernarfon Castle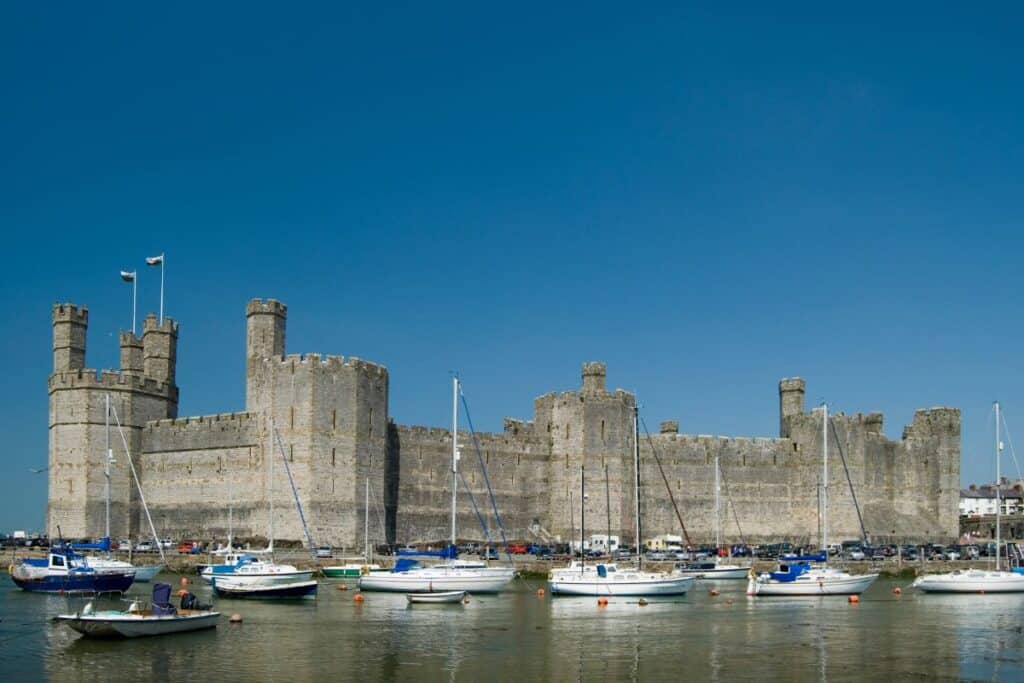 Another of North Wales' world-famous castles is Caernarfon, which is just over the Menai Strait from Anglesey. This impressive and imposing structure was also built by King Edward I as part of his Iron Ring fortifications.
Construction on Caernarfon began in 1283 on the site of an existing motte-and-bailey castle, just one year after Edward's successful invasion of Wales. The castle was designed to be a showpiece of Edward's power and authority. Its grand scale and magnificent design (which included the first-ever use of concentric "curtain" castle walls in Britain) made it one of the most formidable fortresses in Europe.
Caernarfon was not only a military stronghold but also formed the centre of government and administration for North Wales and acted as a royal palace, hosting the investiture of Prince Edward (later Edward II) as the first-ever English Prince of Wales in 1301. Other famous investiture ceremonies included those of Edward VIII in 1911 and Prince Charles in 1969.
The castle fell into decline following the outbreak of the Welsh Revolt (Glyndŵr Rising) in 1400-1415 when the castle was besieged. Once the Tudors came to the throne later in the same century, less emphasis was placed on castles, and the last military action the castle saw was during the English Civil War.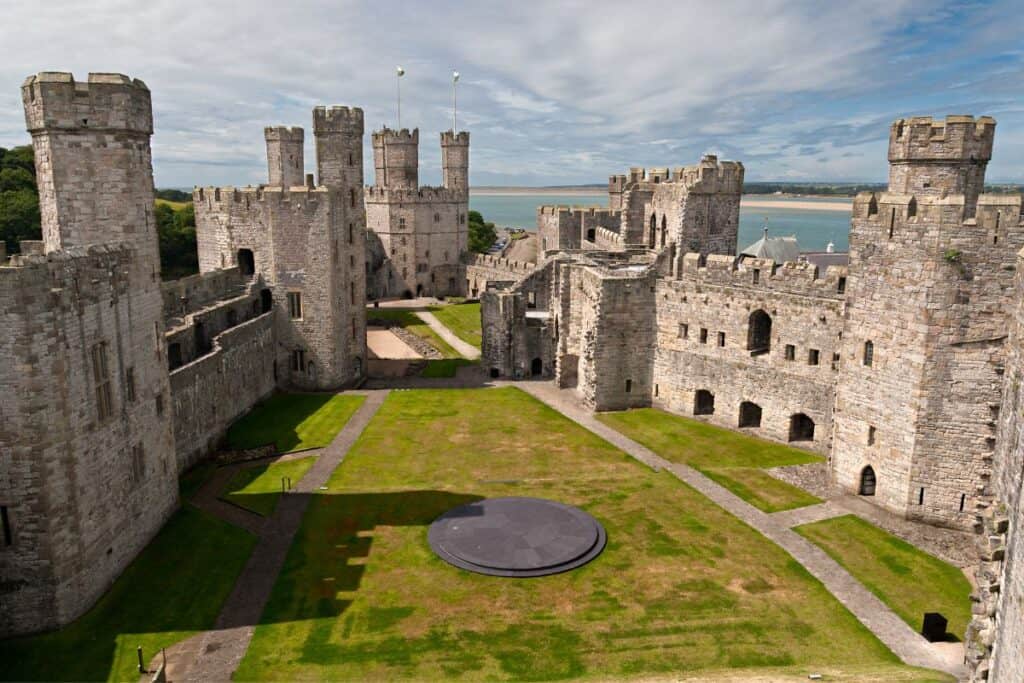 The inner structures of the castle have long disappeared, but much of its sheer size, scale, and grandeur have been preserved, and it remains one of the Anglesey region's most popular tourist attractions.
It also boasts The Royal Welch Fusiliers Museum, which is housed in two towers of the castle. In it, you will find a wealth of original exhibits, supported by film, sound and models, which tell the story of over 300 years of service by Wales' oldest infantry regiment.
For information regarding opening times, ticket prices, and how to get there, please visit the official Caernarfon Castle website run by Cadw.
Conwy Castle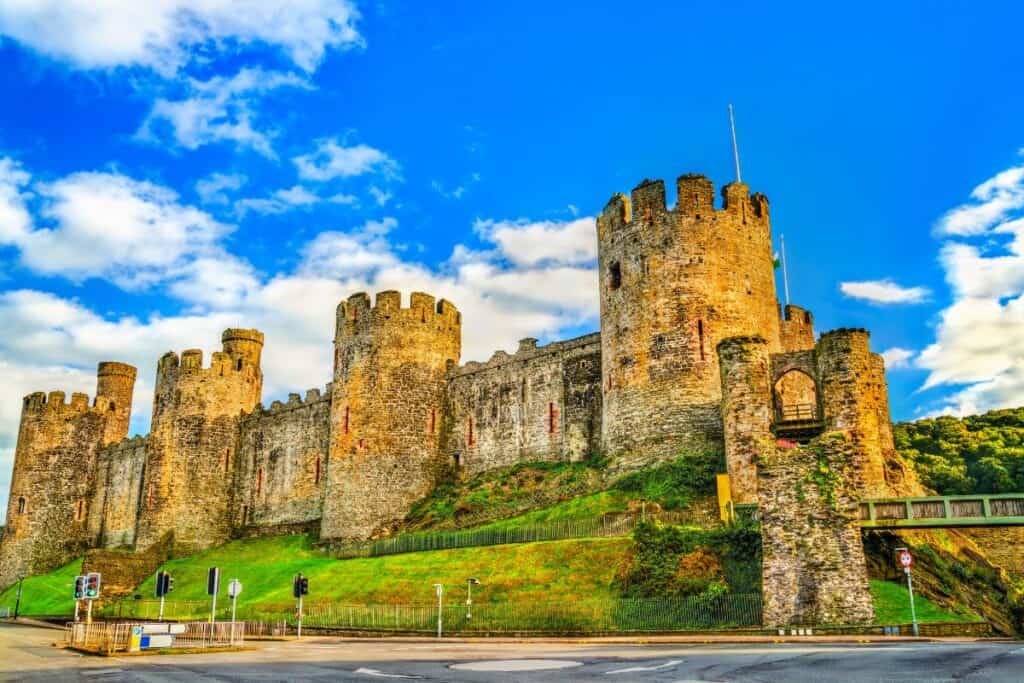 The last of the Iron Ring castles within a 30-minute driving radius of Anglesey is Conwy Castle. Built in a barely believable four years between 1283 and 1287, this castle was designed by Edward I's chief architect James of St George (architect of all Iron Ring castles), and it is another World Heritage Site.
Situated on the north coast of Wales, Conwy Castle was built to dominate the old town and harbour below and act as a gateway to the Snowdonia region beyond. What differentiates this castle from the others is its connection to the impressive stone town walls, which span more than a kilometre (1.3km) and are still standing today. Walking the town walls is a must-do activity when visiting Conwy Castle.
Like Beaumaris and Caernarfon, Conwy Castle was built with inner and outer walls, with the inner wall having eight massive towers which you can still climb today. One of the most interesting features of the castle is the Great Hall, which was designed to be an audience chamber and banqueting hall for the king and his guests. It would have been a magnificent room with a massive fireplace and large windows overlooking the town and harbour.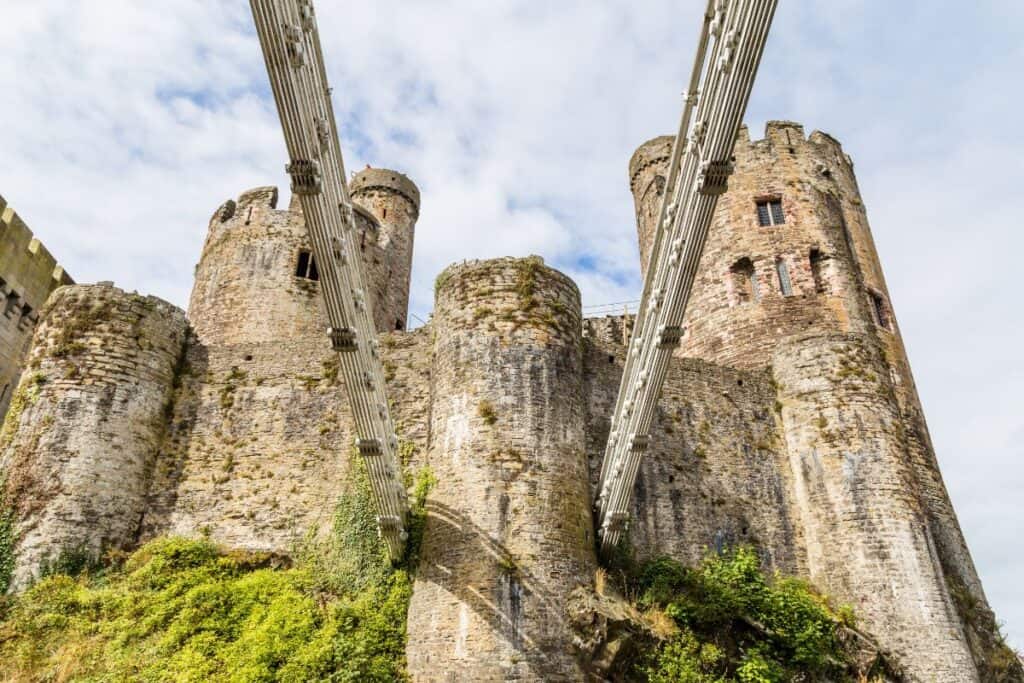 It withstood several siege attempts, including during the Madog ap Llywelyn uprising in 1295. During the Glyndwr Rising, Conwy Castle was captured by the Welsh in 1401 but retaken three months later. It then remained in English hands until the outbreak of the Civil War when, like many other castles, it was subject to a siege. The castle was held by forces loyal to Charles I during the conflict but was ultimately taken by Parliamentary forces.
Following the war, the castle was slighted (deliberately damaged) to prevent it from being used in future military campaigns. Conwy Castle is a shadow of its former self in its current state, but it is still an awe-inspiring sight and boasts one of the best-preserved examples of Royal apartments in Wales.
Cadw, the Welsh Government's historic environment service, runs Conwy Castle, and you can find all the information you need about opening times, prices, and how to get there on their website.
Penrhyn Castle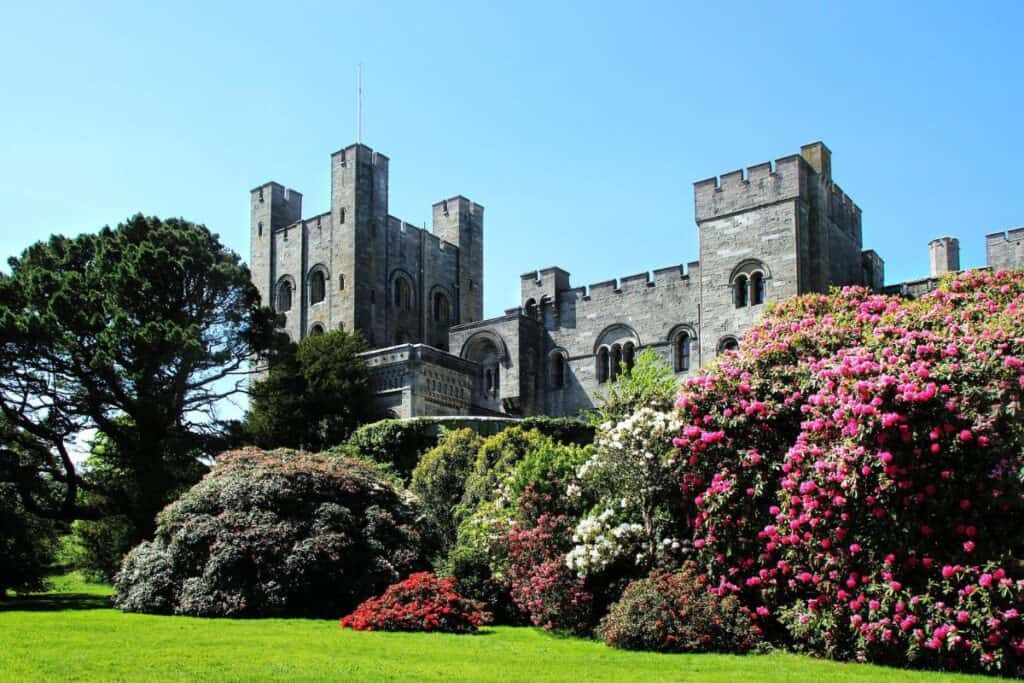 The first of the Anglesey castles not to be constructed by Edward I is Penryhn Castle; this neo-Norman castle sits between the Menai Strait and Snowdonia and is just a 15-minute drive from Anglesey.
It was originally a medieval fortified manor house founded by Ednyfed Fychan. In 1438, Ioan ap Gruffudd was granted a licence to crenellate, and he founded the stone castle and added a tower house. However, the building you see today was built between about 1822 and 1837 when Thomas Hopper redesigned the stately home beyond recognition.
The stately home has a dark history, with much of the restoration and expansion work funded from profits made in the slave trade. Despite this, Penrhyn Castle is a fascinating building to explore. It is one of the best-preserved examples of neo-Norman architecture in Britain and houses impressive restored kitchens, stable block houses, and an extensive collection of paintings.
There's plenty to do here, too, with an industrial and model railway museum, beautiful gardens, and children's play areas, making it an excellent day trip for the family.
Today, National Trust runs the estate, and you can find all the information you need about opening times, prices and how to get there by clicking here.
Aberlleiniog Castle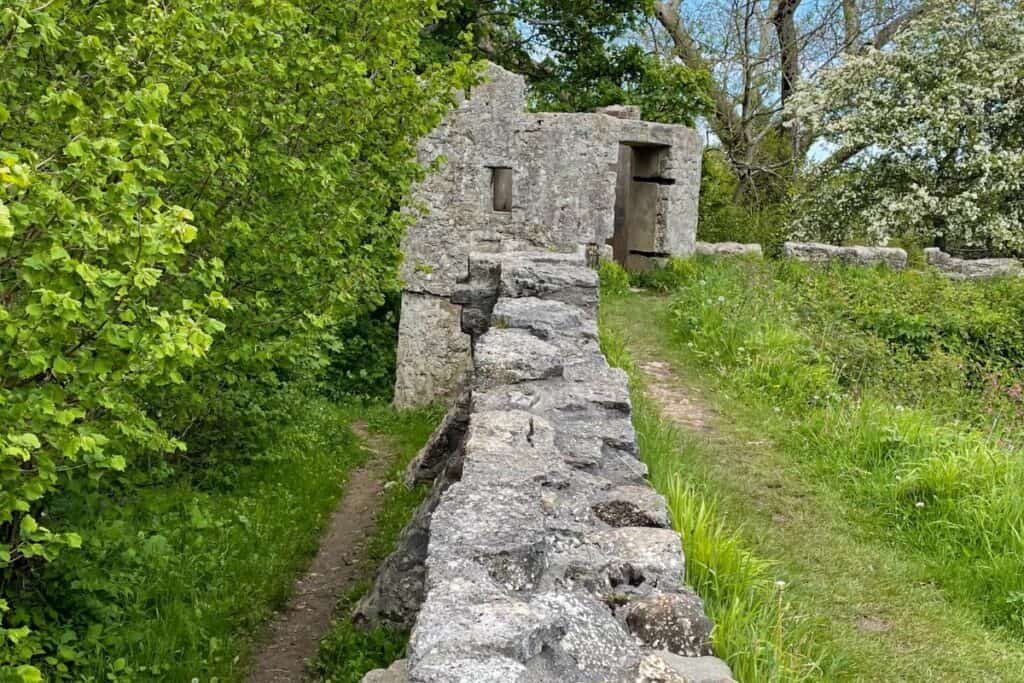 Nestled on the Isle of Anglesey itself is this hidden Norman fortress. Situated between Beaumaris and Penmon Point, this 11-century motte-and-bailey fort was once the Anglesey home of Hugh d'Avranches, the first Earl of Chester.
The castle was built on top of an existing Welsh fortification, and stone walls later replaced the original motte-and-bailey defences. The castle was last used in the 17th century, when Thomas Cheadle (the Constable of Beaumaris) adapted the site into an artillery fort to maintain control of the Menai Strait during the Second English Civil War. It was likely at this point that the stone towers we can see today were added.
What's great about this castle is that it is open to the public year-round, and there is a lovely woodland walk from the nearest car park up to the castle. During the summer months, the castle is genuinely hidden from view by the trees until you're right on top of it, giving you a feeling of excitement and discovery when you finally catch a glimpse of the stone walls through the greenery.
For more information about Aberlleiniog Castle, read our in-depth guide to visiting this site here.
Dolbadarn Castle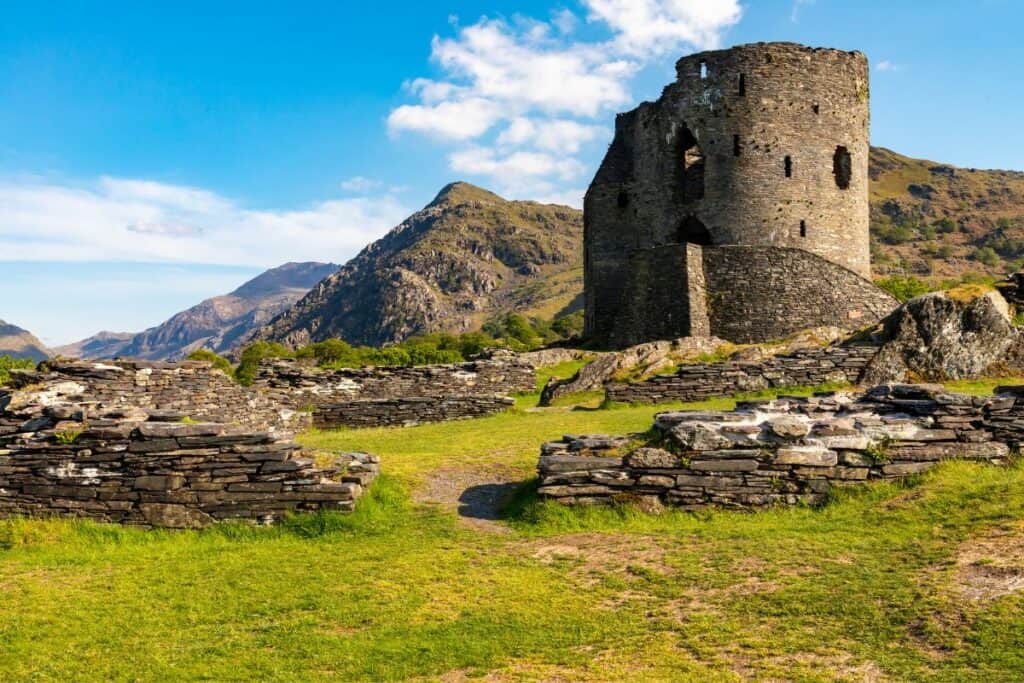 Lastly, Dolbadarn Castle is one of the most iconic castles located near Anglesey, being a picturesque 20-minute drive into the Snowdonia foothills. This late 12th-century fortification was built by Llywelyn the Great as a stronghold in the Anglo-Welsh conflicts of the 13th century.
Dolbadarn Castle was an important strategic location, as it guarded the approach from Caernarfon to the upper Conwy Valley and overlooked the Llanberis Pass used to access Snowdonia. The site includes a well-preserved round tower keep, which stands over 50-foot tall.
The castle eventually fell into English hands in 1283, and within a couple of years, timbers were removed to help construct Caernarfon Castle, a move that was both symbolic and strategic.
From then on, Dolbadarn Castle has been in slow decline, despite its occupation as a manor house during the 14th century. It later became a favourite subject of painters, including Turner and Cotman during the 19th century, before the castle was eventually given to the State by Sir Michael Duff in 1941. It is now maintained by Cadw and is protected as a Grade I listed building and as a scheduled monument.
The castle is now managed by Cadw, and admission is free. Like Aberlleiniog Caste, you can simply walk up to this castle any time you please to explore the site and enjoy the stunning views. You can find out more information regarding Dolbadarn Castle's history and location here.
Are There Any Other Castles Close to Anglesey Worth Visiting?
It depends on what you define as close. Several other dramatic and imposing castles are well worth visiting within an hour's drive of Anglesey. They include Criccieth Castle on the Llyn Penisula, Harlech Castle (the only remaining "Iron Ring" castle not covered here), and Gwyrch Castle near Abergele, which famously played host to I'm a Celebrity for a couple of years during the COVID-19 pandemic.
They all take roughly an hour to get to from the Eastern side of Anglesey, so if you're staying on the West of the island in locations such as Rhosneigr or Trearddur Bay, then they may be too far away to be considered worth the trip. We'll leave it up to you as to whether you want to venture that far on your day out visiting castles.
Best Castles In and Around Anglesey: Recap
Whether you are planning a castle-hopping tour on the island itself or hoping to nip back over to the mainland to explore some of the finest fortifications North Wales has to offer, Anglesey and the surrounding areas are home to some of the best castles in Britain.
Whether you're a castle enthusiast or simply fancy exploring some of Anglesey's history, we hope this guide has given you some inspiration for your next day out!